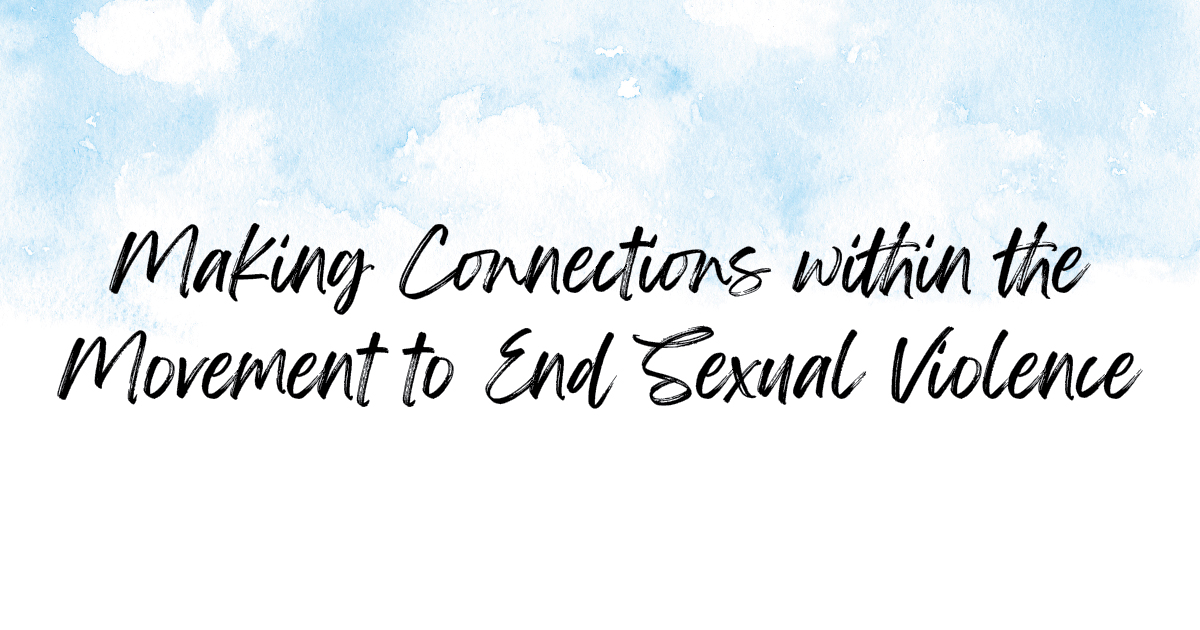 Overview:
Advocates working in the violence prevention field wear many hats. More recently, we have become hyper-aware of the compounding impact that working in sexual and gendered violence prevention has on those in the field- many of whom are survivors themselves. Many still struggle with trauma, are triggered by what they are exposed to in their work, or entered the field due to a personal experience or tragic event. Over the years, we have seen many workers within sexual/gendered violence prevention privately face harm in or even lose their lives to the very form of violence which they dedicated their lives to stopping. We see advocates continuing to live under systems of oppression rooted in racism, transphobia, and fatphobia, all while doing the larger work to help make an impact on others. Just like anyone else, advocates may struggle to make a living wage, access health benefits, and live in safe environments free from threats of harassment, domestic violence, or sexual aggression. We know that many advocates are left without the systems of care or people in their lives, in or outside of work, who have an understanding of trauma-informed communication. In fact, they frequently face further barriers to getting help, even though they ironically work to provide help and resources for others. Advocates are frequently alone to deal with these issues privately, as little has been done to address that these are large scale problems within the field. We want to shed light on how advocates are being taught or expected to put themselves last. We seek to spark discussion that will make changes on how we do this work while illuminating the personal toll it will continue to have on individuals if left unchanged.
In summary, this series wishes to uplift the voices of our partners and survivor communities to shed light on the pervasive problem of residual harm, second hand trauma, unreciprocated care, and barriers to receiving services that exist with the movement to end sexual violence. In addition, we felt it would be a healing opportunity to invite community members and organizations to share their work, stories, and feelings of continued efforts of prevention in the aftermath of losing someone to domestic violence. This blog series encompasses things as broad as sharing their story, highlighting the work that's been done in memory of the loss, exploring why those who work in domestic violence struggle to find help, interrogating what prevention within the activist community looks like, or taking a research approach at the prevalence of these tragedies. Exploring the methods of self-care and community healing is essential to continue this work without burnout or compassion fatigue.
The goal of series is to encourage more normalcy in telling our stories as advocates, to memorialize those lost as well as the work they've done, to end the silence of asking for help within the sexual violence movement, and to educate the public on the fact that no one is exempt from being victimized by sexual or gendered violence (even advocates and specialists themselves).
The Blogs
This blog explores the prevalence of fatphobia in the movement to end sexual violence, and lends and awareness to its origins and the importance of its eradication.
This piece unpacks the issue of violence among societies gatekeepers- police and law enforcement. Dr. Goodmark shares her expertise to help us understand the topic of sexual and domestic violence perpetrated by those hired to protect us.
Dr. Purposed Carn shares her healing journey and the role of faith in her life which has helped her overcome tragedy and serve as a beacon of hope in her community to continue the work of sexual violence prevention in the names of those lost.
In this blog, Dr. Laurie Samuel of Cupid's Sting Non-Profit educates us on the realities of domestic violence in the Caribbean and her hopes of a brighter future.
Scholar TJ Jourian sheds light on targeted hate against transgender activists and the complex relationship between visibility and violence.
Multiple voices converge to answer the questions of how can bias and discrimination impact survivors with developmental disabilities (DD) within the LGBTQIA+ community, how can we address bias and discrimination toward survivors with DD in the LGBTQIA+ Community, and how can society make real change for a new direction in the future.
Outreach Coordinator Elise Parker of Thrive Together outlines the importance of structural change and the larger social awareness needed to create more tangible support for Deaf survivors.