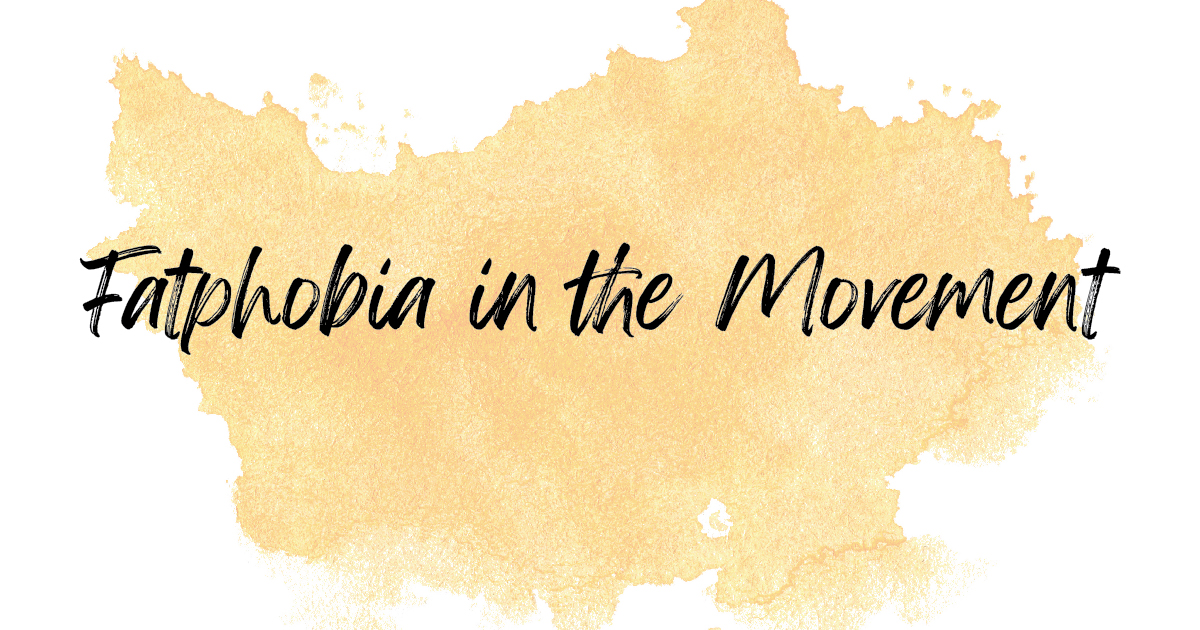 I'm writing this at the time when the "New Year, New Me" wind is starting to circulate. The shame of "holiday eating", the sugar demon, and jokes about elastic waists begin to build their momentum for the year. There will be sign up for bootcamps, restrictive diets, detoxes, and teas that make you sprint to the bathroom. And by the time you read this, you'll be hearing whispers about a "beach body" or getting "bikini ready", like it is somehow necessary to prepare to face our biggest nemesis, a body of water.
We all know that the movement to end sexual violence has been taken over by mostly white, cisgender women-- which pushes aside the hard work, dedication, and intelligence of non-white and Queer folks. Key players still fail to unite and understand that a movement that pushes the narratives and voices of non-white and Queer people, is a movement that will benefit everyone. To add to all of this, we have continued to push fat people to the side.
Nobody wants to be fat. We have created all kinds of ways to villainize or minimize it. To shrink it, hold it in, avoid it, and shame it. We are even afraid to say the word "fat". It's hurled like a bomb at people in order to tear them down. We've shamed and hidden the people who are, and continue to be, fat. We don't believe fat survivors-- more so if they're Black and fat, Trans and fat, or Queer and fat. We don't acknowledge their survivorship, partly because we don't believe that fat people are sexual beings. Thus, we are falsely equating sexual assault to sexual desire which, to all of us who work in this field, we know aren't related.
The anti-fat movement, or "fitness industry", is deeply rooted in anti-Blackness and white supremacy. The fat body used to be worshiped…coveted all around the world. It is believed by anthropologists that all humans started out as fat bodies. At the onset of the global slave trade, the fat body became a way to distinguish between us (white people) vs them (non-white people). When western Europeans started to see African bodies with curves and different shapes, they began to uplift the frail, thin white female body. They favorably compared the white body to the African body to push the ideology of women (because men could still be fat) who look like this are 'savage', 'exotic', 'monstrous', and 'bizarre'.
We can't go further into this without bringing up Sarah Baartman, also known as Saartjie Baartman, (a name given to her by the Dutch). We do not know her real name. She was a South African woman who was displayed as "Hottentot Venus" across the globe, because of her body. Venus was used to designate artistic representation of the female body. Hottentot was (and is) a derogatory term for South African people. She was born in 1789, died in 1815, but wasn't laid to rest until 2002. Her life was spent being paraded around Europe in a 'freak show', then in her death, was displayed in a museum in Holland. The museum curator argued that her body should be displayed for science, for we may be able to explain the way she looked by some amazing scientific discovery. She was widely known as one of the first people to be stolen from her homeland. Most of her story is wrapped up in the exploitation of her body and its continued exploitation in her death.
Now that we've gotten a lay of the land, and a glimpse at where our anti-fatness comes from, we can dive a bit deeper.
While I want to continue to beat the drum of how our society does its damnedest to ridicule and minimize fat people (even in our movement) that's not what I want to talk about. My focus isn't just on fat survivors, it's on the fat people who do the work in our centers. The fat people on the frontlines and how the people who run our organizations treat them. The reason that we don't have marginalized bodies working at (or in a lot of cases coming to) our centers, is directly due to how our organizations treat them. There's no polite way to say that. If you want to have people of all ethnicities, and even body types, you have to welcome them in and include them. Policies, procedures…all the ways you think we should be running out centers, will have to change.
Our organizations focus on "wellness". Many staff retreats, team-building exercises, or incentives like hiking or yoga are fitness focused. We charge extra for, or don't even carry, extended sizes in clothing for our staff incentives-- let alone in our clothing closets for survivors to use. We place morality on food for gatherings of any type. We buy chairs that fat people can't sit in. We comment on people's bodies. The list never ends.
There was a lot of fatphobia when I worked for a sexual assault center; it was among the list of phobias and "-isms" that it held. There were a lot of comments on my active lifestyle (I've been kickboxing for over a decade and lift heavily) and the changes in my body. There were also lots of talks of perceived aggression, because I would sit awkwardly in chairs that I didn't fit in. I heard plenty of comments on whatever food I was or wasn't eating. I thought I developed a thick skin from having lived with a fat body since my mid-teenage years. There was a large expectation that the comments would end when I became an adult--especially in the workplace. It never did, and any attempt to take up for myself or my peers was belittled and punished. The language around how the agency wanted to include people of all different types was there, but the behaviors never changed. I think the most important part of the unlearning of white supremacy is that it involves a major behavior change. We can say all the things we want, we can hire Black people, Queer people, and embrace the fat body. However, if we don't follow that up with a behavior change, it becomes yet another initiative that does way more harm than it solves.
There are vital people, important voices, of the sexual violence movement that go silenced by, and even within, our organizations. We diminish the potential of these people when we push them to the back or even out of our movement. The movement includes all of us. The Black, the Queer, and the fat. The more we rally around this, and create behavioral change, the more we will see a social, cultural, and even political change when it comes to sexual violence. We have to dig deep and examine the root of our work and our movement. We must examine the causes of oppression and the harm that we have caused in our advocacy. The truth is, sometimes our centers are actually more violent than our cities.
I believe that change is possible. The fact that we are wanting to discuss and examine this lack of inclusion in our work is hopeful. Who is ready to lean into that change?
---
About the Author