How can bias and discrimination impact survivors with developmental disabilities (DD) within the LGBTQIA+ community?
Survivors with DD within the LGBTQIA+ community often experience bias and discrimination which impacts their access to services. Too often, people do not understand or personally know individuals with disabilities or who are LGBTQIA+.
Below are some of the ways bias and discrimination plays a role in this issue or impacts survivors of sexual violence:
There is a lack of sexuality education among this population which can increase their risk of being sexually violated
The lack of understanding among society often causes a lack of accepting people's sexual needs or that they are sexual beings
Survivors often feel misunderstood and judged so they don't feel safe reaching out for help
They often try to hide who they really are
They face painful rejection by family and friends
They can also face discrimination at work
They are not allowed to make choices or supported by others to make their own choices
They can feel isolated because of a lack of support to help them meet and date others or establish long-term, fulfilling relationships
While there is little data on the percentage of disabled LGBTQ+ people who are victimized by crime, the statistics on the victimization of disabled people and LGBTQ+ people individually display the need for further investigation and support. 
"People might assume that everyone is heterosexual and so they assume that consensual same-sex relationships are abuse. They might feel like they have no one to trust if they want to report abuse. Sometimes when LGBTQ+ people with IDD report same-sex abuse, people think it was consensual, even if it was not." - Pauline Bosma, Rainbow Program Coordinator
Rainbow groups are groups for self-advocates who are members of both the intellectual and developmental disability community as well as the LGBTQ+ community.
How can we address bias and discrimination toward survivors with DD in the LGBTQIA+ Community?
In order to address the bias, we have to educate society about two key things: 1) How can we effectively include the LGBTQIA+ community in sexual education and violence prevention and 2) How do we provide much-needed accommodations that allow survivors to feel and actually be included in their own sexual education, justice or healing process?
Having an attitude and core value of inclusion means this to a survivor:
·   You actively listen to me with curiosity and compassion
·   You believe me
·   Your personal values don't impact the quality of care you provide
·   You see me as a trauma survivor first, not my disability
Providing accommodations for survivors can look like this:
·   You speak to me directly, not to my care provider or family member
·   You ask me if I want peer support
·   You use active listening skills when talking to me
·   You show real concern for me and are patient with me
·   You comfort me in ways I can understand
·   You use everyday words and ask me if I understand what you are saying
·   You help me understand any paperwork I need to read or sign
How can society make real change for a new direction in the future?
 
Survivors with DD within the LGBTQIA+ community must lead the way to speak out, provide training and education on this topic, be seen as experts on their own experiences, sought out by the community and policymakers for their valuable contributions and not be seen or treated as a token in any way.
Survivors with DD within the LGBTQIA+ community share their tips on how to make change:
We can learn how to speak up for ourselves and others!
We want to be active in our healthcare and recovery
We can train professionals about how they can speak to use so we understand them and how to make our own choices
How we can make it better across the country
We can join coalitions related to this topic in our communities and states
We can be on the frontlines to help start a national conversation about sexual violence prevention
We can make sure to talk about self-care in advocacy groups so people feel supported
We can dream up ways to ensure long term support for survivors
"We believe APS, healthcare and law enforcement can collaborate to strengthen their understanding about how people with disabilities and people in the LGBTQIA+ community have experienced discrimination when reporting abuse. We can all work together with survivors taking a leadership role in training. Nothing About Us Without Us!"  - Patty Quatieri and Kecia Weller, Survivor Self-Advocates
To learn more about Talk About Sexual Violence, see: www.talkaboutsexualviolence.org. To learn more about the Rainbow Group, see: https://www.WeAreMASS.org/rainbow-group.
---
About the Author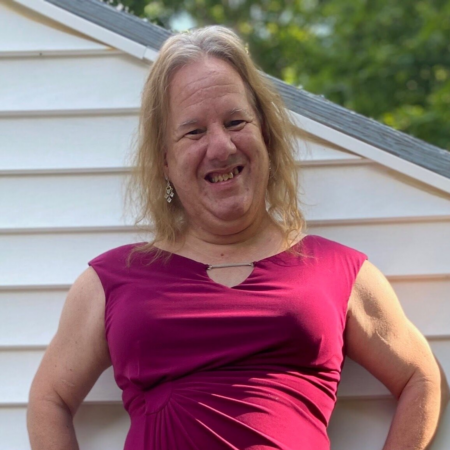 This blog was originally published here: The Arc Blog