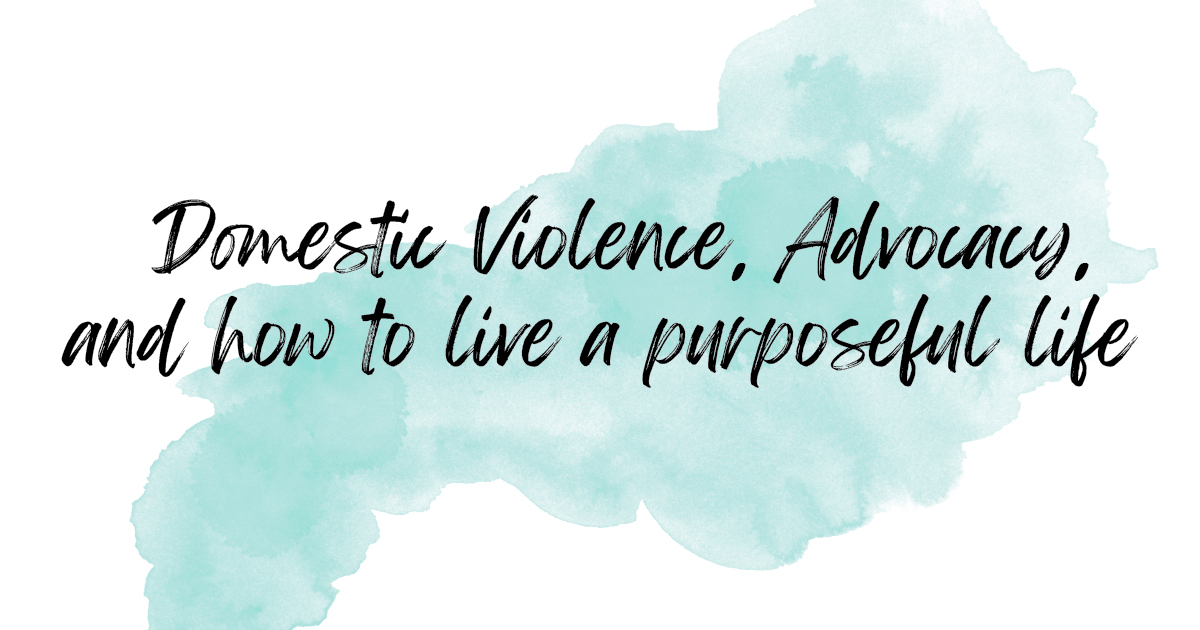 In 2004, Marsheida Dorsey-Carn was murdered by her 18-year-old boyfriend. After serving almost 12 years in prison, that same man murdered a second victim, LaPorscha Baldwin, in a fatal act of domestic violence. Through this horrendous tragedy, we came to learn about the impactful work of Dr. Purposed Carn (Marsheida's step-mother) as well as the work of her husband Pastor Micheal Carn (Marsheida's father). Together, they created their own respective outreach organizations, D'Vine Destiny and Fathers of Murdered Offsprings in Houston, Texas. We reached out to Dr. Purposed Carn after learning about her important work and advocacy.
Dr. Purposed Carn is a published author, a radio broadcaster, and a survivor who has been in the field of counseling for over 20 years. She is a woman of faith and a professional in divinity who shares her experience and teachings with others to help victims heal while also helping to prevent trauma in the community. Here, Dr. Purposed Carn shares how faith has played an important role in her healing.
Hi, my name is Dr. Purposed Carn. I've been through just about every form of abuse-- including 13 years of domestic violence. I'm here to tell my story and help others along the way.
Many of you probably said just as I did: "I'd never allow a man to put his hands on me."
It started with insults.
"Shut up" is what he would say, but -- shutting up wasn't my forte.
Then came the abuse. Afterwards the typical, "I'm sorry, I told your Mother I wasn't gonna hit you!" as if he had to keep reminding himself.
It was my first adult relationship. I just had my first child with him and had made a promise that I would never have any more children until I was married. God held me to my word. We got married in 1994 and had two girls by 1999.
By 2001, God had finally released me from this abuse and we divorced in 2002. However, I endured continued pain and heartache due to the loss of family and community members from domestic violence.
Marsheida Dorsey Carn, my bonus daughter, was born on Sept. 7, 1979 and was shot to death by her boyfriend, Charles Combs, on Aug. 21, 2004. LaPorsha Baldwin was born on Aug. 17, 1991 and was killed on Oct. 10, 2021 by that same boyfriend, Charles Combs in Charlotte, North Carolina. He is currently in prison.
These experiences, although extremely painful, helped guide me in my journey to providing Christian counseling services which has given me a higher platform to help others.
When I finally realized I was free, I was angry, confused, lost and yet, purposed, all at the same time.
I began to feel that my stepdaughter Marsheida needed me to keep her name alive, and other victims of domestic violence or sex trafficking needed me to remember and support them in their journey. In order to do that, I needed to remember who I am and my own journey, staying humble and grateful.
How did I learn to live with my abusive past and start over as an activist? First, I acknowledged the importance of faith for me in my life, and I pursued God to discover my destiny. I chose to complete my education, become an entrepreneur, take a leap of faith, build a home for myself and my children, and apply for a new profession within Child Protective Services. While my path deviated away from my chosen career after I got married and my mother died of cancer, these experiences were still valuable in aiding me to find my sense of purpose and fulfillment. Now I'm authoring books, acting, presenting interviews, traveling as a Radio/TV host, and succeeding as an entrepreneur, which has finally opened the door for the official rebranding of D'Vine Destiny Ministry and Crisis Center.
I started fulfilling my purpose because I was aware of the consequences of my trauma, and I began to realize that trauma no longer deserves to be a defining factor in my life. I started to reinvent myself through meaningful connections, developing a new sense of self, and envisioning a new future. In doing so, I discovered a goal that allows me to heal and grow-- counseling, advocating, educating, and becoming an advocate for survivors of domestic violence. I began to strengthen my faith by returning to school for a higher education and let go of old things and people in order to receive new blessings. I allowed myself to let go of the challenges that tested my faith and beliefs.
It also helped me understand my own trauma. This is how my cycle of abuse looked for me.
(1) Excuses - I explained away the problem.
(2) Apologies and Promises - Things seemed great.
(3) Routine - We return to the routine.
(4) Tension - Tension begins building,
(5) Trigger - Something sets off the abuser.
(6) Abuse Occurs - My self esteem drops and the cycle continues.
This abuse started as a small seed that was planted. Every time that seed was watered, it grew and intensified. A strong plant that takes root in solid ground will continue to strengthen and grow to its full potential-- be it good or bad. The watering will determine whether it grows or dies -- and it grew with each act of disrespect and abuse.
Many times, we look at the product instead of thinking about the process. We don't take time to pull up the root to see what has attached itself to it. We bury our feelings when we really need to stop holding things in and suppressing it and find help, whether a professional counselor, a Christian counselor, spiritual coach, or even a therapist. So many families have for generations have believed "what's done behind closed doors should stay behind closed doors." Those families don't take into consideration that those very secrets will only grow into deeper issues if they are not brought out into the open. We have to transform our minds, allow ourselves to heal, do research, and have clarity in our understanding.
Domestic violence can take various forms including physical, sexual, emotional, financial, and verbal abuse. Most often these patterns of abuse overlap in order to gain or maintain control of an intimate partner. All forms of intimate partner violence are also preventable. Strategies to promote healthy, respectful, and non-violent relationship skills such as communication, effective emotional management, and productive problem-solving can prevent violence. These skills can stop violence in dating relationships before it occurs and end cycles of abuse that persist in our families and communities.
In order to do that, we must know the signs. Does your significant other bully, threaten, or control you? Do they baselessly accuse you of having an affair? Do they blame you for the abuse? Do they criticize you consistently? Do they insist on controlling the money?
If any of the above rings true for you, or if you found yourself identifying with my own aforementioned six-stage cycle, there is help.
If you are in an emergency and in fear for your life, call 911. Try and contact the National Hotline for Domestic Violence at 1-800-799-7233, or other help local to you. Be sure to call from a safe place and act as normal as you can around your abuser until you're able to get away. Make sure you keep a journal or calendar to mark down the events following up to, during, and after the abuse.
Remember, you aren't alone!
---
About the Author