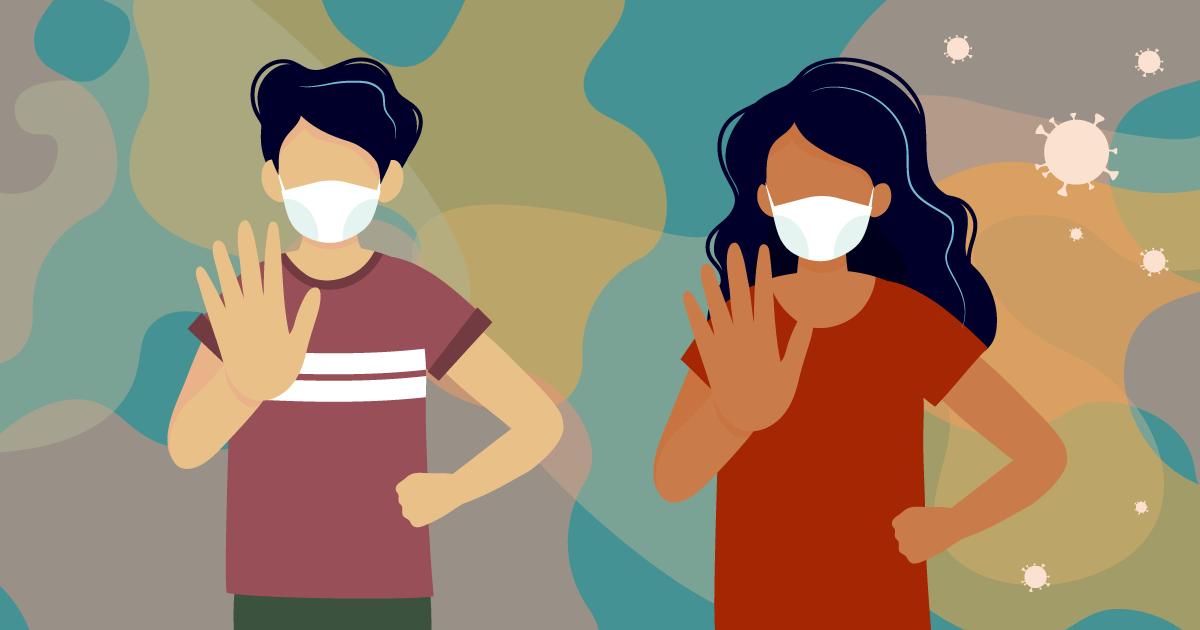 Xenophobia and anti-Asian sentiment are not new; however, they have been on the rise since the outbreak of the COVID-19 pandemic. In order to understand the connection between the Asian & Pacific Islander community and sexual violence in relation to COVID-19, we sat down with Baonam 'Nam' Giang of the National Organization of Asians and Pacific Islanders Ending Sexual Violence (NAPIESV), which is a program under Monsoon Asians and Pacific Islanders in Solidarity.
NAPIESV was established in 2010 to focus primarily on sexual violence because of growing concerns among advocates about the lack of specific services for Asian and Pacific Islander (API) survivors of sexual assault. NAPIESV supports local and international community-based organizations in enhancing their services to victims of sexual violence from the Asian and Pacific Islander communities in the United States, U.S. Territories in the Pacific, and Asia. The support that NAPIESV can provide organizations includes in-person training, webinars, individual and organizational technical assistance, policy and protocol development, and program development and implementation. Additionally, their website houses a number of resources including curricula, reports, and podcasts.
Baonam 'Nam' Giang is the Training and Technical Assistance Manager at NAPIESV. In this role, he supports community-based organizations and governmental organizations in enhancing their services for API victims of sexual violence. He was born and raised in Albuquerque, New Mexico. He began working in ending gender-based violence through his AmeriCorps work during his undergraduate and graduate studies. In his last role, he was the Community Initiatives Manager at Break the Cycle. In this role, he oversaw the organization's national training and technical assistance projects. His former roles include legal advocate, case manager, and prevention educator. Prior to joining Break the Cycle, he served as Program Director for Ending Gender-Based Violence at the New Mexico Asian Family Center (NMAFC). During his time there, he created the NMAFC's men's group and helped to coordinate all victims' services at the agency in addition to running a martial arts class for Asian youth.
______________________________________________
NSVRC: Baonam, how has the Asian & Pacific Islander community been uniquely impacted by COVID-19 in regard to risks, sexual violence, health and safety, ect.?
Baonam Giang: The API community has been uniquely impacted by COVID-19 through the collective trauma of the continued scapegoating of the pandemic onto the Asian community. This has led to an increase in hate crimes towards the API community. The experience hate crime victims go through and the mainstream reaction to API hate crimes mirrors the experience sexual violence survivors go through in that victims and survivors are not believed and are forced to prove their victimization. We have seen countless instances of hate crimes simply being deemed as not meeting the standard of being a hate crime, much like when survivors disclose sexual violence and are subjected to victim-blaming.
Additionally, we cannot ignore the fact that nearly 2/3 of API hate crime victims are women. This speaks to the disproportionate level of violence women and girls face in this country. Furthermore, the fact that over 2/3 of the anti-Asian hate crimes took place in public spaces (like businesses, streets, and transit) has led to increased fear and anxiety for the community, as they worry about racist attacks in their daily lives.
Has NAPIESV had any unique challenges to doing the work and serving the community?
At NAPIESV, historically our training and technical assistance work have been done in person as we feel this is conducive to relationship-building and cross-learning, but due to COVID-19, we have had to switch all of our training and TA to virtual and online spaces. While there was a minor learning curve and adjustment, this has also lead to an increase in the reach of our work. We have also noticed a trend of increased public disclosures of sexual violence on social media during the pandemic as well during our online training. This may be due to survivors seeking different forms of accountability and justice, as we know the criminal justice system does not always provide survivors with the accountability and justice they are expecting or looking for.
What kinds of new awareness about the API community are needed?
The one thing that we have noticed at NAPIESV since we were founded is that many of the same issues we were working on then are still ever-present today, such as the continued lack of disaggregation of data and language access. The API community is not a monolith — within the API community, there exist a number of countries, cultures, languages, and experiences that are often lumped together, which leads to inaccurate narratives about the community. There is still a significant need for awareness and recognition of the diversity that exists within the API community.
What are other issues related to Asian American and Pacific Islander discrimination have been brought center stage amidst the pandemic?
One issue that really came to light through the uptick in the API hate that we are seeing is the United States' history of militarized sexual violence. It is well known and documented that the U.S. military has a history of engaging in sexual violence in various conflict zones, particularly in the Pacific and Asia — both with rape as a weapon of war, as well as the state-sanctioned practice of "rest and recuperation," This history and these policies have contributed to the hyper-sexualization and fetishization of API women.
This was particularly evident with the March 16th Atlanta spa shooting that killed six API women. The shooter stated that he viewed the massage parlors and the women as sexual temptations that he needed to "eliminate." His choice of words was very consistent with a violent, militarized, and racialized view of sex. It is important to note that there is no evidence that any of those women were sex workers. Furthermore, at the press conference, the police spokesperson stated that the shooter simply "had a bad day and this is what he did," This normalization of the shooter's actions and empathy he received from the police speaks to the state-sanctioned violence that API women have experienced for so long.
For more information on sexual violence in the API community visit the Asian Pacific Institute on Gender Based Violence.
---
To read the next blog in this series, click here.
To return to the COVID-19 Guest Blog main page, click here.