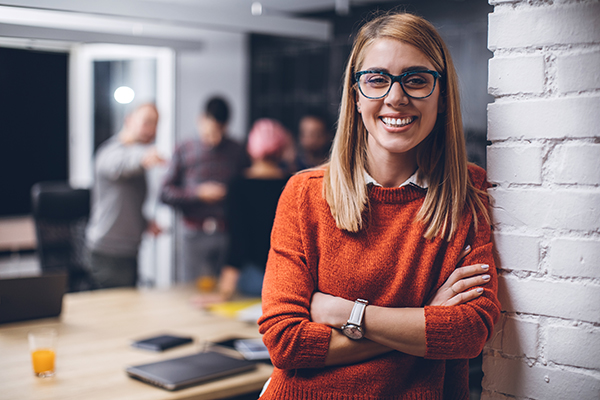 By Carol May, Communications Intern for NSVRC
Workplaces are important aspects of our society – places with cultures of their own that can play a large role in promoting healthy communities for both employees and those who patronize the business. And with the #MeToo movement shining a light on the prevalence of workplace sexual harassment, there has never been a better time for workplaces to get involved in Sexual Assault Awareness Month (SAAM). 

Below is an array of activities that your workplace can take part in to commemorate SAAM this April. Some call for creativity, others are designed to get folks up and moving, while others offer more symbolic ways to participate. Think about the unique culture of your workplace when deciding which activities might the best fit for engaging your colleagues. 
To raise awareness for SAAM, consider these ideas:
Wear teal ribbons: One of the easiest ways to raise awareness in April is by simply wearing a teal ribbon as a sign of support for Sexual Assault Awareness Month. With this year's campaign theme of "Embrace Your Voice," a teal ribbon is the perfect way to spread the message about the importance of sexual violence prevention. Be sure to bring extras into the office so others can show their support too. 

You can also turn this awareness-raising idea into a way to donate funds to your local sexual assault center. Employees could donate a set amount each day they wear the ribbon. This allows everyone at the office the opportunity to participate and make a difference.
Participate in the #30DaysofSAAM Contest: Participate in NSVRC's #30DaysofSAAM contest! Each day in April has a different prompt with the opportunity to win an awesome prize. Have your entire office show how they support the SAAM campaign or make it a competition within the company. Either way, participation serves as a great way to be involved with the cause. 
Get involved in Social Media Outreach: Post about Sexual Assault Awareness Month on your company's social media platforms. Whether it's an infographic on Instagram or a share graphic on Facebook, social media is a fantastic way for a company to demonstrate their commitment to creating a safe and respectful workplace. For help on how to best use social media during SAAM, check out our blog post, Social Media Toolkit, and free share graphics.
Participate in a local run or walk: Consider forming a team and raising money for a local Sexual Assault Awareness 5k run or walk. This is a great way for your local business to show the entire community your support and participation in Sexual Assault Awareness Month. By participating in such an event, your business is literally getting active in the effort to raise awareness about sexual assault. 
Observe Denim Day: Wednesday, April 25th is Denim Day during which wearing jeans are used as a sign of protest against the misconceptions that surround sexual assault. Have your office participate in Denim Day as a way to show support for victims and make a fashion statement. Register your workplace as a supporter of Denim Day then share your participation on social media.
Hold giveaways and raffles: Your business can donate money to a local rape crisis center or other organization through various raffles and giveaways. If parking spots near the office are hard to come by, raffle off a great spot for the month of April as a fundraising incentive. Or, if your office is business formal or business casual, have a day where employees can donate to dress down for a day. Finally, have a 50/50 raffle where half of the proceeds are donated and half goes to one lucky winner. 
Paint the town teal: If your business has a storefront with frequent foot traffic, consider decorating for Sexual Assault Awareness Month. Using the teal color for the SAAM Campaign, your business can show support with a teal ribbon on the window or encouraging message. Check out an example mentioned in a previous blog post here.
Host a speaker during lunch: Bring in a speaker during your office's lunch hour! Provide free food and an intriguing speaker to ensure higher levels of participation. Both RAINN and NSVRC have lists of speakers you can get or invite a representative from a local rape crisis center. 
To address workplace culture and policies, try these:

Review your sexual harassment policy: Have your human resources representative review and discuss the company's sexual harassment policy. Ensure that all employees understand what activities and attitudes are not permitted in the workplace. Make sure that everyone knows how to report any forms of sexual harassment, as well as what the consequences are for those who commit it. 
Use training to educate and engage: Anti-harassment training is often the first step employers take beyond policy to teach employees about workplace sexual harassment. A comprehensive training program demonstrates your company's commitment to preventing sexual harassment and shows that sexual harassment is taken seriously. If your business is not currently providing training on sexual harassment, or if you are looking to improve the training you currently offer, this is a critical time to review recommendations for employers to make the most of your training efforts. 
Encourage healthy workplace dynamics: Be a leader in preventing sexual harassment by modeling healthy attitudes and relationships within the workplace. Promote respect and diversity with fellow employees as well as with clients and customers. 

Considering how much time we spend at work, the workplace is an important place to participate in Sexual Assault Awareness Month. For more information about Sexual Assault Awareness Month and how you can get involved, check out our online Action Kit and other free resources.