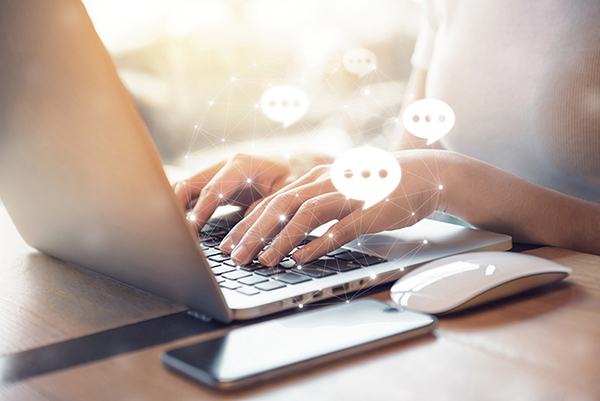 By Fiona Burke, Communications Intern for NSVRC
The fast pace of social media and the constant flow of information makes getting noticed and remembered difficult to do. With work and the right tools, however, social media is a great way of getting people to join your SAAM campaign and attend events. 
The suggestions below are specific to event organizers -- we'll provide specific ways that individuals can get involved online during SAAM in an upcoming blog. 
So if you're hosting a SAAM event, here are some ideas for maximizing your visibility and appeal on social media.
---
Change your cover photo to advertise your event or campaign. Whether you're coordinating a campaign as an organization or as an individual, creating an image to be used as a cover photo is one of the most basic ways of spreading the word.
Create a highlight reel of your SAAM campaign last year to help give people a sense of what to expect from this year's campaign and inspire them to get involved. This might be as simple as sharing several photos from past events. 
Or you could take it to the next level by creating a short video using your photos. Free online tools like Adobe Spark can make it simple to create short but captivating videos. Using catchy audio and fun visuals is a great way of getting people excited about the prospect of participating! You can share your photos or videos on all major social media platforms including Instagram, Facebook, and Twitter. 
Check out our Adobe Spark video from last year's SAAM campaign.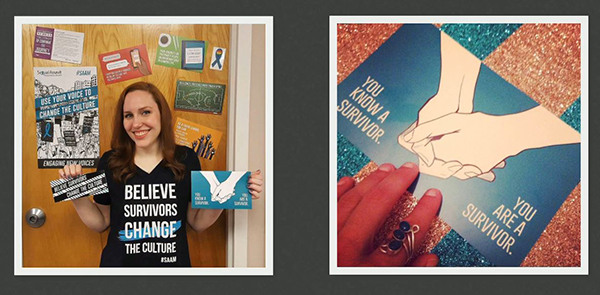 Make visually appealing testimonials. Using a tool such as Canva, you can create beautiful share graphics with quotes from people who have participated in SAAM in past years. Showing an outsider's praise gives your campaign more credibility.
Use one hashtag for all social media platforms. Having a single hashtag makes it clearer what to use when people want to post using the event hashtag and makes your hashtag easier to find. Of course, you can always use the official hashtag of Sexual Assault Awareness Month, #SAAM, in more general posts during the month. 
Post pictures of speakers you have at an event(s) with quote overlays. This is a visual way of advertising your event and getting people excited about what the speaker has to say. You can (and should!) tag the speaker so that the post will be visible to their followers as well!
Create a Facebook event page.This one is pretty obvious, but having one page you can link to and where you can share information about events in your campaign is crucial.
Advertise your event in your email signature. If you have to send emails for work regularly, this is a great way of sneaking in a plug for your event without even having to mention it directly!
Host your own Twitter chat to engage and educate your followers. Pick a time to hold your chat and promote it. Allot about an hour for the chat and develop a list of 5-10 questions to ask your followers (e.g. "What does enthusiastic consent look like to you?") Use a specific unifying hashtag for your chat and include it with your questions and start questions off with Q1., Q2., etc. to keep the chat organized. Then you can retweet answers to your questions to amplify the voices of those participating!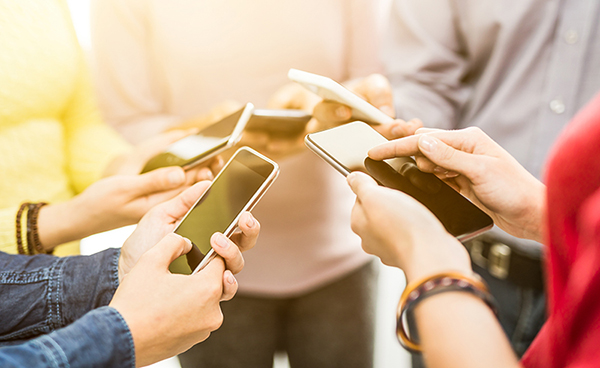 Utilize the Facebook live feature by streaming your SAAM event to your Facebook audience as it's happening. Facebook algorithms that decide which posts to prioritize prefer live videos.
Participate in the #30DaysofSAAM Instagram contest to engage others in a fun and creative way. Follow @NSVRC on Instagram to get daily prompts during the month of April and then respond to them with a photo using #30DaysofSAAM and tag @NSVRC. Check our account at the end of each week in April to see if you've been chosen as a finalist or winner to receive a prize pack of SAAM merch!
Utilize the SAAM Social Media Toolkit. The toolkit has sample posts, advice on how to make the most of each social media platform, and more! You can also use NSVRC's share graphics which are sized for each platform. 
---
Beginner's Guide to SAAM Event Planning Blog Series
This is part of a series of blog posts intended to guide individuals to make the most of April 2018's Sexual Assault Awareness Month. 
Check out other blogs in the series: