Get your gears turning for Sexual Assault Awareness Month 2018 with this list of rock star SAAM events from across the country (and one even outside of it!). We checked in with event coordinators to learn about their planning process asked them their advice for first-time SAAM event planners.
Check out the events below, then go forth and plan your own captivating campaign!
 
---
Christiana at The Women's Center, Inc. in Bloomsburg, Pennsylvania.
Describe the event your organization hosted:
The past two years we have gotten groups of volunteers to go out in local areas of our county regions and window paint: Paint the Town Teal, #SAAM, and sexual assault statistics. Last year we did "Change the Culture." Since we can't window paint on the halls of our local University we partnered with the Women's Resource Center on campus who got teal ribbons laminated and we hung them on residence halls, administrative offices, etc.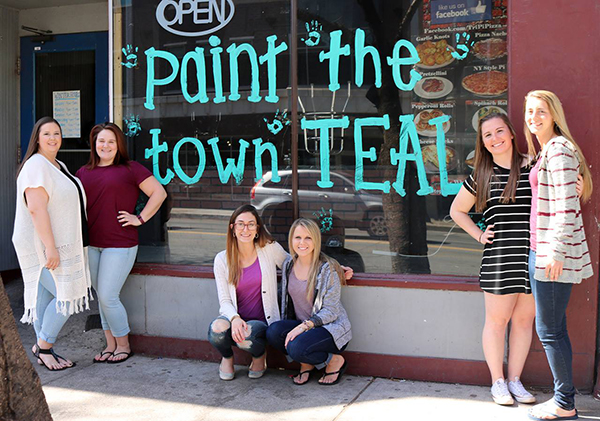 What were some successes of your event?
This is the third year of doing this now and it's really something that's started to become noticed and recognized. Businesses expect us when we come around to paint and get excited about the possibility! Two years ago the local news station even ran a segment.
What advice do you have for someone planning a SAAM campaign/event for the first time?
Design one concise plan and grow over time. If you try to do too many campaign options at once you get spread too thin and don't reach as many people. Design a focused organized campaign, reach out early to your community partners, utilize volunteer help to get the work done and contact as many reporters as possible.
---
Fran at CAP Services, Inc. in Waupaca, Wisconsin.
Describe the event your organization hosted:
A public Proclamation Signing - invitations were hand-delivered to key community organizations in addition to posters being placed throughout the county promoting the event.
What were the goals of this event?
As a rural county, sexual assault has historically been something our community members are very uncomfortable discussing. Our goal was to show the public that the Waupaca County Board members, in partnership with our SART (Sexual Assault Response Team) team, are aware that sexual assault is a growing problem, that this is a crime that affects the entire community (not just the primary victim), and that there are resources available for prevention, education, and support.
What were some successes of your event?
With the assistance of a courageous survivor sharing her story, this event brought a "realness" to the issue of sexual assault for our citizens. Our community gained knowledge about the progress that has been made in supporting victims, as well as what SART is, who its members are, and the important roles they play in creating a safer, more victim-centered approach toward sexual assault. Our SART members also benefited in that they were given an opportunity to work together in organizing this and other events.
What advice do you have for someone planning a SAAM campaign/event for the first time?
Get as much community/partner involvement as possible -- the more players at the table, the greater public awareness and support.
---
Lindsey at Rape Victim Advocates in Chicago, Il.
Describe the event your organization hosted:
Standing Silent Witness is RVA's signature event for SAAM in Chicago (#SAAMChi). In a visual demonstration of the silencing of survivors of sexual violence, participants gather silently for one hour wearing t-shirts that bear stories and messages protesting rape.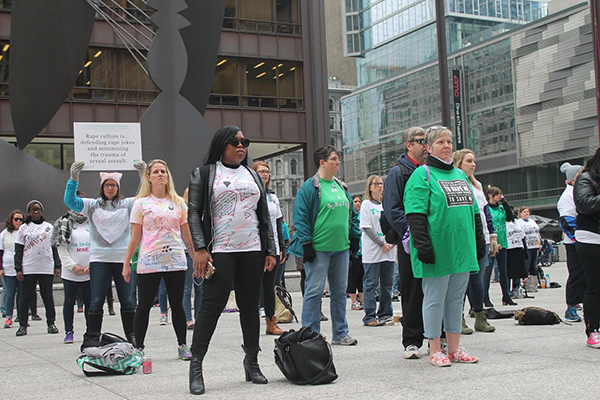 What were the goals of this event?
Standing in solidarity, showing our strength in numbers, encouraging conversations, and increasing awareness
Who was the intended audience?
The inactivated public and survivors who may feel isolated to show they're not alone.
What were some successes of your event?
170 people joined this year's event, our largest protest yet!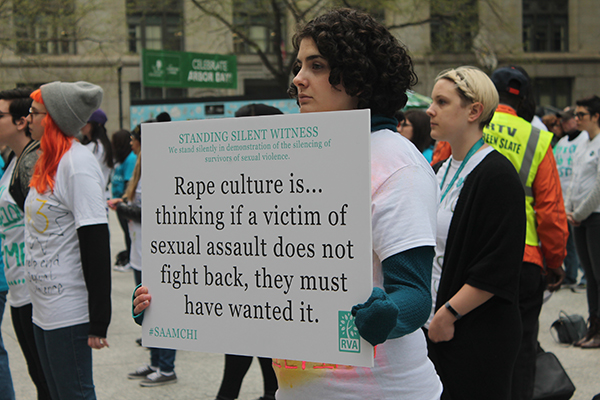 What were some resources you used to organize and facilitate your event?
We hosted t-shirt making parties the weeks leading up to the event to make sure multiple stories, statements, and stats were represented by those who stood with us. Social media and sending news tips to local media outlets really helped increase visibility.
---
Catherine at Raise Your Voice Saint Lucia, Inc. in St. Lucia
Describe the event your organization hosted:
We organize town hall meetings once a month for each region as we are a small island. The island is divided into 9 regions; therefore we have one community meeting each month to speak on:
Violence against women & girls
Legal advice on how to navigate family court & social services
Where women can receive assistance
The need to enact new legislation and review and amend discriminatory legislation which victimizes women and children, specifically single women and children born out of marriage and same-sex couples.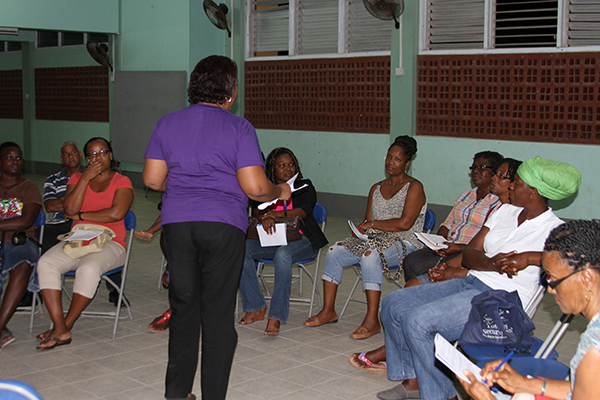 Who was the intended audience?
The meetings are hosted for all community members who wish to attend.
What were the goals of this event?
We host these meetings to provide information, educate and empower the community so they may demand better representation from parliamentarians, become aware of their rights, avoid human rights abuses when seeking assistance from social services agencies, etc
---
Cristy at the LA Community College District in Los Angeles, California.
Describe the event your organization hosted:
The four-day symposium had a different theme each day. For example, one event focused on LGBTQ violence awareness, another on sexual violence within law enforcement, and one focused on lawyers' perspectives. There were different community agency booths at each event.
Other sessions and events the symposium included were:
Sessions on Title IX
Self-defense demos
Individualized programming
Panelists and Q&A
Who was the intended audience?
Employees of the university system.
What advice do you have for someone planning a SAAM campaign/event for the first time?
Know your audience and find an appropriate topic accordingly. Make your events accessible to a large audience. Get senior staff to support the event and then they will promote the event amongst their own staff.
Do you have any interesting/helpful anecdotes about the planning or execution of the event?
We needed more publicity. Typically we use posters and email through the universities and we will do more of that next time.
---
Cara at Vanderbilt University in Nashville, Tennessee.
Describe the event your organization hosted:
Our students were focused on supporting survivors, rather than wanting to voice anger or protest. They do, at times, and through other events, but we're striving to attract widespread participation that gave everyone a comfortable role to play. For at least the beginning of the program, we came up with the idea of a silent procession. 
Most participants do walk the route around campus, but we plan the route in advance ensuring it is a wheelchair-accessible path. Students proceed silently, and many carry lanterns and wear glow bracelets or necklaces. Project Safe provides paper lanterns, in which we have glued LED tea lights (ensuring no open flames, which results in less paperwork, less risk, and a sigh of relief from our campus safety partners). 
In the weeks leading up to Sexual Assault Awareness Month, student organizations, fraternities, sororities, athletic teams, groups of friends, and individual students may stop by Project Safe to pick up lanterns and lantern decorating supplies. Students can decorate the lanterns in our conference room, or take several to a floor, team, or chapter meeting.  This encourages and incentivizes participation of, at least, delegations from a broad swath of student populations.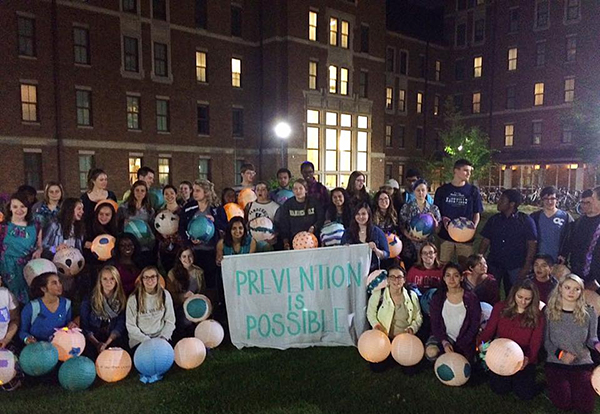 What were some resources you used to organize and facilitate your event?
We promote the event via posters, email newsletters, student org meeting announcements, and social media.  We identify a central meeting place and time, and then a staff member leads the students on the route.  We typically have a plain clothes police officer on hand, just in case there is any disruption (which we have not yet encountered).
What advice do you have for someone planning a SAAM campaign/event for the first time?
Give yourself permission to start small.  Create safe, easy, broadly inclusive opportunities for people to participate as allies.  Not everyone will be ready to identify as a survivor.  And don't quit if you only have a small turnout.  Word of mouth will help next year's event grow larger than the first one.  But these events are always worth doing, whether 4 or 400 people turn out.
 
Keep the visuals/branding clean and consistent.  We try to limit our color choice to teal, with limited amounts of purple OR our school colors, but not all of these.  Realize the teal awareness ribbon make not be well known, or that others associate it with ovarian cancer awareness.
 
Create a giveaway.  Whether you put teal beads on safety pins, cut and fold your own awareness ribbons and put them on safety pins, or cut lengths of ribbon for people to tie around their bags or backpacks, create construction paper teal decorations or simply pass out black and white copies of the still-so-popular coloring sheets, this tangible item in hand has resulted in us being able to identify ourselves, mention our cause, and generate word-of-mouth that results in that person's friends stopping by our table.  If you have ample funds, great!  But many of us don't, and SAAM efforts can still be done.
 
Know your target audience.  Know your vibe.  Tune into what your campus or community is feeling.  Don't try to force an event that you think won't be appealing.  If it's not appealing, it won't be persuasive, and what we're really trying to do is change minds and behavior.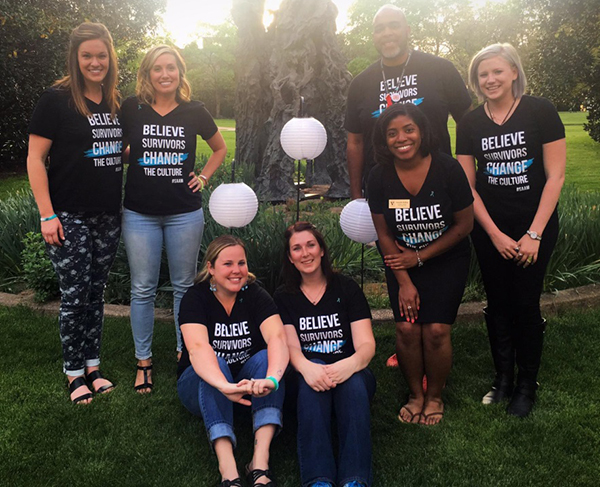 ---
Beginner's Guide to SAAM Planning Blog Series
This post is part of a series of blog posts intended to help individuals make the most of April 2018's Sexual Assault Awareness Month.  
Check out other blogs in the series:
Are there some helpful tips you'd like to see included or burning questions you'd like answered in the blog series?  Or do did you host your own SAAM event that you'd like to see featured in a blog? Let us know in the comments or reach out to ssullivan@nsvrc.org.