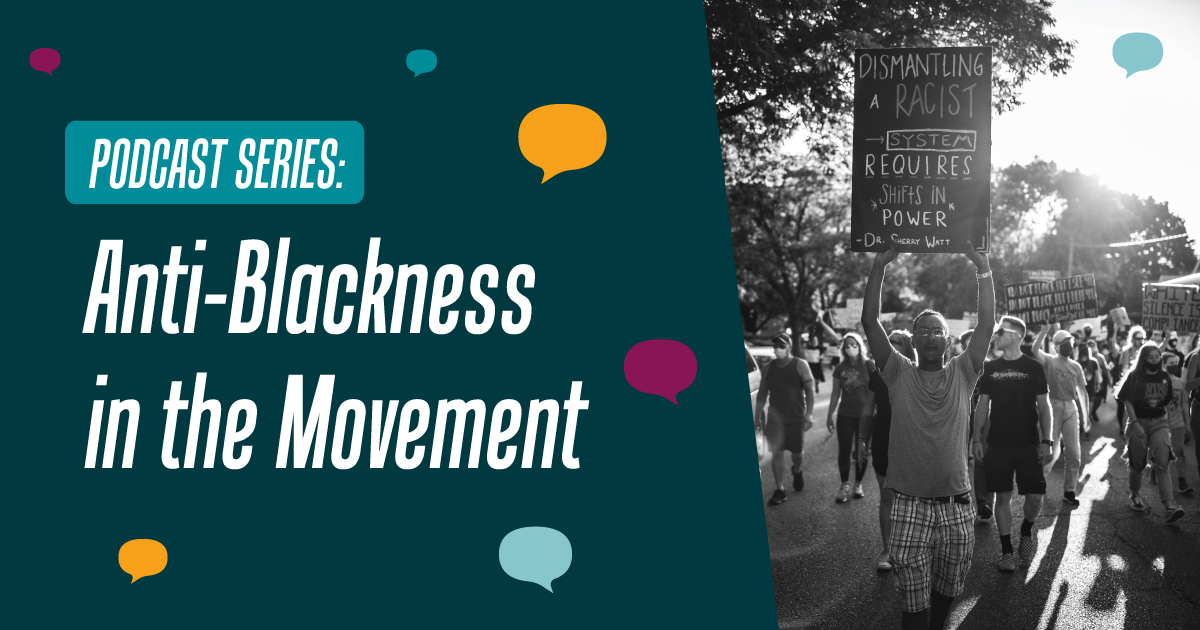 I recently had the immense privilege of speaking to five Black movement leaders about their experiences of anti-Blackness in the movement to end gender based violence and steps we can take to create a movement that is inclusive of Black workers and survivors.
For organizations striving to serve as allies and accomplices to Black communities, these five podcasts are a tool to better understand how they can fulfill their commitments and create a movement that addresses gender-based violence against all people while following the lead of the most marginalized among us.
These conversations exhibit the diversity of Blackness - the interviewees hold a multitude of identities and represent separate and distinct experiences and perspectives. While there are differences among them within age, gender, geography, citizenship and other categories, there are many similarities in how they experienced anti-Black racism within movement organizations. There are also commonalities in how they advocate for true, survivor-centered accountability within the movement.
Finally, another element that is consistent between all five of these guests is that they do various forms of consulting, training, and technical assistance work with movement organizations. Organizations that wish to increase equity, inclusion, and access in their work and within their workplaces should consider reaching out to these guests and other experts for support and guidance.
The movement to end gender-based violence is in a period of reckoning. In the summer of 2020, many individuals, organizations, and institutions made commitments to address racism and anti-Black violence in response to the murder of George Floyd and other examples of systemic racism. These commitments included the "Moment of Truth" letter, which was signed by 47 State and Territorial Coalitions. The letter acknowledged the failure of white leadership in the movement to listen to Black, Indigenous, and other people of color (BIPOC) advocates and continued to prioritize the criminalization of survivors, communities of color, and other marginalized groups through carceral policies that emphasized policing, prosecution, and incarceration. While this letter may represent a promising new direction for the movement, many BIPOC and abolitionist-oriented movement workers were - and continue to be - skeptical. This is not a surprise, given that this critique is not new, as evidenced by the 1977 "Letter to the Anti-Rape Movement" by Robin Mc'duff, Deanne Pernell, and Karen Saunders; recently published within a zine by Mariame Kaba.
"Given the racist and patriarchal patterns of the state, it is difficult to envision the state as the holder of solutions to the problem of violence against women of color. However, as the antiviolence movement has been institutionalized and professionalized, the state plays an increasingly dominant role in how we conceptualize and create strategies to minimize violence against women.... The state can assimilate our opposition to gender domination into projects of racial-which also means gender-domination." - Angela Davis
Leaders in the mainstream (or hetero, cisgender, non-disabled, white-dominant) movement to end gender-based violence have resisted calls to reconsider their relationship with criminal legal systems since this mainstream movement was established. This resistance often comes alongside contradictory commitments to listen to, believe, and embrace the leadership of Black voices. A contemporary example exists as one of the signees of the "Moment of Truth" letter, the Washington Coalition of Sexual Assault Programs (WCSAP), wrongfully terminated their Executive Director, a Black, immigrant woman, only a couple of months before signing on to the letter. This situation was recently highlighted in the Mother Jones article, "How the Mainstream Movement Against Gender-Based Violence Fails Black Workers and Survivors," by Madison Pauly. At the time the letter was published, WCSAP was in the process of establishing non-disclosure agreements that prevented her, and other staff who worked alongside her, from speaking about anti-Black racism in the organization.
This contradiction is not uncommon in the movement, and it has made mainstream movement organizations unsafe for women of color and other marginalized groups, as stated by Beth Richie in her talk, "Reimagining the Movement to End Gender Violence: Anti-racism, Prison Abolition, Women of Color Feminisms, and Other Radical Visions of Justice":
"Women of color came to this work because the movement's "justice" rhetoric promised us that our leadership would be recognized and supported. We believed that promise. We really did believe it, and we dug in because we thought that the work would embrace our lives and our contributions. What we found then is what we still find now: a pernicious form of racism in the movement to end gender violence. This reality does not make sense because it is inconsistent with what the movement says we believe in." - Beth E. Richie
If the movement to end gender-based violence intends to go beyond words and performance, the first step will be to listen to the communities most marginalized and take a step back so that these communities can lead and implement community-centered solutions. This is not a new strategy. In fact, it has been offered to many leaders of the movement as they stated commitments to advocate for BIPOC and marginalized communities, and then continued to support the criminalization of those same communities. It needs to be said that many of the folks who have profited off of this hypocrisy and sided with the systems of oppression that are fueled by the criminal legal system continue to serve as leaders in the movement. Many of them likely signed on to the "Moment of Truth" letter.
To avoid repeating this pattern, we need to go further and ensure that accountability exists in the movement. The movement leaders who have benefitted from anti-Black racism need to do more than commit to a different path; they need to revisit the harm they have done. They need to reckon with the fact that they may have stepped on, kicked, and stood on top of marginalized individuals and communities as they cleared a path to leadership. And they must be accountable for that. They must uplift the communities and individuals they have held back. More often than not, they need to take a step back and allow space for new leadership.
This blog was written by Darin J. Dorsey and represents his reflections on his NSVRC podcast interviews with five Black leaders in the Movement to End Gender Based Violence.
Darin J. Dorsey is Principal and Co-founder of Rooting Movements, a consulting firm that helps organizations ensure that the values that underlie the change they intend to make in society are reflected in how they operate, internally and externally.
In his work with Rooting Movements, Darin helps organizations assess their practices, policies, and culture to ensure that their values are reflected in not only the work they put out but how they do it, too. All the work he does is in community with the amazing advocates and activists he has had the privilege to connect with over the years; he believes consultation and training work is more effective when done in collaboration with other movement workers. Darin has learned from experience that the biggest barriers to changing our communities for the better occur when inequities happen in our organizations. And he's made it his mission to remove those barriers.
During his college years, Darin immersed himself in the movement to end gender-based violence, volunteering and working for his local sexual assault advocacy center while studying gender studies and feminist theory. His introduction into this work was at a time when conversations about intersections of identity were not mainstream, particularly when it comes to race. It has only been within the last few years that he saw himself as more than "a man in the movement" and fully recognized the value of the experiences, knowledge, and perspective that he holds as a Black man in this movement.
Darin has worked within diverse communities across multiple regions, including California, Texas, and the Pacific Northwest. He has served in several roles, including as a survivor advocate, a prevention educator, policy advocate, and within organizational leadership. He is well versed in public health approaches to violence prevention and has implemented and provided training and technical assistance for CDC-funded primary prevention programs.
Outside of this work, he spends most of his time with his partner, Cecily, and their toddler-aged son. His favorite hobbies are gardening and BBQing. In addition to herbs, tomatoes, and other fruits and vegetables, he grows at least 10 different hot chile pepper plants each year and uses them to make hot sauces, marinades, seasonings for his cooking and BBQing adventures.
PCAR/NSVRC Management Team Response
The PCAR Management Team listened to each of the Anti-Blackness in the Movement podcasts, personally and collectively reflecting on each episode. We are grateful to Darin Dorsey for the amazing work he did in coordinating this project and facilitating these incredibly moving and informative conversations. We thank each guest – Michelle Osborne, Tonya Lovelace, Valériana Chikoti-Bandua Estes, Theryn Kigvamasudvashti, and Paris Chapman – for boldly sharing their experiences and wisdom.
When we began this collaboration with Darin, we felt it was important to listen to the podcasts as a management team so we could better understand the impacts on us as individuals and the larger organization at PCAR/NSVRC.
What We Learned
1) Professionalization of sexual violence prevention and response has harmed and continues to harm Black colleagues. Requiring a rigid set of credentials and qualifications perpetuates white supremacy within organizations. This professionalization has systematically opened doors for white workers with privilege, while keeping the same opportunities blocked for Black colleagues—perpetuating a harmful imbalance of power and leadership throughout the movement to end sexual violence. Black people bring a wealth of skill, expertise, experience, and history to this work. We must acknowledge and value that.
2) We must engage and truly listen to a range of voices and perspectives in sexual violence prevention and response, especially the voices of young, Black people and Black advocates and survivors. Power, leadership, action, and resources must center these voices and needs.
3) The "mainstream movement" to end sexual violence is typically tied to governmental systems and funding. This is not the full picture of the movement in actuality, nor have these systems always supported the history of brave activism and leadership of communities of color. In fact, these systems and this mainstream movement have caused harm.
4) Organizations within the movement to end sexual violence can and have set up Black people for failure. Black leaders are not listened to in the same way as white leaders, and they are not respected for the work they have contributed (and continue to contribute) to the movement.
5) If we hear the same messages over time about how we need to do better, then there is something we are not doing. We need to step back, look at what we're doing and how we're doing it, listen to the messengers, and do better.
6) We are quick to want to solve things and we move too quickly and make mistakes. This is where we can set people up for failure.
7) We need to identify where we have influence with funders, policy makers, and decision-makers. We need to mobilize that influence to change grant priorities, allocations, wording, and expectations. How can we influence who is funded?
How can we share the resources we receive with culturally specific organizations & Black-led organizations serving Black communities?
How can we more broadly interpret what is allowed or not allowed with funding? Where is there flexibility? How do we ask for what underserved and marginalized communities and survivors need and want?
Moving Forward: Action Steps
We are committed to identifying action steps we can take as a team to interrupt anti-Blackness organizationally and within the movement to end sexual violence.
1) We will value and seek out diverse expertise and experience, resisting a rigid set of qualifications that perpetuate white supremacy.
2) We will seek out and engage a range of voices. We will listen to feedback from Black colleagues and act on it.
3) We will counteract harmful systems that perpetuate imbalances of power and resources.
4) We will ensure that Black people in our organization are heard and can be their full authentic selves.
5) We will change how we do things – we will analyze our organizational policies and procedures with a pro-Blackness lens, and make necessary changes.
6) We will slow down and avoid causing harm from quick responses.
7) We will mobilize our influence with funders, lawmakers, and others to help create more flexibility and inclusiveness.
We hope by sharing our journey that it will encourage other organizations to have transparent conversations, and to create plans that include actionable steps to become an anti-racist and inclusive organization.
We wish to thank Darin Dorsey. Darin can be reached through his consulting firm Rooting Movements.
Additional Resources