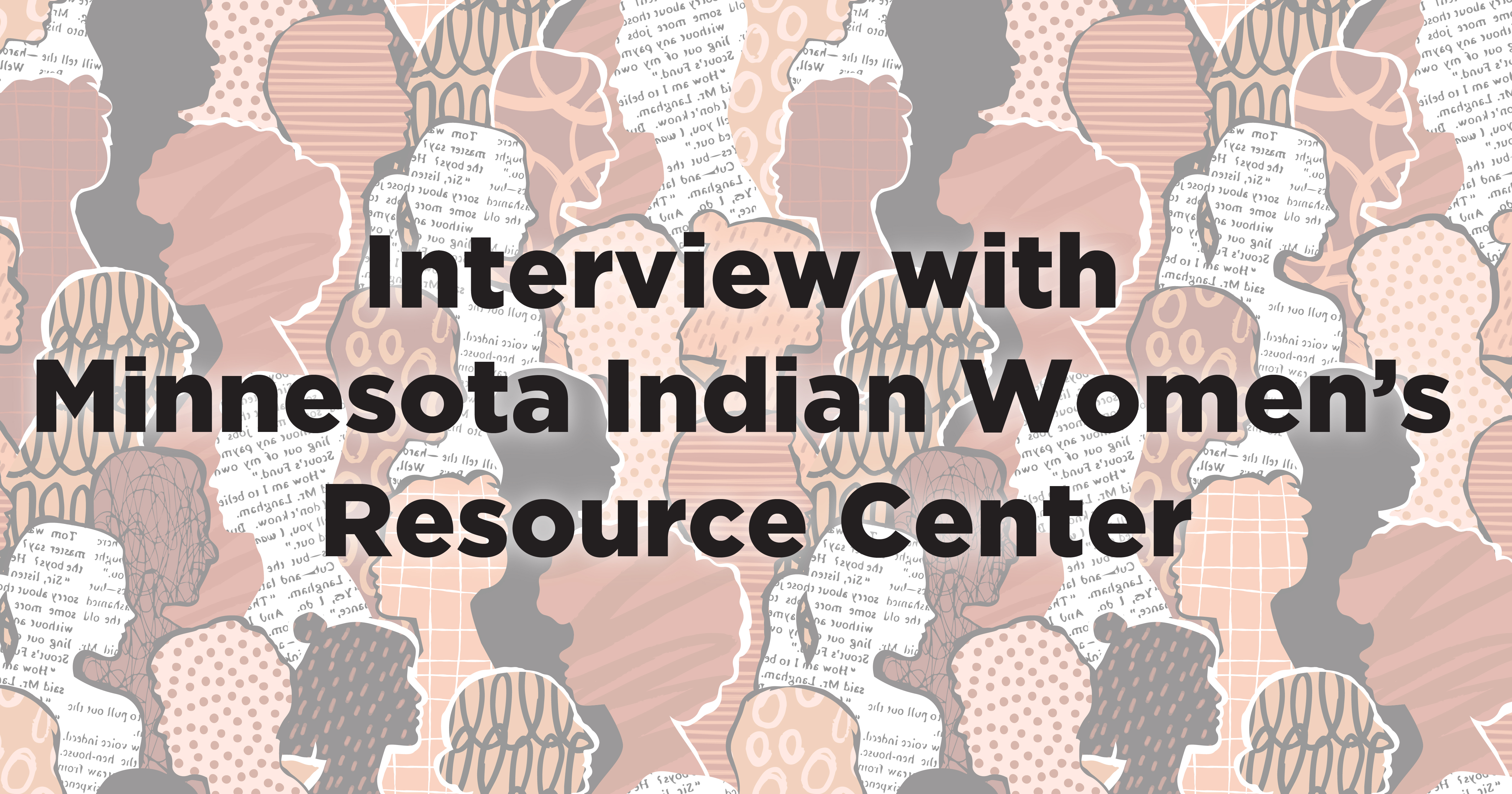 This is the first excerpt of a two-part interview. Be sure to read the second part here. 
1. It wasn't until 1999 that the Department of Justice released crime data relating to American Indian people. How has this deficit in data collection impacted indigenous organization's ability to advocate for their cause? Have you/your organization noticed any changes since that data collection has expanded and been more common?
So I started at the agency in August of 2020, which was long after the data collection happened. However, I do think that there are some challenges that still exist in terms of data collection for American Indian people. Oftentimes, we can be miscategorized  racially. Specifically, I'm thinking of one of our sexual assault advocates who had a call for medical advocacy at one of the hospitals and the woman was unconscious. So they were classifying her as American Indian and she was not. So that couldn't be determined until she gained consciousness and her relatives were contacted. But it also happens in reverse. There's this idea that American Indian people look a certain way, and American Indian people are not a racial category. We are, in fact, a political status. That political status means that all of the 500+ tribes that are federally recognized that exist in the United States determine their own criteria for tribal citizenship. So that can mean it can be lineal descent. It can mean that there's a certain percentage of blood quantum that they require. All in all, it means that American Indian people can look in many different ways, and you can't classify us by the way that we look. So it skews the data. The data has been skewed and continues to be skewed.
2. Many stereotypes about women of color date back to colonialism. How do stereotypes about American Indian girls/women and their sexuality contribute to the predatory behavior of sex traffickers?
Well, I think that a lot of the stereotypes that existed upon contact…There was an effort to destabilize American Indian communities by restricting or burning food sources. Essentially disconnecting family units. Even physically stealing women and trafficking them as wives to settlers. So, I think that because of the trauma and because of the generations of trauma that exist, that has led to some addiction and also some survival sex work, both historically and contemporarily. 
I think that these small numbers of women who had to participate in survival sex work then become stereotypes of what American Indian women are. I know when I grew up, what I heard was that American Indian women were drunks and whores. That's what I heard all the time. Whenever you saw a woman who was possibly participating in survival sex work, or was under the influence, it was seen as that was the norm rather than that was the exception. So, I think that those stereotypes happen void of all the trauma that's existed within the child welfare system, the boarding schools, the systematic removal of land, resources, and the intentional and systematic violent destabilization of our communities. I think that there's a much larger story that needs to be told about why these things exist in our communities. Not that we are deficient people or that we aren't capable of living beautiful and healthy lives. It's that we were intentionally victimized to be put in a situation where we are vulnerable to these types of acts. I think that is part of it. 
I also think that American Indian women have been fetishized and oversexualized by colonial mindsets in terms of what women are. In Europe, women were owned. Women were sold. Women were given away in marriage. Those same concepts did not exist in our communities. Women had much more leverage to be who they were supposed to be and also had power. So it's just a very different mindset, and patriarchy really brought that level of thinking of women as sexual objects rather than intelligent and spiritual beings that bring life into this world.
3. For much of the 20th century, American Indian children were forcibly taken from their homes and placed into Christian residential schools (in which many had sexual violence and other forms of child abuse take place). How does the legacy of these institutions still contribute to the sex trafficking of American Indian people today?
I was raised by a grandmother who was a boarding school survivor. Both of her parents were boarding school survivors. Her father survived Carlisle Indian Industrial School in Pennsylvania. My grandmother survived Haskell Industrial Training School in Kansas, and was then relocated during the relocation era to an urban area. So I see boarding schools as an assimilationist resource to strip us of our identity. To strip us of our kinship connections, our clanship, our teachings, our language, our way of life. But also all of that being replaced with abuse and violence. That trauma then lives on through the next generation. That it's a shame to speak the language. A shame to be Indian. Also, it's trying to deal with the emotion and the feelings and the trauma that they've experienced. So, what happened is a lot of children were then fed into the child welfare system, and the child welfare system is essentially an extension of the boarding school era. Again, saying that American Indian people are not capable of raising their own children, of providing lives for their own children, or their lives aren't good enough and that they'd be better off living in wealthy white homes. So that mindset, I think, has contributed to a lot of the problems that we see in the child welfare system.
Also, the healing part of that, and how we repair the damage is in returning to those traditional practices and those ways of life. That's a lot of what we do here at the agency at the Indian child welfare work. The state of Minnesota has one the highest rates of removal of American Indian children from American Indian homes. We also just passed MIFPA, which is the Minnesota Indian Families Protection Act to ensure that even though ICWA, the Indian Child Welfare Act, was being attacked at the Supreme Court level or the federal level, that we will still provide some safety nets here in Minnesota for our children. The importance of that is seen in many of our families' lives through courses of adoptions that have happened in my own family. Relatives who are adopted out struggle with identity. All of this feeds into substance abuse disorder and other things that negatively impact our families. So, there has to be a point where we start healing from that. As far as sex trafficking, of course, with substance use disorder, homelessness, generational homelessness, and generational child welfare system involvement…all of that feeds into the systematic problem that we see in the community. 
This blog post was published in The Resource 2023 online magazine special issue on Racial Equity in the Movement. 
About the Author: 
Marisa Cummings (Miakonda) is Umonhon and belongs to the Buffalo Tail Clan of the Sky People as well as the Walker and Springer families. She is a relative to many and is constantly growing traditional knowledge of language, seed keeping, food systems, and building relationships with relatives. Marisa holds a Bachelor of Arts Degree in American Studies from the University of Iowa and a certificate in American Indian/Native Studies and a minor in African American World Studies. She earned her Master's in Tribal Administration and Governance from the University of Minnesota Duluth. Marisa is the President/CEO of the Minnesota Indian Women's Resource Center (MIWRC) in Minneapolis, MN.
Marisa is dedicated to Indigenous models of governance, education, food systems, ceremonies, and sovereignty. She studies and teaches knowledge rooted in matriarchy and advocates for dismantling systems of oppression that impact our Native communities, including resource extraction and personal violence. Marisa has worked across the U.S to consult on culturally specific healing practices and intentional and systemic equity regarding American Indian populations.