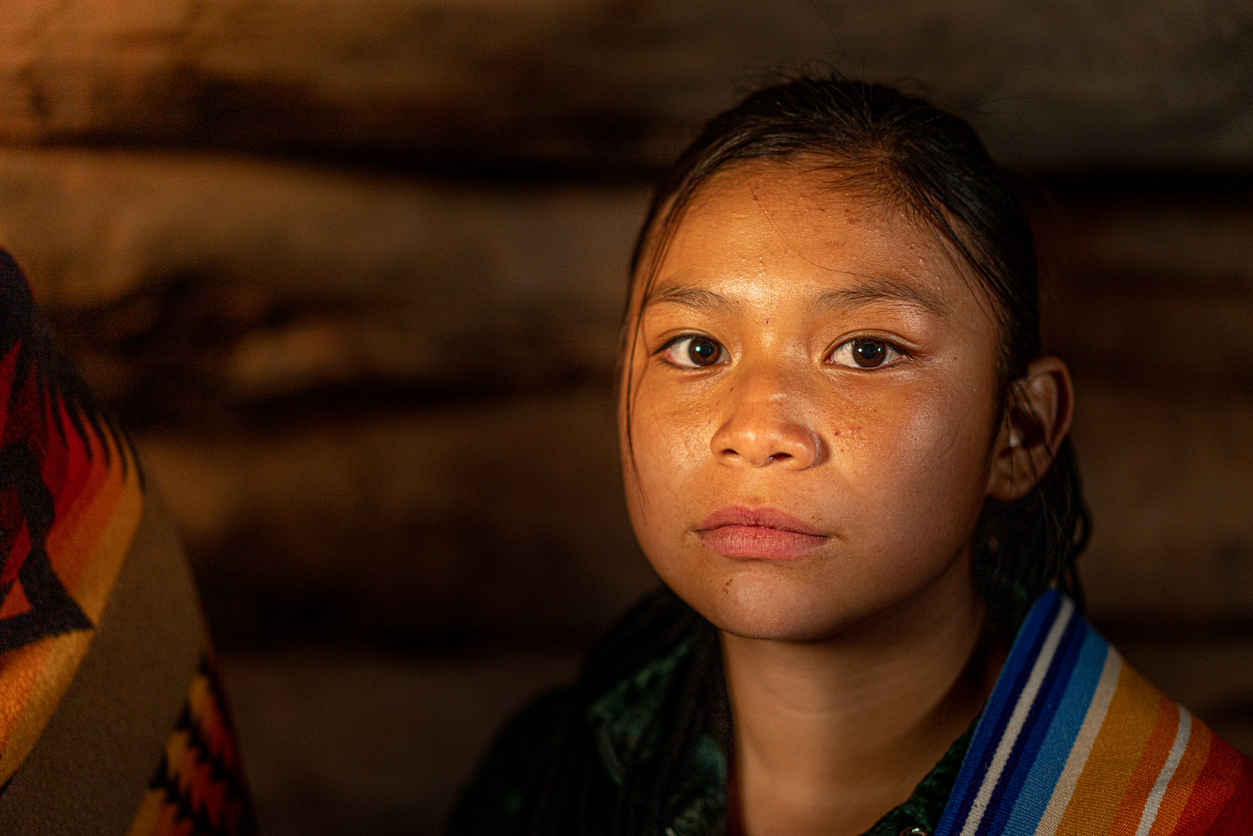 All too often, white Americans mythologize our history to the point where we erase the horrors perpetrated by the leaders of our past. On Thanksgiving, we commonly celebrate the story of Native Americans and Pilgrims coming together while ignoring the centuries of bloodshed and trauma colonizers enacted upon the original inhabitants of this country.
Oppression is a root cause of sexual violence and stems from the violent past committed in the name of white supremacy. Rooted in history, institutional oppression is very much part of the nation today. Native women continue to experience high rates of violence-more than half of all Indigenous women in the United States have experienced sexual violence in their lifetime and one in three have been raped.
In the 1800's, the United States and Canada passed many racist anti-indigenous laws and policies, including the establishment of residential schools. Indigenous children were forced to attend these schools. General Richard Pratt was the founder of the United States' first Native American off-reservation residential school, the Carlisle Indian School. Pratt, infamously remarked in an 1892 speech, "kill the Indian in him, save the man." The goal was to wipe out the indigenous ways of life and heritage through forced assimilation.
The Carlisle Indian School opened in 1879 and operated in Pennsylvania for 39 years. In that time, thousands of students from over 140 tribes were forced to attend and experienced inhumane treatment and living conditions. Students were forced to cut their hair, change their names, stop speaking their Native languages, convert to Christianity, and endure abusive disciplinary measures like solitary confinement. While many children returned to their families, more than 180 children died while attending the school.
The Carlisle Indian Industrial School is just one example of North American indigenous people's experience with residential schools. Thanks to the research conducted by The National Native American Boarding School Healing Coalition, we know that by 1926, over 80% of school-age Native American children (almost 61,000) attended 367 of these schools in the United States. Further research and former student testimony can be found in this study carried out by the Native American Rights Fund.
The sheer scope of this experience is still unfolding.
Last year, a mass grave of 215 children was found at the site of a Canadian residential school. This was just one of many findings in Canada's investigation of its past, with just five former residential schools having more than 1,300 unmarked graves.
Hundreds of thousands of students passed through these schools in the United States and Canada from the 1860s to the 1970s.
Indian Country Today states that Christian missionaries operated the majority of Canadian residential and day schools in contract with the federal government. In the United States, the students at these schools experienced similar atrocities of abusive discipline, cultural erasure, and physical and sexual abuse.
Childhood sexual abuse is a heinous crime that alters the trajectory of the survivor's life. Research has proven that child sex abuse victims experience a slew of traumatic physical and mental repercussions such as the development of chronic health conditions or PTSD.
Research projects containing personal testimony showcase time and time again the prevalence of sexual violence that took place at these schools. For example, a survey of 45 Lakota respondents found that 28.6% of boys and 17.7% of girls reported they were sexually abused in these institutions.
Native American survivors have made the effort to pursue justice for these crimes. Former students from a South Dakota boarding school sued the Catholic Diocese who ran the school for the rampant sexual violence they endured. However, like many survivors, legal obstacles made it difficult to achieve justice. In 2010, South Dakota blocked anyone over 40 from suing an institution (although they could still sue individual perpetrators) for childhood sexual abuse, making it impossible for these former students to get justice through the legal system.
The trauma that these schools in Canada and the United States inflicted is still felt today.
Canada has taken some strides in acknowledging and apologizing for its part of this troubling past. Reparations from the Indian Residential Schools Settlement Agreement were issued in 2007. The Canadian government issued a formal apology in 2008 and has, "also promised to quickly distribute about $22 million to help in locating and commemorating unmarked graves of children who died at the schools," per Indian Country Today.
However, the United States' history with residential schools has been under-researched and largely unacknowledged. That is, until earlier last year.
U.S. Interior Secretary Deb Haaland, the first Native American to serve in this role, has launched a probe "into the lasting effects of the more than 350 government-funded Indian boarding schools in the United States." As a descendant of residential school students herself, Haaland remarked, "To address the intergenerational impact of Indian boarding schools and to promote spiritual and emotional healing in our communities, we must shed light on the unspoken traumas of the past no matter how hard it will be."
Haaland's probe resulted in a preliminary 106-page report released earlier this year. Already, over 500 deaths of native children were uncovered, with numbers expected to rise to the thousands as the investigation continues. At a news conference pertaining to this report, Haaland said, "The consequences of federal Indian boarding school policies — including the intergenerational trauma caused by the family separation and cultural eradication inflicted upon generations of children as young as 4 years old — are heartbreaking and undeniable. It is my priority to not only give voice to the survivors and descendants of federal Indian boarding school policies, but also to address the lasting legacies of these policies so Indigenous peoples can continue to grow and heal."
The legacy of residential schools in the United States and Canada is both distressing and saddening. This Thanksgiving, and this Native American Indian Heritage Month, we remember all that was lost by Native American and Indigenous peoples in the name of power, control, and prejudice. As a mainstream organization that is committed to becoming an anti-racist organization, these histories must be recognized in order to better understand as a mainstream organization the continued ramifications of these wrongs. We must always remember this history and work to spread awareness about the impact of sexual violence on Native American and Indigenous peoples.
Organizations Working to Address Sexual Violence in Native Communities:
Hopi-Tewa Women's Coalition to End Abuse
Mending the Sacred Hoop Technical Assistance Project (DAIP)
Minneapolis Indian Women's Resource Center (MIWRC)
Minnesota Indian Women's Coalition
National Indigenous Women's Resource Center (NIWRC)
Native Alliance Against Violence
Southwest Indigenous Women's Coalition (SWIWC)