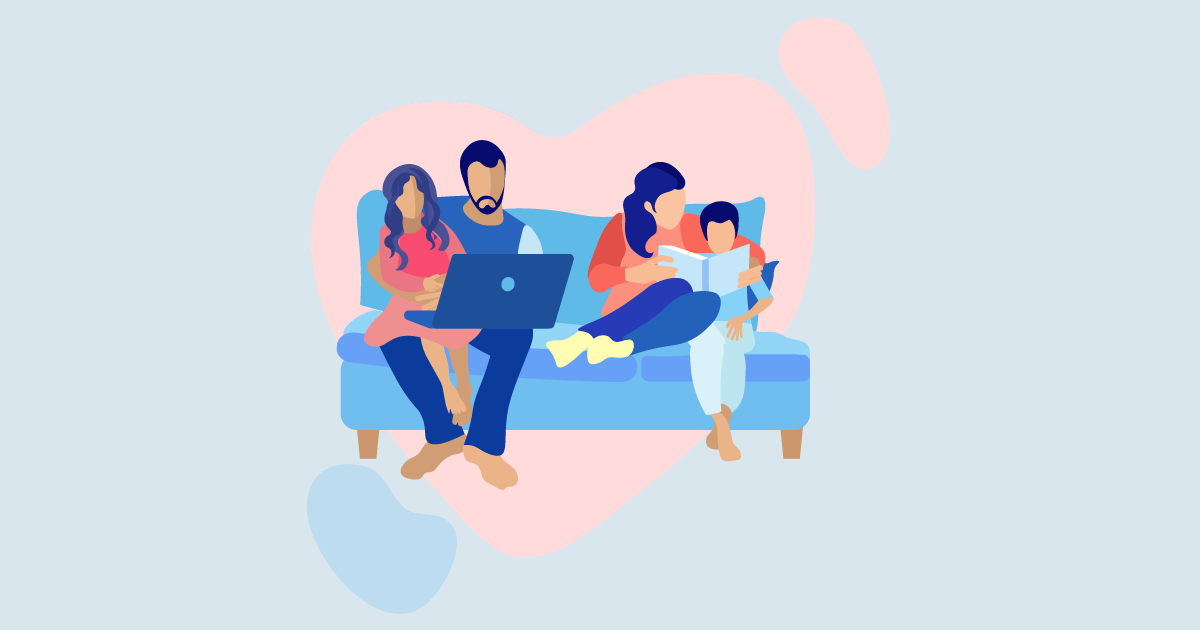 I want to say this upfront: I am not a parent. I spent my late teen years and early career working with children as a nanny, classroom assistant, child advocate, and a prevention educator. But I don't know what it's like to parent a child 24/7. So, I asked my parenting co-workers to send me some of their thoughts, ideas, tips, and resources for coping as a parent in this crisis — and did they ever come through! I'm honored to bring some of their thoughts and ideas to this post.
We acknowledge that this is a very difficult time for parents. A lot of parents are lacking support for the overwhelming amount of work it takes to keep children cared for, fed, educated, and isolated at this time. Parents who were able to rely on family members, daycare centers, and schools to help with child care no longer have those supports. Many parents are still working outside the home and worrying about who will care for their children while they are gone and potentially infecting their children when they come home each day. For those working from home, they now have to balance the demands of their job with playtime, naptime, outdoor time, and snack time. And they now have to carve out time to guide their children through school work (who remembers 7th-grade math? And fractions? How did I ever graduate?). As one of my co-workers shared with me, it's more important than ever to talk about the role of community care and employer care in supporting parents and families because even during social isolation, it takes a village.
For instance, some daycare centers and schools are finding unique ways to support families, such as:
Hosting weekly evening "check-ins" via Zoom for parents to connect and share their needs
Having their staff (who they are continuing to pay) call parents weekly to check on them
Sharing information on local food bank resources and organizing a contact-free food drive and drop-off for families in need
Hosting online storytimes to help support parents with some virtual educational and learning opportunities for children
Finding ways to virtually connect students in meaningful ways to help ease the loss of face-to-face time with classmates and friends
Another co-worker shared that their personal email is exploding with information and resources from just about every company they've ever come in contact with. While information can be helpful, in this time it can also be WAY TOO MUCH all at once. Also, the tone of some of the emails is more along the lines of telling parents the things they "should" be doing. Parents need support during this time but don't need to feel like they aren't doing enough because they can't watch the videos, make the crafts, make special quarantine dinners, go outside for walks, potty train their toddlers…the list goes on and on.
There are also assumptions that every parent has help. This leaves out the realities of single mothers (what happens if they get sick? Check out this article from a single mom asking that very question), grandparents who are raising their grandchildren and also trying to keep from getting sick, parents who don't have access to backyards or safe parks and playgrounds, and parents who have underlying medical conditions and are at higher risk for serious complications if they contract COVID-19. And we won't even talk about the messages parents are getting to make sure they limit their child's screen time. Screen time is what's keeping the peace in a lot of homes right now.
While we don't have all the answers, NSVRC has created a list for COVID-19 resources and we've recently added a section for parents. This list offers some helpful articles, websites, and even podcasts for coping during this crisis, finding safe child care, children's health and wellness, and communicating about safety and consent. We hope you'll check it out, and let us know if there are things you think we should add to the list. Or, if reading a list is just not something you can do right now, come back later or pass this along to family and friends who may be interested in some resources. In the meantime, take some deep breaths and know you are doing the best you can right now — and that is enough.
Resources for Parents
National Parent Helpline - 1-855-4 A PARENT
Coping in a Pandemic
Children's Health and Safety During COVID-19
Finding Safe Child Care
Communicating about Consent and Safety
Podcasts
ADD TO THIS RESOURCE LIST
Have you found helpful resources and information online about COVID-19? You can contribute to this resource list by emailing us at resources@nsvrc.org or by contacting us through our website.