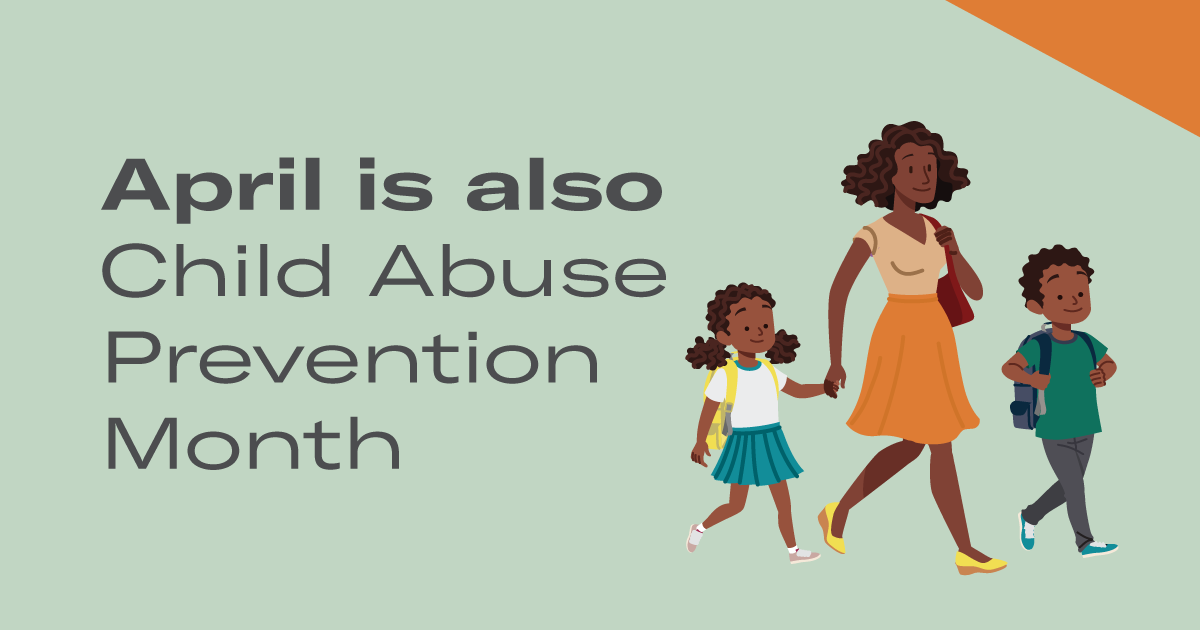 April is the month we highlight our annual Sexual Assault Awareness Month (SAAM) campaign; however it is also National Child Abuse Prevention Month (NCAPM). The issues of sexual violence and child abuse, have many connections. Both are part of overarching experiences of harm that contribute to the continued reproduction of trauma and oppression in society and across generations.
Child Abuse Prevention Month has been commemorated every April since 1979, and is a time of recognition for the current issues affecting the safety, happiness, and wellness of children across the world. It is also a moment to spotlight the work of activists and changemakers who have dedicated themselves to bettering the lives of children and eradicating childhood harm and trauma.
Connecting the Dots
Child abuse constitutes any act of harm, or the potential or threat of harm, against a child under the age of 18. The four most common categories of are physical abuse, sexual abuse, emotional abuse, and neglect (which is the failure to meet a child's basic needs, be they material or developmental, or emotional). Like sexual violence, child abuse ithat often goes unreported. What we do know from reported cases is that one in seven children have experienced child abuse or neglect. Conservative statistics on childhood sexual abuse indicate that at the very least, one in five girls and one in twenty boys is a victim of child sexual abuse.
Child abuse often occurs hidden away from society behind closed doors, making it hard to detect. Risk factors for child abuse vary according to parental, familial, environmental, and individual characteristics. Untreated trauma in caretakers and violence in the general environment of the child are among the biggest risk factors. Research also indicates that the abuse and neglect of minors is five times higher in families and communities that struggle with poverty. As such, many risk factors of sexual violence and child abuse are shared. Experiences of abuse, neglect, or childhood stress make up the array of questions that constitute the ACEs quiz (or the test to indicate one's level of adverse childhood experiences). The higher one's ACEs score (meaning the frequency with which they identify with certain traumatic or stressful experiences in childhood), the higher the likelihood that they might experience more traumatic experiences in their adult life. Understanding how ACEs impact children, and also how to overcome them, is an important link in closing the cycle of child abuse.
It's important to remember that sexual violence and child abuse are both preventable, which is the driving force behind both annual campaigns.
Don't forget to engage with the NCAPM campaign by searching or tweeting under the #GrowingBetterTogether on Twitter!
Resources
The Prevent Child Abuse America- This landing page is a hub for a collection of toolkits, guides, and other resources relevant to ending child abuse and getting help.
Caring for Kids: What Parents Need to Know about Sexual Abuse - This is a great starting resource to cover many topics surrounding child sexual abuse and prevention.
National Child Abuse Prevention Month - This campaign page offers conversation guides, data, suggested awareness activities, and a multimedia gallery for those interested in learning more or participating in NCAPM.
NSVRC SART Toolkit Across the Lifespan- This resource lists an array of outlets for help services, familial support, and informational data on childhood sexual abuse.
The 2020 Child Maltreatment Report – This report by the Children's Bureau of the U.S. Department of Health and Human Services showcases the most up to date information on the state of child abuse in the USA and its prevention measures.
PCAR's Safe Secure Kids is an educational program that provides free resources to help parents, caregivers, and teachers of elementary-aged children to prevent sexual abuse and harassment by learning how to communicate with children about respect for bodies and boundaries, and consent
Stop it Now! prevents the sexual abuse of children by mobilizing adults, families and communities to take actions that protect children before they are harmed. They provide support, information and resources to keep children safe and create healthier communities. They have a library of resources and an Online Help Center where you can search for information for your specific situation.
Darkness to Light: Darkness to Light is a non-profit that empowers adults to prevent, recognize, and react responsibly to child sexual abuse through awareness, education, and stigma reduction.