Guest blog post from Aggie Rieger, PhD. Student, University of Illinois 
Where do we go from here? – this was the Society for Community Research and Action's (SCRA) 2023 conference theme. At a gathering brimming with explorations of process and practice, one symposium was dedicated to "Community engagement in Rape Prevention and Education Program (RPE) practice and evaluation." Here, I share a few highlights from the panel, which don't capture the full presentations but, rather, seek to share some celebration and curiosity in this work. I hope these notes could help you think about community engagement at your local level. This panel, and its surrounding conference, stuck with me. I keep asking myself: Where do we go from here?
The "Community Engagement in RPE practice and evaluation" symposium began with perspectives/action at the national level, and whittled down closer and closer to local practice. We shared tangible examples of both what and how we are learning, and successes as well as challenges. The obvious thread across these presentations was the focus on community engagement. Another important take-away is in the ongoing process of community engagement: the many decisions evaluators and practitioners make, the loose ends we might follow far into the future, the need to keep learning.
Any ability to even attempt community engagement could benefit from supportive structures. The first presentation in our symposium was an RPE national overview from Ishaka Oche and Lindsey Barranco from the Centers for Disease Control and Prevention. One element of their presentation was the ways in which the RPE program supports tailoring sexual violence prevention. For example, the degree to which sub-recipients control RPE funds. I especially appreciated hearing about Ishaka and Lindsey's focus on technical assistance and ongoing education.
Everything you know, you learned – and evaluators always have something new to learn. Sandra Ortega explored the importance of  gathering  evaluators from different states to support and learn from one another, including sharing feedback on early ideas and new resources. Sandra emphasized how her region democratized sharing by using a Google doc to help everyone share or ask for help. Sandra shared some of her original, sparkling photography, including a frame of a small butterfly resting on vibrant pink flowers: for the presentation, representing how an RPE evaluator community of practice could be like a butterfly garden – coming together, taking what you need, and flying back to your state.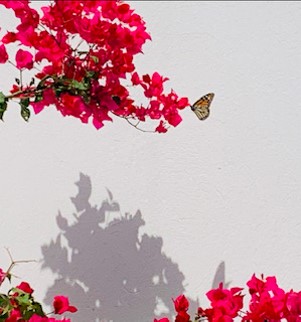 Community engagement might require thinking about how we will engage voices, and then actually use what we learn from the very beginning. Lilian Chimuma shared work on an anti-racist statewide evaluation, emphasizing that sexual health education is not equally accessed or made relevant for all students. She described how youth can help evaluators and health departments learn what to change in curriculum and in how that curriculum is delivered. As Lilian shared slides featuring youth feedback, audience members raised their phones to take photos. 
Across projects and at each step of community engagement, practitioners might make difficult decisions. I shared research findings regarding preventionist considerations in community-informed work, highlighting the many – even seemingly "small" – decisions that preventionists make when forming efforts
Community engagement stories don't always have simple or soon endings: gathering people with the hopes of engagement might require reflection and subsequent flexibility. Caitlin Seagraves and Gwen Strickland took our panel home, to the end of the symposium and back with them to Indiana, to share the process of re-igniting a dormant state-level prevention council. Caitlin and Gwen, with humor and grace, shared both successes and challenges, including examples of how their group has become increasingly thoughtful and inclusive regarding who is at meetings and how those meetings are structured.
These highlights are, of course, not everything that was shared: as panel time-keeper, I can attest that there was so much more to share than could fit into a 60 minute panel – or a blog post. To read a bit about how we formed this panel and how RPE evaluators and practitioners might share their work, check out Part 2 of this series here.