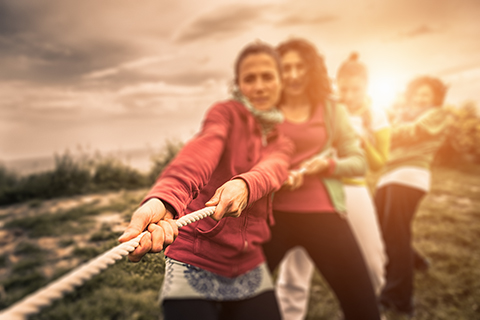 March seems to be a bear this year, bringing with it continuous snow in the East. I stand hopeful for signs of new sprouting things and the onset of all things green! March also gives us the opportunity to celebrate Women's History Month. As someone who majored in history and who works in the movement, I love women's history! It's uplifting to me to read and learn about the courage of those who risked their lives and those who continue to work hard so that women are able to achieve whatever is possible. It's also encouraging to know that the NSVRC/PCAR libraries hold some fantastic resources highlighting these brave women and all that they have been able to accomplish.
She Persisted: 13 American Women Who Changed the World by Chelsea Clinton, celebrates the lives of 13 American women who helped shape the country. It features the stories of Harriet Tubman, Hellen Keller, Clara Lemlich, and Nellie Bly to name a few. The book is for anyone who has ever wanted to speak out, but felt as though they couldn't. It shows readers that regardless of what they might be facing, they shouldn't give up on their dreams. It also offers encouragement to those who have ever been made to feel unworthy or small and offers up a constant reminder that persistence is power.
Dear Sisters: Dispatches from the Women's Liberation Movement edited by Rosalyn Baxandall and Linda Gordon highlights the women's liberation movement of the 1960s and 70s. Both Gordon and Baxandall, active participants in the movement, have collected a colorful variety of documents. These documents consist of songs, leaflets, cartoons, and position papers that illustrate the people, places, organizations, and ideas that made up the movement. The book tackles historical change within the areas of health, work, and family. It also captures the subtle humor, passion, and diversity that defined the women's liberation movement.
She's Beautiful When She's Angry is a film by Mary Dore and Nancy Kennedy that highlights the modern women's movement from 1966 to 1971. The film takes the audience from NOW (National Organization of Women) when ladies wore hats and gloves, to the street theatrics of W.I.T.C.H. (Women's International Terrorist Conspiracy from Hell!). It recounts the stories of women who fought for their own equality, and in the process, created a world-wide revolution. The story still resonates for women who are facing new challenges around reproductive rights and sexual violence, as the film shows present-day activists creating their own version of feminism.
We have so many women to thank for what they have done and continue to do. The fight for our freedom is not over, but there is hope in knowing how far we have come. Check out the NSVRC/PCAR libraries to find out more about these resources and the many others held in the collection. As always, I wish you all a fabulous day and happy reading!