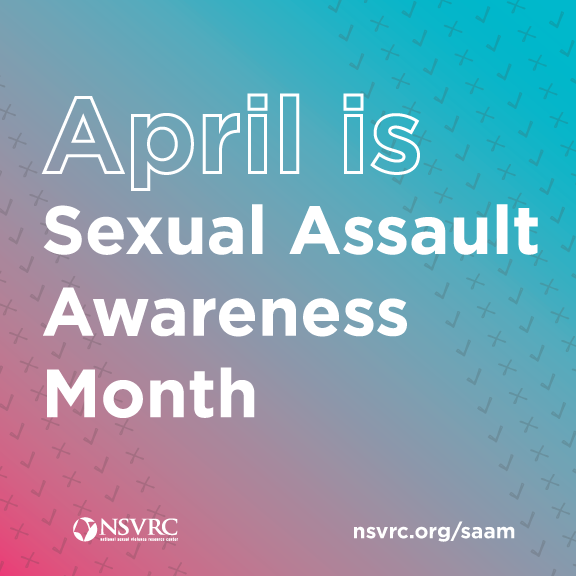 This guest blog post is reposted with permission from Sharon M. Wasco, PhD. The original post appeared on Dr. Wasco's blog at https://www.sharonmwasco.com/home/2019/4/3/i-ask.
For more information about tools to help evaluate sexual violence prevention programs, visit the Evaluation Toolkit.
April is Sexual Assault Awareness Month (SAAM).
I see the existence of SAAM, at the national level, as an indicator of lasting community change resulting from decades of work by activists, advocates, and survivors of sexual assault. April provides opportunities for anyone and everyone to send messages, share experiences, and open conversations about sexual assault in communities across our county — what we in the prevention business call, "contributing to the national dialogue."
The theme for SAAM 2019 is "I ask." "I ask" makes consensual sex behaviorally-specific.
Here are some reasons why I love this year's theme as a prevention message.
1) "I ask" models parsimony theory — it's the simplest possible solution for not assaulting someone sexually — and at four letters, it is easy to hashtag on your favorite social media.
2) It's also similar to an "I statement," which has value as a tactic in interpersonal conflict resolution. Constructing the theme with an "I" lead very quickly pulls the viewer/reader/speaker in and makes obtaining consent (all of) our personal responsibility. To end sexual violence in this lifetime, everyone needs an active role.
3) It's positive. Messages that start with "No" or "Don't" try my patience. Yes. And…
4) To effectively sell healthy sexuality, and/or a change in behavior, asking questions is one of six successors to the Elevator Pitch (so twentieth century) — one that promotes collaboration. I'm calling the "I ask" theme forward-thinking, a term of endearment.
5) To me, asking questions as a sign of respect. Respect is at the core of healthy relationships, sexual or otherwise.
#IAsk reminds me of a group activity I used to unstick a working group that was not working well. Lots of factors contributed to our lack of progress; and not all of them were in our control. But there were group dynamics to be improved. I made up a set of notecards to help us "play our way through" the anxiety, doubt, and assumptions that had surfaced in our group (and which fairly commonly make their way into working groups). Because we were months into our work, this game functioned as a reset; but I have subsequently used these cards to build trust at the outset of a group relationship.
I wrote several prompts on colored index cards (creating enough cards for each member of the group to start off with a card). I then dealt them out face-down. We started the game by having one person turn over their card, provide their response to the prompt, and then pass the card to the person sitting next to them. That person then responded in turn (or opted to "pass" their turn, sans response, to the next person). And so on. We had enough time to deal out two cards, one with the pre-written prompts for the first round, and a second, blank card for group members to write their own prompts for a second round.
The first time I facilitated this exercise, I played along, giving spontaneous answers. One of my own answers generated personal insight that has served me well as an evaluator and as a consultant; and it just so happens to be related to this year's SAAM theme.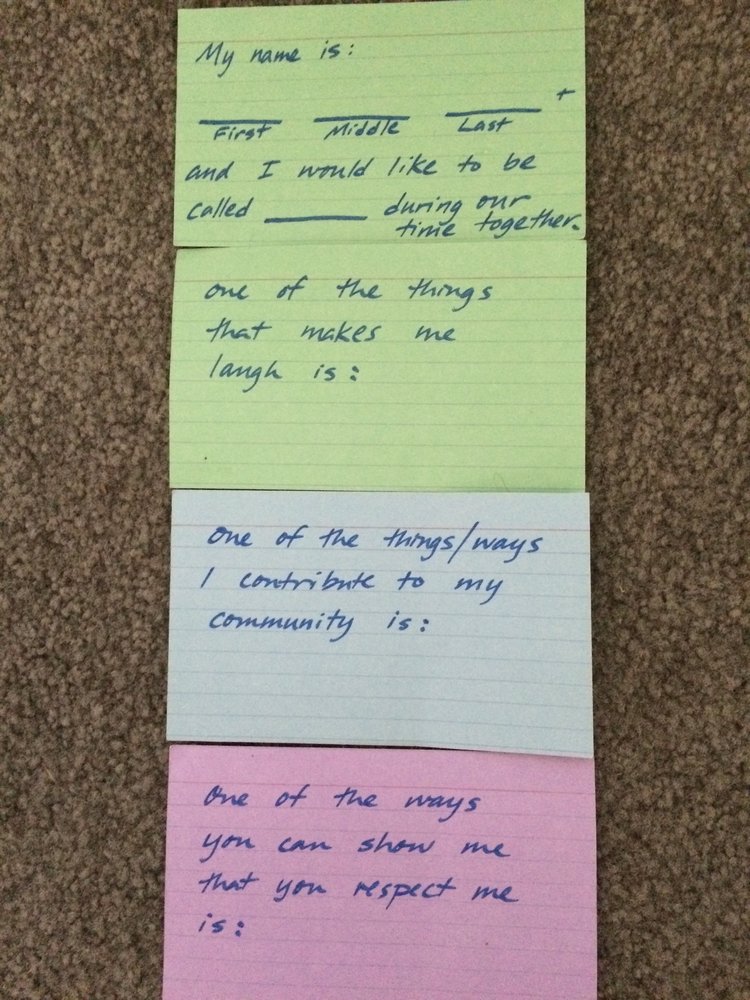 The answer that stuck with me over time was my own response to the last card shown above, the pink one that says: "One of the ways you can show me that you respect me is:"
I said, "…by asking me questions."
"One of the ways you can show me that you respect me is by asking me questions. "
— Sharon M. Wasco, PhD, circa 2014
I remember that my answer stood in contrast to other group members' responses, which were (to generalize broadly) more along the lines of "show me that you respect me… by listening to me."
Given my power, privilege, and role as outside "expert" in this group, I was accustomed to being heard. Before each meeting I would specifically prepare all sorts of things to say — slidedecks full of information. And to my credit, or theirs, group members would listen to me attentively.
As an evaluator, I was accustomed to asking questions. I would carefully craft questions for the group — discussion questions, reflection questions, survey questions, evaluation questions. And to their credit, or mine, group members would answer me responsively.
But, I wanted my collaborators to ask me things, too. I'm not exactly sure why. To solidify my position as expert and holder of answers? Because I believe authority should be questioned? Because I was academically trained to be ready to explain methods and defend theoretical assumptions? Probably some of all of those things. But I also craved equality in the partnership. I wanted give-and-take, active engagement, and collaboration from all members of our group.
The happily-ever-after to my example is that, working together, we built more of all of the things we talked about during this exercise: respect, listening, questioning, give-and-take, active engagement, and collaboration (We collected partnership self assessment data to show it!).
I'll make a kinda, sorta awkward transition to wrap this up: I'm going to talk about sex now.
It seems important to sexual health that all of us ask our partners about what's happening sexually (now and depending on the relationship, in the past, and/or in the future). Initiating conversations about sex is a learned behavior we all need to keep learning.
Traditional gender hegonomy might suggest that the responsibility for asking for sexual consent belongs to the most male-identified person in the relationship. But preventing sexual violence will demand that securing affirmative consent via query — Do you want to…? Do you like…? Can I...? Can you…? Can we…? — is relationship work shared by all genders.
As a visual reminder that sexual desires are now communicated via text and social media; and digital consent should be asked for, too: here's a coloring page with pictures of smartphones, hearts, and questions coming from all positions of power.
You can download your own printable copy here. To contribute to the national dialogue on sexual assault, feel free to color and post to your Instagram on Thursday, April 25th, 2019 as part of #30DaysofSAAM.