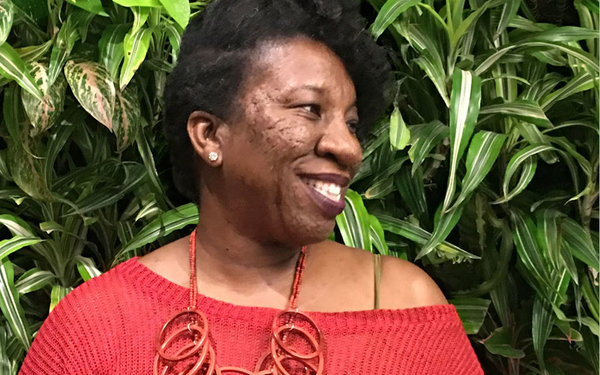 My first Facing Race conference was two years ago in Atlanta, GA just two days after the 2016 Presidential election. I wrote a blog about my experience attending this racial justice conference.
Two years later, I was again at Facing Race, this time with far more of my colleagues in sexual violence prevention, including "Me Too" movement founder Tarana Burke, who gave Saturday's keynote address. Burke addressed the 3,500 attendees in Detroit discussing the ways all our social justice movements have the opportunity to address sexual violence.
The mirror she held up to the crowd admonished us to think of sexual violence as an issue of economic justice, community health, housing and homelessness, LGBTQIA+ communities, racial justice, and ultimately human rights. The same mirror applies for all those racial and social justice issues within our sexual violence movement. Her words were powerful. And they uplifted the lack of survivors being embraced by the larger social justice movement community and a call to do better.
Burke reminded the audience that "Me Too" is what happens after the hoopla. It's not defined by what the media has told us. It is our movement and includes and involves all groups, while being grounded in Burke's mission of working with survivors who are Black and brown girls. We all need to opt into sexual violence as part of whatever work we are doing.
As a person in sexual violence prevention, I heard how I need to opt into social and racial justice work – personally, professionally, and as a white woman needing to organize people like me in solidarity with Black and brown movement leaders.
"Sexual violence doesn't discriminate, but y'all do," Burke called out, speaking about those who cite the colorblindness we too often display as white folks in the movement about our responses to sexual violence. Not naming race gets us stuck. Whiteness is our default way of talking about sexual violence. But it cannot be. We cannot be advocates against sexual violence and not consider the impact of race. Not when data show us how much more often sexual violence is committed against Black women, Native women, and mixed-race women.
I came away from Facing Race inspired because these conversations about racial justice are happening. Talking about it and acting on it, however, are different. If you haven't considered a deeper dive into what racial justice means to you, your community, or your organization, I encourage you to read another one of my blog posts: Disrupting racial inequity facing survivors: Doing the internal and external work that discusses a report and resource from the Center for Survivor Agency & Justice to help organizations and individuals engage in these conversations.