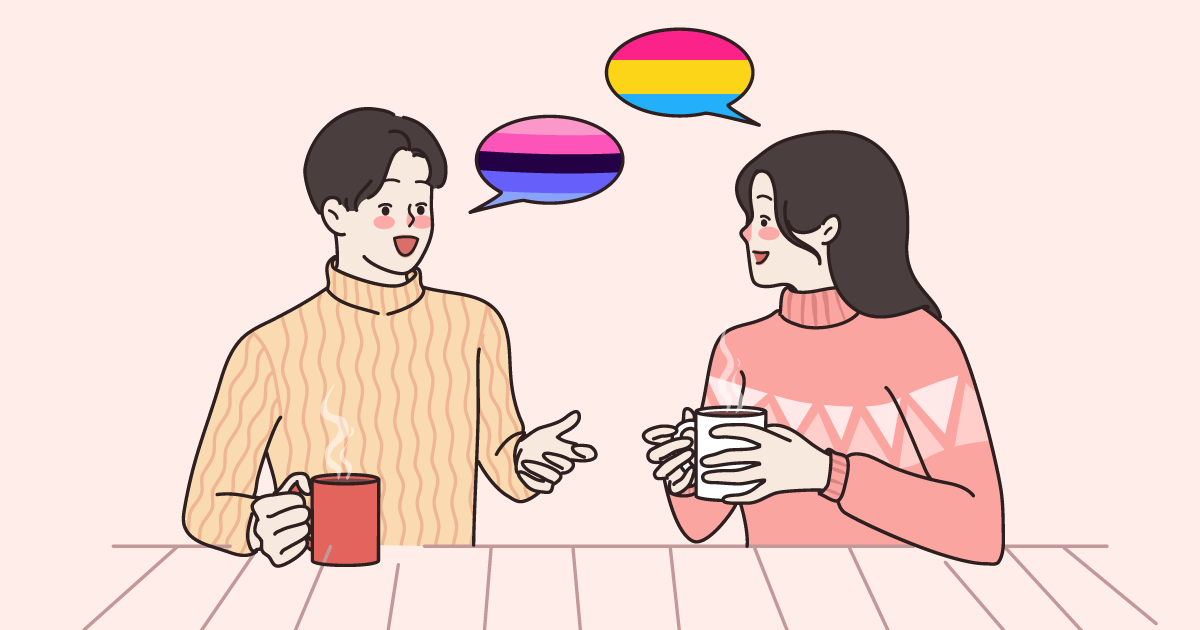 The Bi+ community has struggled to be seen both as part of the LGBTQ+ spectrum and a community of its own kind, particular to itself. As a result, Bi+ specific resources are less common than resources for other LGBTQ+ communities. Despite this, there has been a growing awareness of the unique needs of the Bi+ community.
Guides & Publications
Serving their goal of creating a safer world for LGBTQ youth, The Trevor Project has created How to Support Bi+ Youth, which is a guide on the ways to emotionally nourish and care for bisexual, pansexual, fluid, and queer youth who are attracted to more than one gender. This is an introductory educational resource that covers a wide range of topics and best practices.
The Human Rights Campaign has published a resource on Coming Out as Bisexual, which aims to help bisexual folks find support despite the negative biphobia and potential rejection from both straight and LGBTQ+ spaces. This resource celebrates coming out as a freeing process of liberation and reminds readers that coming out is their own journey — not anyone else's. For anyone writing or talking about Bi+ issues, The Human Rights Campaign has also developed a guide on How To Get Bisexual Coverage Right. The guide helps explain the importance of knowing specifics — for example, the difference between "sexual orientation," "gender identity," and "gender expression." In addition, the Human Rights Campaign has several great articles which can serve as importance resources, such as Coming Out as Bisexual to your Doctor, Bisexual FAQ, and Bisexuality Visibility in the Workplace.
GLAAD has released In Focus: Reporting on the Bisexual Community, a resource guide to help journalists more accurately report on the bisexual community and the differences between individuals within the community. The Network/La Red has also produced an infographic on Bisexuality, Intimate Partner Violence & Abuse.
We are seeing more colleges and universities becoming aware of the unique needs of Bi+ students. The University of Arizona has developed this Resource Guide for individuals who identify as bisexual and/or pansexual, and Vanderbilt University has created this web resource to help connect interested persons with information. Although there are some regionally specific outreach recommendations, the UC Santa Barbara Resource Center for Gender & Diversity "Bi Education" landing page has an array of suggested resources, media, and infographics on and for the Bi+ community.

Websites
The Bisexual Resource Center has a number of webpages on intersectionality and Bi+ identities, such as:
Bi.Org has an array of educational resources, like:
An interactive Klein Grid, which is a detailed system for describing a person's sexual orientation
BiMedia.Org also hosts an array of articles and topics on the Bi+ community as well.
Community & Support Groups
The Bisexual Resource Center features a national, state, and country-specific list of local resources for the Bi+ community.
The Loft LGBTQ+ Resource Center hosts virtual Bisexual Peer Support Groups.
Meetup.com has created a map to illustrate where their Bi+ community groups meet.
Give Us The Floor has developed a mutual support app for teens, which includes Bi+ specific spaces.
In the USA, the biggest national organizations for Bi+ individuals are:
Large Facebook communities like Pansexual Pride and Bi Support and Help Community exist, among others.
Visibility Projects & More
PFLAG has a number of great resources and videos — for example, the Understanding & Supporting people who are Bi+: Recording and Training Kit and their Something To Talk About live broadcast, which commonly features Bi+ issues.
The Larker Anthology describes their project as: "An independent anthology celebrating the visual heritage of the resilient communities in and around the bisexual+ spectrum." The project often promotes its work using the #BHAM2021 hashtag.
The Bisexual Organizing Project hosts a virtual book club as well as an annual conference.
PAVES hosts a blog series on Bi+ issues and stories.
To connect with stories and Bi+ experiences, explore The Bi Stories Project.
Interested readers can subscribe to the longest running Bi+ publication in the country, the Bi Women Quarterly, here. Every issue has a theme which coincides with a different aspect of the bisexual+ experience.
In the world of literature, Book Riot has published a list of 100 Must Read Bisexual Books, while GoodReads has a book list of their own with more refined search theme categories. The Bisexual Resource Center has also created a brochure with literature suggestions. The Journal of Bisexuality frequently publishes research and articles on Bi+ topics, and there is even a Bi Writers Association.
To pluralize your scrolling content, Buzzfeed published this list of "13 Incredible Bisexual People You Need to Follow on Instagram."
Unmet Need
There is still a large unmet need in regards to resources on sexual violence prevention specifically for the Bi+ community. Although Bi+ folks are officially welcome to receive services through LGBTQIA+ resources, worries of biphobia and rejection often make them fear they won't be accepted. As such, more Bi+ specific resources and services are needed.
To return to the blog series main page, click here