We Can Build Safe Online Spaces
The internet has become the new public square where we connect with romantic partners, friends and family, co-workers, and strangers alike. From dating apps, virtual meetings, chats, video calls, and interactions on social media, most communication now takes place through screens.
As technology has evolved to become a part of our everyday lives, our awareness of ways it can be used to bully, threaten, and commit abuse has grown as well. Just over the past few decades, terms such as "sextortion," "revenge porn," and "doxxing" have been added to the public lexicon. Other examples of common abusive behaviors online include child pornography, online harassment, or posting unsolicited explicit images.
These examples represent just a fraction of the ways that consent and boundaries can be violated online. Some acts are identified as criminal under the law, others violate policies put in place by online platforms (like Zoom or Instagram), while other acts of sexual violence online remain unnamed problems. Sometimes the violence is initiated online then takes place in person, and in other instances, the violence takes place entirely behind screens. Even though the abuse occurs behind a screen, the impact on the victim, their loved ones, and the community can be just as harmful as sexual violence committed in person.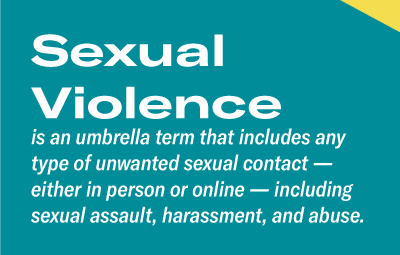 Sexual violence is an umbrella term that includes any type of unwanted sexual contact — either in person or online — including sexual assault, harassment, and abuse. 
Forms of sexual violence include:
Rape or sexual assault
Sexual harassment 
Sexual abuse
Unwanted sexual contact/touching
Sexual exploitation and trafficking
Exposing one's genitals or naked body to others without consent
Nonconsensual image sharing
Words and actions of a sexual nature against a person's will and without their consent
Sexual violence represents a range of behaviors 
Sexual violence represents a range of behaviors
From sexual assault to catcalling, acts of sexual violence fall within a spectrum of behaviors. Certain behaviors are clear-cut examples of online sexual abuse, like "Zoom-bombing" links to pornography, while there are other behaviors, like sending a partner an unwanted sexual text on a dating app, that may seem like less of a big deal. The reality is that both of these behaviors are influenced by the same attitudes and beliefs that lead to sexual violence, such as social norms that directly or indirectly condone violence, traditional ideas about masculinity, attempts to demand and degrade women, and other forms of oppression.
Awareness and action during Sexual Assault Awareness Month
This April, during Sexual Assault Awareness Month, learn how you can practice consent online, keep the kids in your life safe from abuse, facilitate and participate in respectful online communities. In addition, explore the impact that trauma from online abuse can have and the options available for survivors looking for support. As new platforms emerge and technology expands, by leading with these foundational principles we can build safe online spaces now and into the future.