The articles, reports, and films listed in the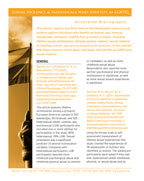 bibliography explore sexual violence against individuals who identify as lesbian, gay, bisexual, transgender, and queer or questioning (LGBTQ) from a variety of angles, including lifetime sexual victimization, intimate partner violence, sexual violence as hate/bias crimes, and service provisions for survivors. It lists articles that dispel common myths about individuals who identify as LGBTQ and sexual violence.
This resource is part of the Information Packet on Sexual Violence & Those Who Identify as LGBTQ.
Publish Date
2012