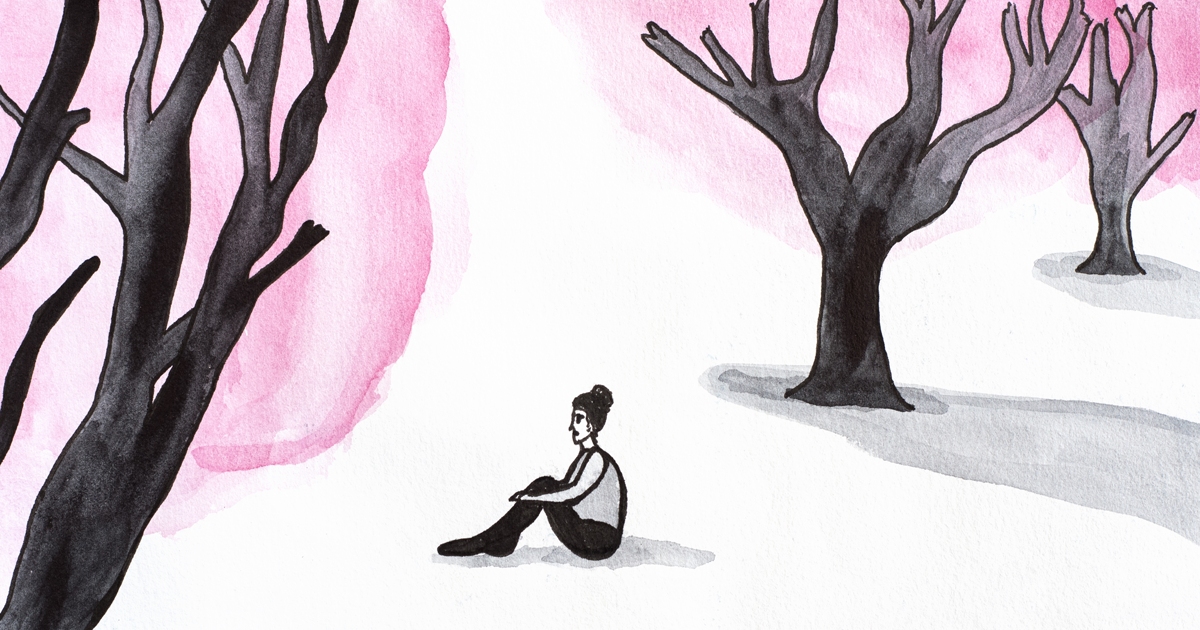 Pop culture has recently brought the connection between sexual assault and suicide into the public's focus. 13 Reasons Why, one of Netflix's most popular series, follows the story of Hannah, a teen rape survivor who takes her life after facing relentless victim-blaming and ridicule from her peers. While Hannah's story is fictional, her experiences are not uncommon in real life.
The Netflix documentary Audrie & Daisy chronicles two survivors' stories: Audrie Pott and Daisy Coleman. After she was sexually assaulted at a party, nude images of Audrie were circulated across her high school. Tragically, in the aftermath of being sexually assaulted and bullied, Audrie died by suicide. In the film, Daisy discusses her own battles with suicidality after being at the center of a rape case that brought international attention to her small community – this attention also brought about harassment from her peers following her assault. Since the documentary premiered, Daisy has spent time advocating for survivors and educating high school and college students about sexual violence.
The stories of Hannah and Audrie bring to light the fact that survivors of sexual assault are 10 times more likely to attempt suicide than those who haven't experienced sexual assault.[1] Researchers have also found that survivors – like Hannah and Audrie – whose first assault occurred before the age of 16 were at an even more increased risk, with suicide attempts being three to four times higher than those assaulted after the age of 16.[2] By learning more about the connection between sexual assault and suicide, we can learn to identify warning signs in ourselves and loved ones.
What Puts Survivors at Increased Risk?
Survivors of sexual assault are more likely to be diagnosed with depression and post-traumatic stress disorder, two mental health conditions that can have serious impacts on one's ability to manage stress and anxiety. In fact, researchers have found that over a third of women rape survivors have contemplated suicide at some point after their assault, and 13% had attempted suicide.[3] At this time, similar studies have not been conducted to understand transgender, gender non-conforming, or male survivors' experiences with suicidal ideation, though we know these populations are also at increased risk.
However, suicide, just like sexual violence, is preventable. Health organizations and experts uniformly agree that two of the most powerful mechanisms to prevent suicide are educating yourself about the warning signs and understanding how to support a friend/loved one.
If you're a survivor of sexual assault, here are some of the warning signs to be mindful of:
Feeling as though everything is hopeless/doesn't have meaning
Experiencing significant changes in eating and sleeping habits (not wanting to get out of bed)
Feeling alone and isolated
Having suicidal thoughts
Remember, most counties have a sexual assault or rape crisis center that may offer free counseling services. College students can also typically access their campus's counseling centers at no charge. Speaking to a trained professional is an important first step.
Here are a few things to look out for if you're concerned for a friend or family member:
They say things like "I'm going to hurt myself," "I'd be better off dead," or "I can't do this anymore"
They've shared that they have attempted suicide in the past or have thought about it
You rarely see them anymore, or when you do, they seem different; they're quiet, they don't eat, they're less social, or otherwise don't seem like themselves
You've noticed that they are making really reckless decisions without thinking about the impact (e.g. driving at excessive speeds, dropping out of school, quitting work, etc.)
They're often either extremely happy or are really upset/angry; their mood seems to change drastically every day
If your loved one explicitly states that they are going to kill themselves, call 911 immediately.
It can be hard on folks to see their loved ones transform into someone they don't recognize. There may also be times when the person lashes out at their loved ones or pushes them away. That's why it's critical that friends and family also seek out support for themselves when they are navigating these painful situations. Learn more about how to help someone in crisis here.
If you do sense that your friend is struggling, consider taking action:
Familiarize yourself with community resources. Are there free counseling services available in your area (colleges usually have a free counseling center for students)? Are there local crisis hotlines? Support groups?
Communicate your love and care for them. "I know things are hard right now, but you will get through it, and I'm always here.", "I love and care about you. Here are some resources that may help. I'm happy to go with you if you need/want me there.", "What can I do? What would make things easier?".
Speak with a trained professional. Typically any organization/agency that specializes in working with those contemplating suicide will be eager to work with caring friends/family members. Professionals can work with you to create a plan for helping your loved one stay safe.
We know suicide can be an uncomfortable and sometimes personal topic to talk about. We hope that by beginning to normalize the conversation, we can all recognize the role we play in being a part of the solution.
---
Additional Resources
National Suicide Prevention Lifeline
Website: https://suicidepreventionlifeline.org/
English: 1-800-273-8255
Spanish: 1-888-628-9454
Hearing impaired/Deaf: 1-800-799-4889
Online chat: https://suicidepreventionlifeline.org/chat/
Crisis Text Line: Text HOME to 741741
My3App: available in the Apple store and Google Play: http://my3app.org/
[1]Kilpatrick, D.G., Edmunds, C.N., & Seymour, A.K. (1992). Rape in America: A report to the nation. Arlington, VA: National Victim Center and Medical University of South Carolina.
[2]Davidson, J.R.T., Hughes, D.C., George, L.K., & Blazer D.G. (1996). The association of sexual assault and attempted suicide within the community. Arch Gen Psychiatry, 53(6), 550-555. https://doi.org/10.1001/archpsyc.1996.01830060096013
[3]Kilpatrick, D.G., Edmunds, C.N., & Seymour, A.K. (1992). Rape in America: A report to the nation. Arlington, VA: National Victim Center and Medical University of South Carolina.
NOTE: This article was written before Daisy Coleman died by suicide in August 2020.