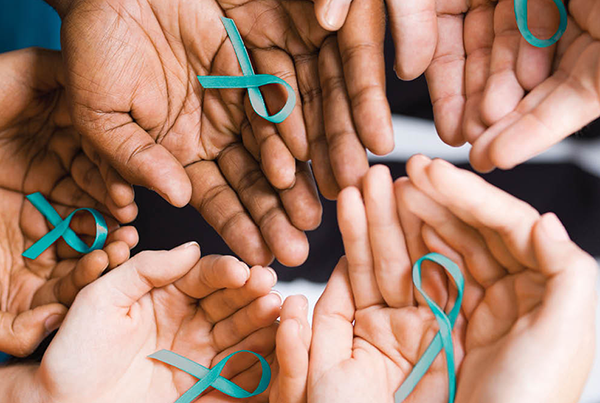 Every April in communities throughout the U.S., motivated individuals with a passion for sexual violence prevention take part in Sexual Assault Awareness Month, or SAAM. The goal of SAAM is to raise public awareness about sexual violence and educate communities on how to prevent it.
While one month alone isn't enough to solve the serious and widespread issue of sexual violence, the attention that SAAM generates in April is an opportunity to energize and expand prevention efforts throughout the year.
What does a SAAM campaign look like?
There are lots of different ways to commemorate SAAM in your community. You could get involved by hosting a film screening, coordinating fundraising or tabling events, or by simply distributing literature in different community spaces. The key takeaways from any of these efforts are the support they show for survivors in your community and the lasting impact they'll have by educating individuals on topics like consent and healthy relationships.
Who should be involved?
Everyone. Everyone's voice is necessary in preventing sexual violence. Sexual violence thrives when it is not taken seriously and victim blaming goes unchecked. And sexual violence happens in every community. Nearly 1 in 5 women and 1 in 67 men in the U.S. have experienced rape or attempted rape at some time in their lives. The more we spread awareness and educate folks on the issue, the more allies we have in the effort to support survivors and prevent sexual violence before it happens.
Who should plan SAAM events?
Anyone! You don't have to work in a rape crisis center or be a Title IX Coordinator to take action this April. You can coordinate events through your religious community, school, work, or other community organizations. In fact, you can even organize small actions or events between you and a small group of friends.
So, how can you make an impact?
Creating a campaign in your community isn't as challenging as it may seem at first. It will require planning and coordination, but it's easy if you start the process now. Remember, you can't do everything at once, but you can do something. And we'll be here along the way with pointers and free tools!
Here are a few tips for getting started:
Find people to work with.
This will depend on who you are and where you want to coordinate your campaign. Are you a member of a Greek organization at your school? Do you work with a volunteer group in your area? Are you active within a religious community? Do you have coworkers or classmates who are passionate about ending sexual violence? Start reaching out to people within these groups and establish an action group or recruit volunteers
Establish a method of communication.
Develop an easy system of communication so that you always know where to turn when you need help planning or have a question or need feedback. For example, you could create a Facebook group page, communicate through a group chat app like Groupme, or start an email list of volunteers.
Determine the needs of your community.
Campaigns will look different depending on the primary audience and the needs of the community in which they're being hosted. If there is an organization already coordinating a SAAM campaign, you may want to reach out to them to see if there are gaps that need filling or volunteer with them.
You can also look to see what information has already been collected about your area. For example, perhaps a local university has conducted research on local attitudes. Maybe you feel there are limited resources for survivors in your community. If policymakers in your town or state are debating some relevant legislation, you may want to communicate your message with them. Reaching out through surveys, focus groups, or canvassing is also a great idea for finding out what your community wants and needs!
Work out a budget.
If you're working with an official organization or club you may have financial resources already available to you. If not, now would be a good time to brainstorm some ideas for raising money. Hosting a fundraising event or making a GoFundMe page are some good ways to start. The size of your budget will determine which types of events are possible, but remember: even on a tiny budget, a huge amount can be accomplished!
The impact of SAAM
You may never know how important it might be for a survivor in your community to see awareness being spread on this issue. Or the hearts and minds you've helped changed by educating them on the facts about sexual violence. The time to plan, coordinate, and act is now – and we know you're the person for the job.
---
Beginner's Guide to SAAM Event Planning Blog Series
This post is the first of a series of blog posts intended to help individuals make the most of April 2018's Sexual Assault Awareness Month.
Check out other blogs in the series:
Are there some helpful tips you'd like to see included or burning questions you'd like answered in the blog series? Let us know in the comments or reach out to ssullivan@nsvrc.org.