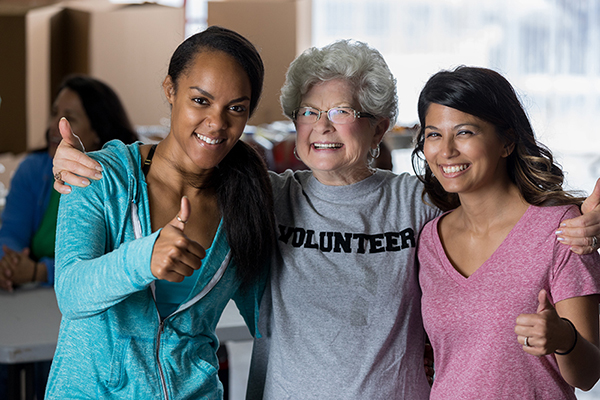 By Fiona Burke, Communications Intern for NSVRC 
There are lots of different ways to spread awareness about sexual violence prevention this April. Whether you already work for an organization that participates in Sexual Assault Awareness Month or you're an individual looking for ways to engage your community, these seven simple ideas can help spread awareness and promote healing for survivors. 
---
Awareness Table
Awareness tables are a face-to-face way that you can interact with the public to get your message out there. Many businesses are happy to help out community members if they know that you are working for a valuable cause. Reach out to local business or organizations and ask if you can set up a table to spread awareness for a day or two throughout the month. Decorate your table with teal, distribute campaign resources, and offer SAAM products, like teal ribbon temporary tattoos, or giveaways. 
Many positive and valuable interactions come from putting a resource in someone's hand and educating them on the issue while tabling. You can answer questions as they come up and even collect their email address to follow up with more information. 
This is a great way to educate community members on the issue of sexual violence prevention and to show your support for survivors. You could do this with a group or club or even by yourself!
Movie Screening
Movie screenings are an engaging way to open a dialogue about sexual violence with members of your community. Inquire at local theaters or community spaces that have a projector about hosting movies that address the issue of sexual violence during April either for free or at a discounted rate. 
Use discussion guides to get the audience talking about the issues addressed in the film afterward, or ask a panel of local experts to participate. You can even create a Facebook Event for the film screening and use the discussion section to open up conversation before the film. For movie suggestions, check back for a blog post coming later in the series!
Library Display Case
Talk to your local librarians and ask if they'd be willing to put together a display of books and DVDs that address sexual assault in a display case or other prominent location throughout April. You could create a sign that explains what Sexual Assault Awareness Month is and provide the contact information for your local rape crisis center and other available resources.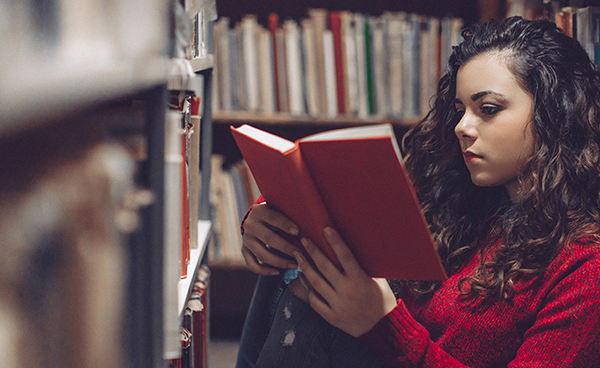 Restroom Campaign
Everyone stares at the back of public restroom stall doors, so it makes a great space for outreach. You could focus on topics like consent, believing survivors, or how to be an engaged bystander. Download and print our campaign poster or design your own with information on local resources or ways to get involved, and put them up in the restrooms at college campuses, bars, businesses, and state agencies. Remember to ask permission before posting the flyers. 
Policy Advocacy
Participate in political advocacy during SAAM by writing letters to local, state, territory, tribal, and national government officials about policies related to sexual violence that impact your community like rape kit backlogs and statutes of limitations. 
Provide information and templates to community members – including young people – to encourage them to participate in this campaign. 
Engage Faith-Based Communities
If you're a member of a religious community, you could ask your faith leader to address sexual violence during services, offer prayer sessions for survivors, or host educational programs throughout the month of April on topics like healthy relationships and healthy masculinity. 
A church bulletin is a perfect space to highlight the contact information for the local rape crisis center. Speaking of your local rape crisis center, you could organize a bake or craft sale with other members of your faith community and donate the proceeds to them. 
NSVRC has developed this shareable resource for faith leaders that details these and other ways that they can get engaged in sexual violence prevention.
Get Moving
Many social and health causes have started annual walks/runs to raise money and awareness. You can plan a walk for sexual assault awareness or reach out to other organizations that are holding walks/runs during April to form a team representing the anti-sexual violence movement. Consider collaborating with a local studio or a YWCA to host a Zumba, yoga, or dance class. Donate the money you collect from the class to a local rape crisis center.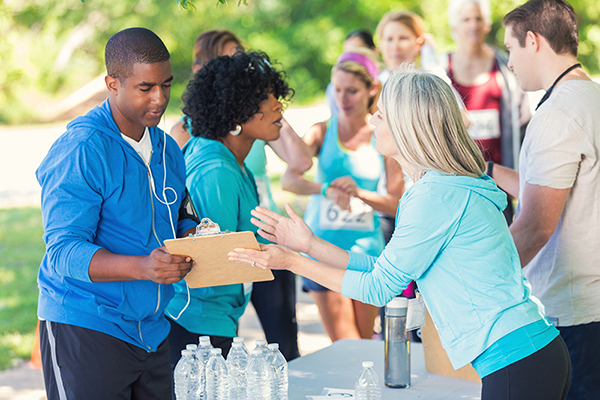 ---
Remember, there's no one "right" way to get involved in Sexual Assault Awareness Month. Think of your resources, availability, capacity, and goals when determining which event or events would be a good fit. Maybe this is your first year getting involved and you want to start small.
Organizing something like a display case at your local library won't require a lot of your time but can have a big impact. The important thing is that you are getting engaged and showing your support for survivors and making steps towards ending sexual violence once and for all. 
This list highlights just a few of the countless ways you can bring SAAM to your community. For a more comprehensive guide, check out the SAAM Event Planning Guide. 
---
Beginner's Guide to SAAM Event Planning Blog Series
This is part of a series of blog posts intended to guide individuals to make the most of April 2018's Sexual Assault Awareness Month.
Check out other blogs in the series: