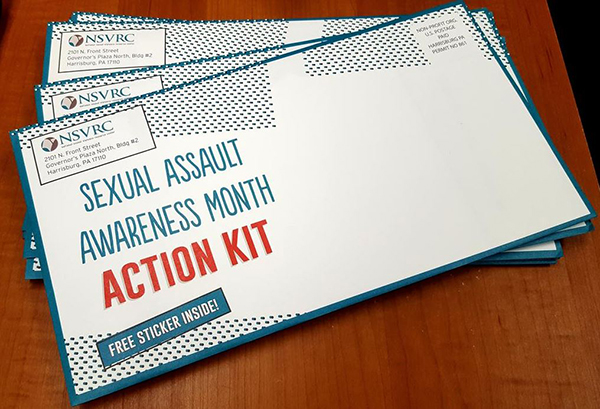 We've got you covered for all your Sexual Assault Awareness Month planning needs! We've rounded up some of the new resources available for April 2018 — from informational tools to inspirational shirts, stickers, and more — and offer suggestions on how to best utilize them. 
But before we get started, if you haven't already requested your free SAAM Action Kit, which provides many of the items discussed below, head over here to get your copy.
---
Palm Cards
All of the campaign-specific information related to the theme, Embrace Your Voice, is contained in four key resources. Each resource is a 3x5 palm card which is perfect for handing out at events or leaving around community spaces. The palm cards are titled, Embrace Your Voice, Everyday Consent, Healthy Communications with Kids, and Understanding Sexual Violence.
They can be purchased in packs of 50 for $8.00 each in the NSVRC Store or downloaded and printed as one-pagers from the SAAM webpage.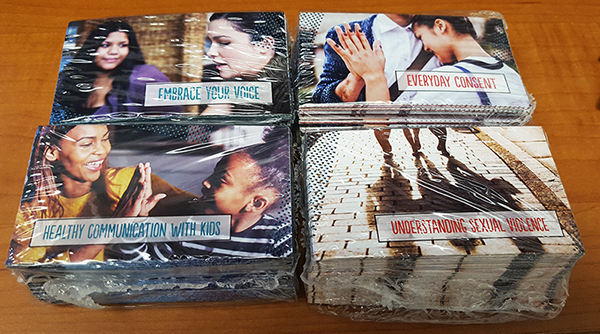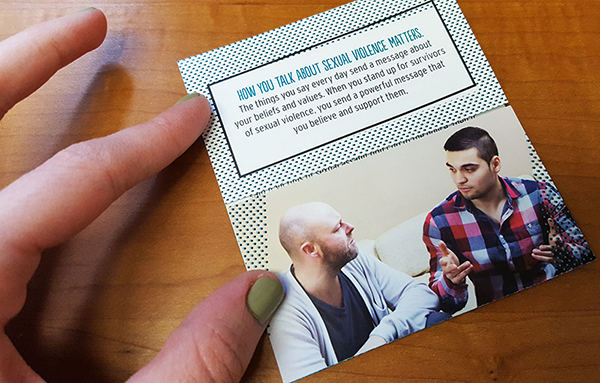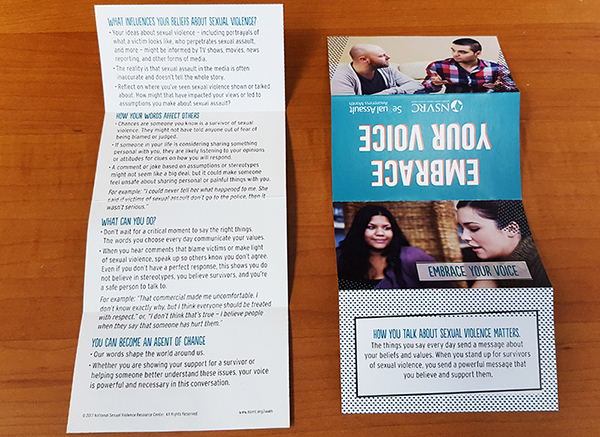 Poster and Infographic
This year's campaign poster boldly proclaims, "Your Voice Has Power" with clear actionable steps underneath. Print out copies to post around your college campus or other community spaces. If you're representing a local rape crisis center or other organization, consider placing your own branding and contact information on the top right corner.  
You can download the poster as 8 ½ by 11 (regular printer paper size) or 11 x 17 here. 
This year's infographic states the facts about sexual violence and encourages individuals to use their voice to help change them. This evergreen resource purposefully doesn't include any specific Sexual Assault Awareness Month branding so it can be displayed year long. 
If you'd like to have either design printed larger, please reach out to resources@nsvrc.org and let us know what size would be most helpful. 
SAAM Overview One-Pager
This double-sided one-pager was designed to provide a basic overview of Sexual Assault Awareness Month and other key concepts associated with it like sexual violence and prevention work. It's a great resource to hand out to help get others on board with SAAM events. For instance, if you're stopping by a local coffee shop to ask if you can hang up a SAAM poster or drop off palm cards, you could present the owner with a copy so they can learn more about the campaign.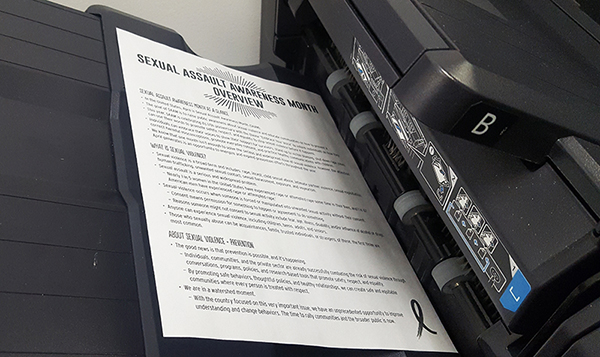 The straight-forward design lends itself well to being photocopied or displayed in black and white. So make several copies to take with you before going out to share the word about SAAM.
Temporary Tattoos
Temporary tattoos are the perfect way to get folks engaged while table-sitting or other events. Not only do they allow individuals to show their support for survivors, but they're a great conversation starter.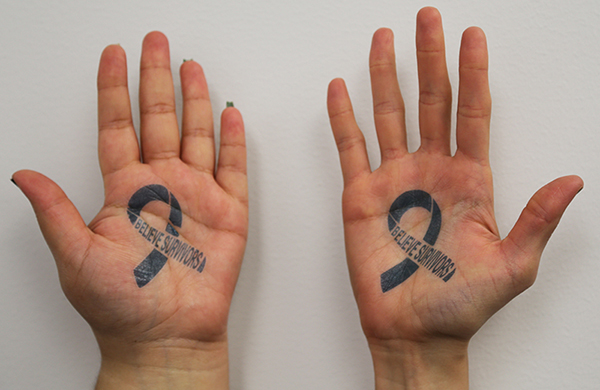 Tattoos are available in both the "Believe Survivors" design and an LGBTQ+ rainbow design (not pictured). They are sold in packs of 20 for $5.00. You can purchase the LGBTQ+teal ribbon tattoo here and the "Believe Survivors" teal ribbon tattoo here. 
Your Voice Has Power Shirt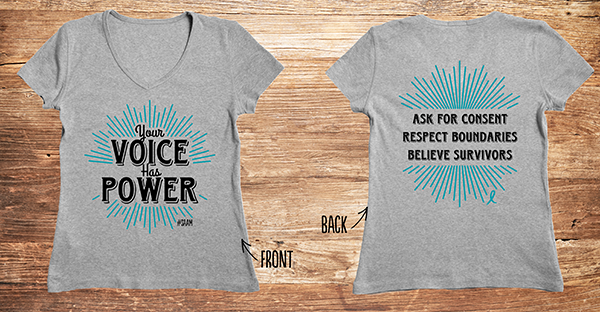 Sport your support for SAAM with a t-shirt that lets everyone know "Your Voice Has Power." Emblazoned with a bold, eye-catching design, this gray, cotton-polyester blend shirt is available in crew neck and V-neck cuts. The back is complete with action steps and a teal ribbon illustration. All proceeds from the shirts benefit NSVRC's work to respond to and prevent sexual violence through collaboration, sharing and creating resources, and promoting research.
Believe Survivors Tote Bag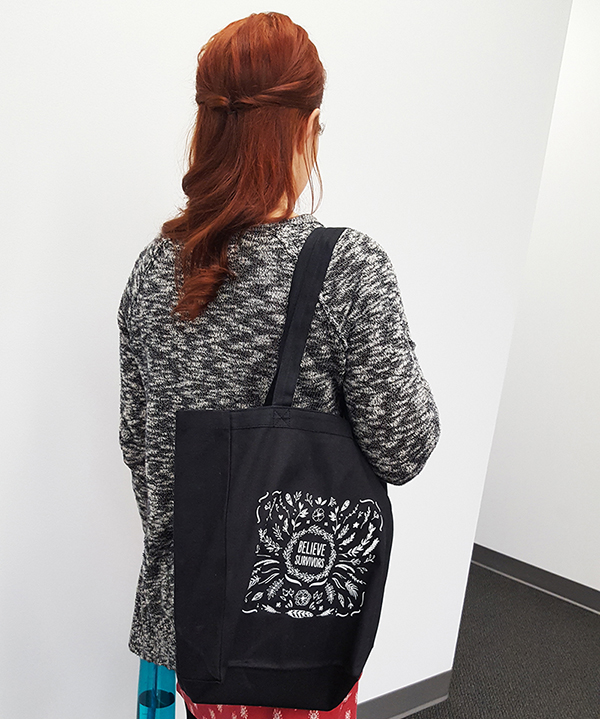 This sturdy canvas bag is perfect for giveaways at tabling events or conferences or as a gift to yourself. Throw in your books, water bottle, and snack and you're good to head out while sharing the crucial message that you believe survivors. The tote bag is affordably priced at $8.00 and can be purchased here. 
End Victim Blaming Sticker
Show the world you're on a mission to end victim blaming with this high-quality sticker. This vinyl sticker is perfect for attaching to notebooks, water bottles, or laptops. Stickers can be purchased in packs of 20 for $5.00, making them a perfect giveaway item at SAAM events. If you're table-sitting at an event you might hand out stickers for everyone who signs up to be part of your email list. 
---
Beginner's Guide to SAAM Event Planning Blog Series
This is part of a series of blog posts intended to guide individuals to make the most of April 2018's Sexual Assault Awareness Month. 
Check out other blogs in the series: