By Damary Rodriguez, Database and Resource Assistant for the National Sexual Violence Resource Center
Full disclosure: I am supporter of Zahira Kelly's Patreon.
When you hear the word Latina/x, who comes to mind? Sofia Vergara, Shakira, or maybe Jennifer Lopez? The women mentioned are light-skinned with European or ethnically ambiguous features. While that is the majority of what is portrayed in the media, is not representative of all Latinas/x. It is really uncommon to see Afro-Latinas/x women in entertainment. If we do see Afro-Latinas, their Latinidad is often questioned. Thankfully, Zahira Kelly is centering Afro-Latinas/x with her art and commentary.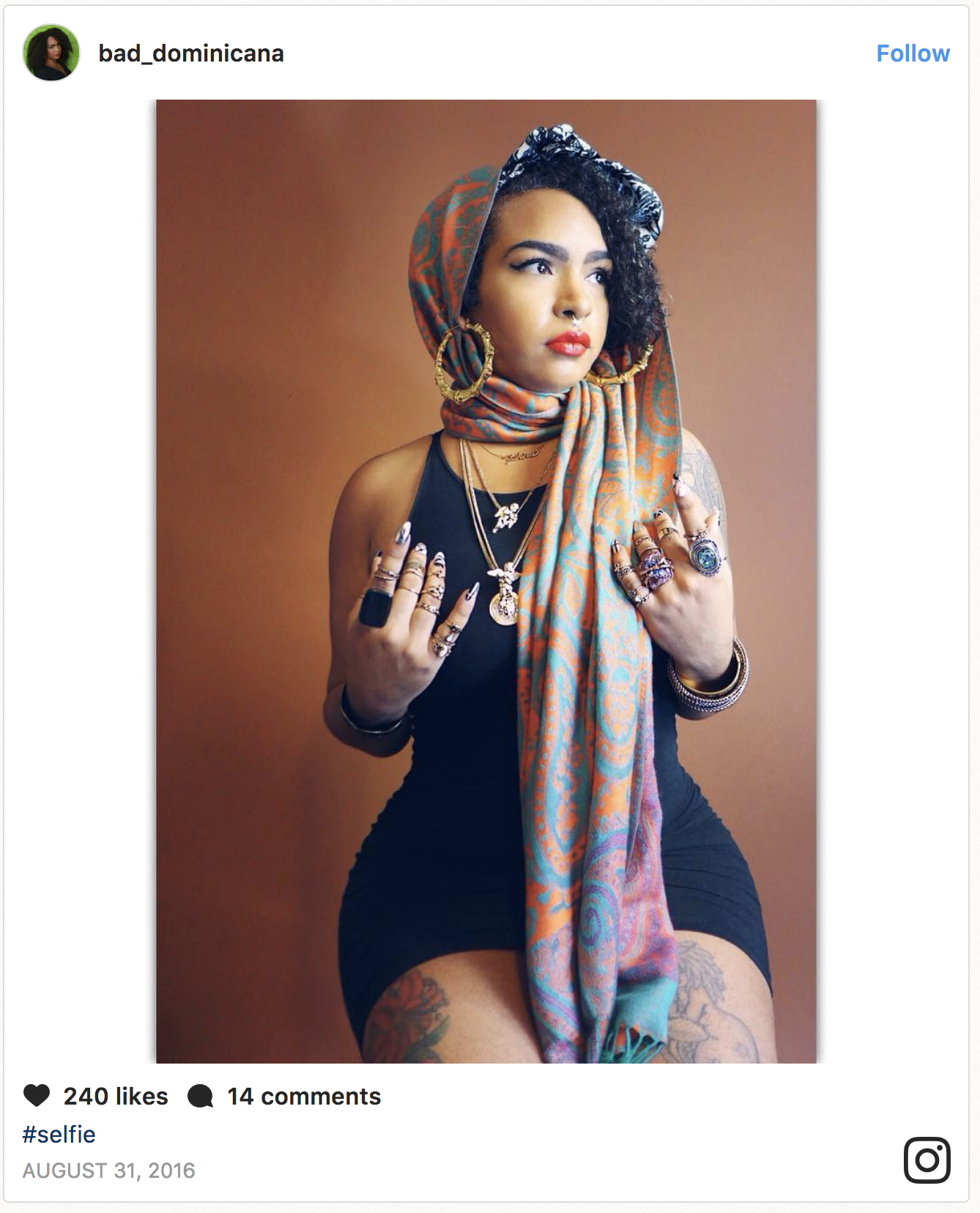 Photo credit: https://www.instagram.com/p/BJyKE0bjRVx/
Kelly is "a mami, writer, artist, mujerista, award-winning sociocultural critic, and speaker." She is an Afro-Dominicana who utilizes her art and several platforms to bring attention the experiences of Afro-Latina/x women as well as analyze "abuse culture, colonialism, social power dynamics and critique … media and pop culture."  For example, Kelly created a beautiful print showing an Afro-Taina woman guayando (grating) yucca. As a fellow Dominicana, this scene is typical for us especially around the holidays when we make dishes that require grated yucca but you would never see a scene like this depicted in any media with an Afro-Latina/x.
I, like Zahira, was born in the United States. My parents came to the U.S. from the Dominican Republic in the late '70s. I was raised in a Spanish-speaking household with Spanish language music and television as well as English-language TV. Watching telenovelas was a ritual in our family but I never had to think about the fact that I was not being represented on screen because I am a very light-skinned Latina/x woman. Many of the telenovelas shown on Telemundo and Univision feature white-ish Latino/x actors with European features and one of the most popular telenovelas of my youth, María la del barrio, is an example of that.  Kelly's bi-lingual comic, Baina Colonial, explores absence of Afro-Latino/x in telenovelas and media in general as well as its anti-blackness. Reading this comic, I had an epiphany. I and many other Latinos/x can see ourselves in the media but Afro-Latinos/ x do not. I started thinking about it even more and in Dominican entertainment you would at least see visibly Afro-Latino/x men such as Johnny Ventura and Cuco Valoy but no women. The only Afro-Latina/x woman that I can think of that was well-known is Celia Cruz who was Afro-Cuban and was successful in the U.S. and Latin America.
Fortunately, the tide is turning and we are starting to see Afro-Latina/x women in U.S.media such as Cardi B, Dascha Polanco, and Gina Torres. Amara la Negra, a Dominican Singer that has achieved some success in the Dominican Republic, recently joined the cast of Love & Hip Hop: Miami. However, we have a long way to go in centering Afro-Latina/x women. Polanco, a Dominicana who is known for her role on Orange is the New Black, has stated that she felt that she had to hide her Afro-Latina/x features.  In an inter view with Latina, Gina Torres stated: "There are so many of us out there. And part of it is, we're undercover. They don't know, and if we stood and said, 'that's it I'm not going do any roles that are not Latina,' we would not work." While actors and artists may be getting work in the U.S., they are not playing Afro-Latina/x roles or their Latinidad is not talked about. Zahira Kelly has spoken about this issue extensively and recently on Twitter said: "…just because light american negras get play dont mean light latinegras are visible in latinamerica. Context isnt universal [sic]." As non-black Latinos, we should be centering Afro-Latina/x voices every month, and every day for that matter, not just for Hispanic Heritage Month.