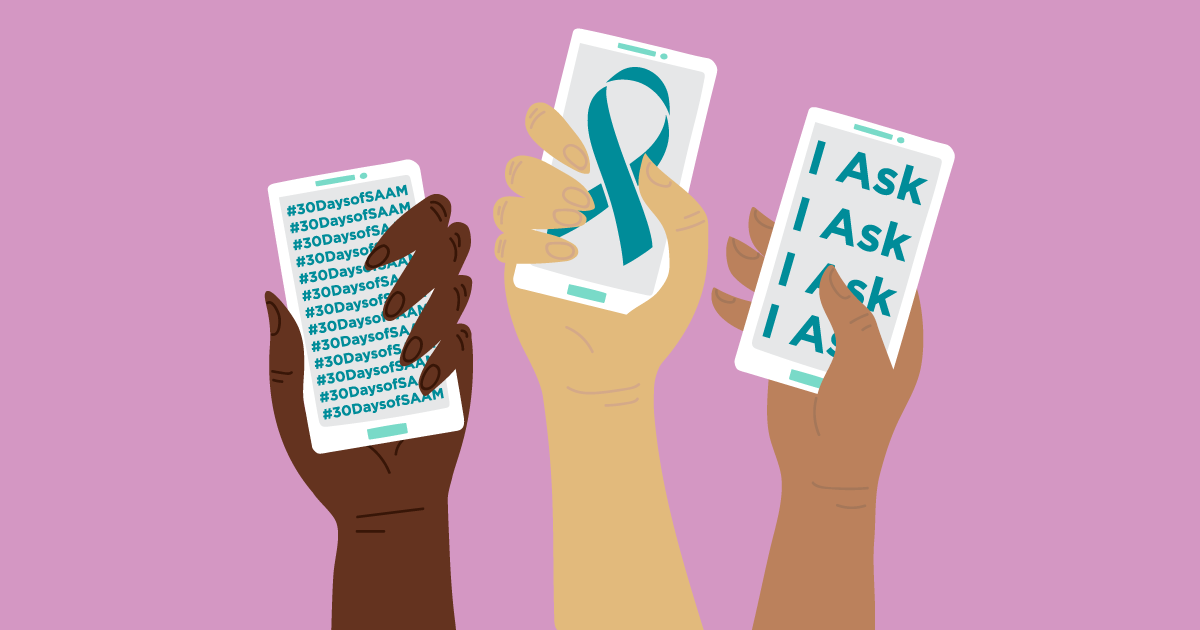 Heading into April's Sexual Assault Awareness Month campaign, some communities and campuses are responding to the current outbreak of COVID-19 by discouraging public gatherings or closing their doors entirely. SAAM is a pivotal time for local rape crisis centers and other service providers to show their support for survivors, educate community members about consent, fundraise, and raise visibility about their services in their community.  
How has COVID-19 Impacted Your SAAM Events? Tell us in this short survey.
Given the value of SAAM to these organizations and to survivors of sexual assault, it's critical for event planners to think through ways they can adapt events for the safety of volunteers and attendees but also ensure that their SAAM efforts can continue to meet these goals. The good news is that online events and actions can be just as powerful as in-person events.
Below are some web-based ideas to help you adapt your SAAM strategy this April. 
Adapt your in-person event to an online event
Events like panel discussions around topics like consent or Q&As — or even digital documentary screenings — can be hosted online. Consider holding a virtual discussion via Facebook Live, Skype, Zoom, or another video conferencing platform can help community members feel empowered to ask questions and educate themselves about these topics from the comfort of their own homes. 
If you've already added an event to our national listing, you can edit the event page to change the location to "remote" using these instructions.
 
Participate in the #30DaysofSAAM Instagram Challenge
For the past seven years, advocates, survivors, and supporters have joined in the #30DaysofSAAM Instagram challenge. The challenge is a way that you can show up for survivors in a social-distancing friendly way this April. 
During these uncertain times, we're hoping that past and new participants alike find the challenge to be an outlet to share creativity, hope, and connection.
Here's how it works: 
Every day in April we provide an open-ended prompt (April 1st's prompt is At the Beginning of SAAM and you're encouraged to share a snapshot that captures your goals, hopes, and feelings about SAAM.)
Respond to the prompt by posting a photo, collage, illustration, digital art, video, or other original content on your Instagram account using #30DaysofSAAM
NSVRC will choose one winner each day to highlight on our Instagram page and send a prize pack as a token of appreciation.
Those who participate every day in April will be entered to win this year's grand prize. 
Take a closer look at the rules, criteria, and daily prompts to get started view the #30DaysofSAAM Challenge handout.
Share a Teal Selfie on the Day of Action
Tuesday, April 7th is the SAAM Day of Action. Help turn social media teal — the color of sexual assault awareness and prevention — by sharing a teal selfie using #SAAM. Teal ribbons, t-shirts, nails, hair, makeup, jewelry, ties, and other accessories have been popular items worn in the past. Some folks have even gotten creative and decked their pets out in teal. Wearing teal will serve as a conversation-starter for important issues like consent, respect, and supporting survivors. 
You can share the following message with the post: Today is the Sexual Assault Awareness Month Day of Action, and #IWearTeal to show my support for survivors. #SAAM #IAsk
Use these share graphic below to help promote the Day of Action on social media.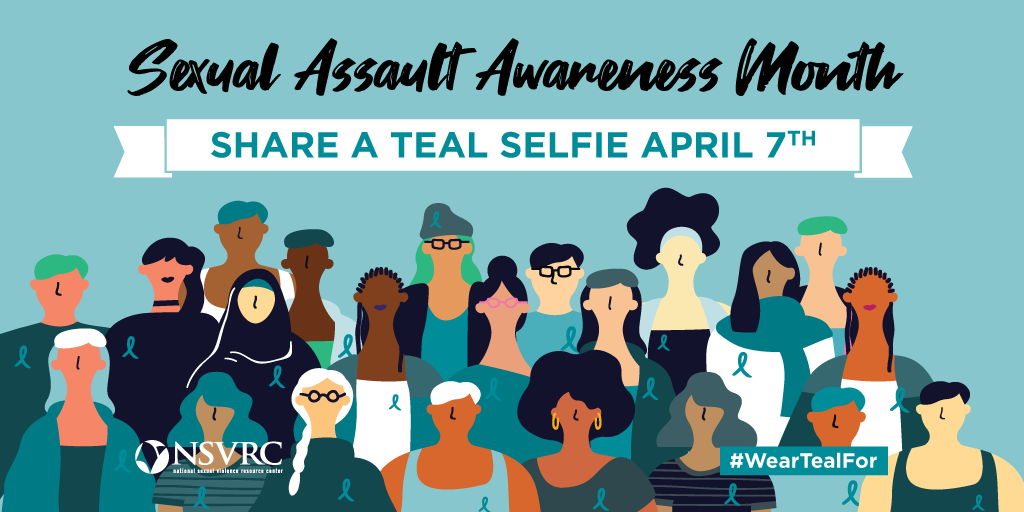 Post an Online Exhibit/Gallery
Clothing activism —  such as What Were You Wearing? displays — has become increasingly popular in recent years. Just because individuals may not be able to attend these exhibits in person doesn't mean they have to miss out on the message. Event planners can create online photo albums featuring the items, create a video that captures the content, or find other ways to create virtual walk-throughs. 
Participate in Denim Day
Wear jeans with a purpose, support survivors, and educate yourself and others about sexual assault on Denim Day, April 29th. Share photos of your jeans on social media using #DenimDay. Learn more about the meaning behind Denim Day and register your participation here.
Host an Online Fundraiser 
You can show your support for your local rape crisis center by raising funds to support their work. Facebook fundraisers are a great option since they connect friends to your cause, and it's easy to gain supporters across Facebook. Facebook takes care of the donation processing with no fees, so your local center will get all of the proceeds. For help finding your local rape crisis center, check out this national listing.
Share Messages About Consent on Social Media
Sometimes there's no better way to reach community members than with direct and engaging messages about supporting survivors and consent through social media posts. Post these campaign share graphics, gifs, and videos to share important messages about consent and healthy sexuality throughout the month.
---
Examples of Virtual SAAM Events
---
Explore more ideas for changing up your organizing strategy in the wake of COVID-19:
CDC Guidance: Get Your Mass Gatherings or Large Community Events Ready 
We Need Consent Education Now More Than Ever: 10 Digital SAAM Activities For Your Campus
April is Sexual Assault Awareness Month and Child Sexual Abuse Prevention Month
7 organizing strategies in a time of social distancing
Coronavirus Demands a Quantum Leap in Organizing
Marketing Your Event During COVID-19
Lessening The Risk Of Coronavirus At Nonprofits