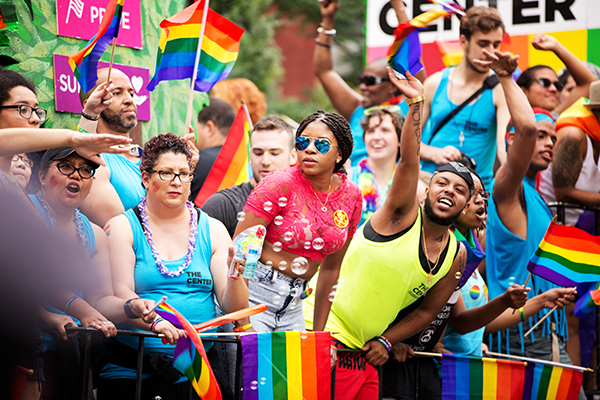 Pride Month 2018 has come and gone, but that shouldn't mean putting your center's engagement of LGBTQ communities on pause! LGBTQ people are here and queer all year round. Some of us are out, and proud and some of us are working on it. Some of us are asking a lot of questions about who we are, and some of us don't yet know what questions to ask. All of us should have access to your center's services when we need them.
Also, there's no rule that Pride-esque events have to take place in June. I'm writing from Harrisburg, PA, where our Pride Festival and accompanying events have been held during the last weekend of July for more than a quarter century. June earned the title of Pride Month in large part to recognize the Stonewall Riots as a defining moment in the early movement, but how queer would it be to stick rigidly to the formalized, societal expectations of when we should organize? I say it wouldn't be very queer at all!
Regardless of when Pride events in your area take place – if your area has a Pride event at all – consider these tips for making a plan to engage your local LGBTQ communities year-round:
1. Know the LGBTQ organizations in your own community. Find a community center using CenterLink's LGBT Community Center Member Directory. Remember that LGBTQ community centers are structured differently than sexual assault centers. There can be a huge range in mission and purpose, number of staff (including many that are entirely volunteer-run!), programs and services, and funding sources. When exploring partnership opportunities, use the skills that you already practice as an advocate – listen, offer a roadmap of possibilities, accept the answer of "no" or "not right now," and so on.
Community centers aren't the only LGBTQ groups you might engage. Learn which high schools and middle schools have gay-straight alliances (GSAs) or similar student groups; look on college campuses to find an Office of LGBTQ Services or a Queer Student Union. Reach out to the organizations that specifically serve transgender people and queer people of color. Find the LGBTQ-specific or LGBTQ-affirming faith communities. Is there an LGBTQ health center in your area?
2. If you're into the festive feeling of Pride Month, take note that there are lots of other LGBTQ "holidays" that take place throughout the year. October is LGBT History Month, and October 11 is National Coming Out Day. March 31 is Transgender Day of Visibility and November 20 is Transgender Day of Remembrance. May 17 is International Day Against Homophobia, Transphobia, & Biophobia.
Consider working recognition of these awareness days into your social media and email newsletter. Find creative ways to partner on these events – maybe there is something your center already has or does that can enhance what an LGBTQ community group is already doing. Maybe LGBTQ students in your area need a space to hold a party after Day of Silence in April. Also, consider just showing up without any agenda other than showing solidarity.
3. Always engage LGBTQ people from the start. If you're making a plan to engage LGBTQ people in your region, make sure LGBTQ people are helping inform that plan from the start! If you miss this step, you'll be trying to fit your ideas about outreach into a community that may or may not have the same needs and interests in what you're offering. Having a diverse group of LGBTQ people inform your community engagement from the start will help ensure cultural relevance.
You may be reading these suggestions and thinking it sounds like a lot of extra work. If that's you, try reframing that reaction and reminding yourself that this isn't extra work – it is the work! Make sure that increasing access to services through community engagement is a core part of how your center functions.

Consider your next step! Bring this up at your next staff meeting, or share this blog with your colleagues to get a discussion going. This is a commitment worth making. LGBTQ people don't necessarily know that a sexual assault center will be a safe place for us to seek services unless we see something that specifically signals to us that it is. When you and your center are in tune with what the LGBTQ communities in your area want and need, you'll be best positioned to serve LGBTQ people when we need your services.