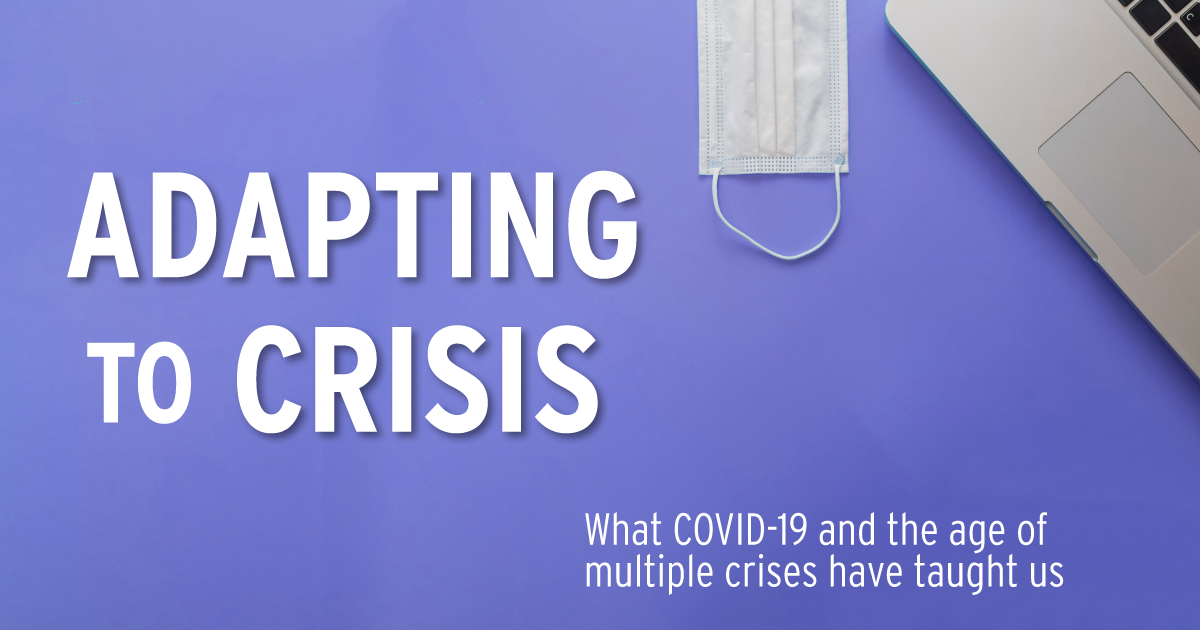 The word that defines the past year and a half could very well be "adapt." With shutdowns starting in March 2020 due to the COVID-19 pandemic, followed by uprisings for racial justice across the country spurred by the killing of Black people by police, the months that followed have been an exercise in surviving from moment to moment and determining how best to move forward. Every industry has had to adapt and move away from the way they've always operated, and the movement to end sexual assault is no different. Last year saw huge shifts and pivots in fixtures like Sexual Assault Awareness Month (SAAM) in April and the National Sexual Assault Conference (NSAC) in September, as well as the day-to-day operations of local sexual assault programs across the country. Now, over a year later, we're still learning what this "new normal" means for us — as a movement, as organizations, and as individuals. And all of these lessons have us looking to the future as we continue to adapt.
Pivots and Resilience During SAAM
Each April, SAAM is a time for local sexual assault programs to hold outreach events in their communities, letting people know about their services and educating them on topics like consent and healthy relationships. NSVRC's role in SAAM is to develop a theme and create and share resources and giveaway items — like palm cards, coloring pages, stickers, posters, and more — that organizations can use in their own communities.
As state and nationwide shutdowns and stay-at-home orders began, NSVRC had to start thinking about how the planned SAAM campaign would change. Local organizations could not safely hold in-person events, and with only a few weeks until April, adaptation had to happen quickly. "Many advocates were reaching out to us, searching for guidance on how to move forward," said NSVRC's Prevention Campaign Specialist Susan Sullivan, who develops and leads the SAAM campaign. "It quickly became clear that — just like the advocates we were hearing from — our own SAAM plans had to be reworked as we headed into April with a lot of uncertainty. NSVRC's planned content during this time was put on hold as we began to develop new resources to provide guidance around shifting in-person events to virtual events."
But it wasn't just our strategy that needed reinventing. The planned campaign theme of I Ask, which focused on consent, no longer seemed like a perfect fit. "This subject — while important — felt out of touch with the current climate where intimacy and physical contact had been suspended," said Sullivan. "We shifted the campaign theme to a focus on consent in digital interactions and reframed other pre-written content to reflect the current situation."
As we made this shift, we found that SAAM event planners all across the country adapted with speed, resilience, and agility. Organizations pivoted their in-person events to digital ones, hosting online art galleries, Zoom panels, and more. Digital participation became a way that everyone could get involved in SAAM — including those who
may not have shown up at an in-person event in a "normal" year. "Not only could community members participate in SAAM activities who might have otherwise not had the availability to attend in-person events, but it also broadened participation, since distance was no longer a limitation on who could participate," Sullivan explained.
NSVRC saw change happening in real time through a variety of channels, including our annual #30DaysofSAAM Instagram photo contest. While 2020 was the seventh year we've held this online event, we saw a marked change in the way participants responded. Survivors, advocates, and allies were open and vulnerable about how COVID-19 was impacting their lives and changing the way they do their jobs. They were even using this new context to tech lessons about boundaries, consent, and healthy relationships.
"For me, like so many others, this was a hard time, a time where it felt like the floor had been pulled out from under us," Sullivan explained. "So when I saw folks still flooding #SAAM on social media to promote online events and to share messages of support for survivors, I was surprised and heartened. I could appreciate the creativity, ingenuity, and perseverance it took for those advocates to continue to find ways to connect with their communities during SAAM. Their strength gave me strength as well and I wanted to work harder to support them the best I could." As SAAM came to a close, it became clear that the resilience and creativity we had seen during the month were only going to continue.
Going Virtual for the National Sexual Assault Conference
Scheduled for only a few months after SAAM in September, the National Sexual Assault Conference was the next huge event to see changes. The national conference is an opportunity for advocates, activists, and other allied professionals to meet and learn from others in the field. Every other year, NSAC alternates between hosts — ValorUS (formerly the California Coalition Against Sexual Assault) and the National Sexual Violence Resource Center/Pennsylvania Coalition Against Rape.
By April 2020, it became apparent that travel and large in-person meetings were still unsafe, and ValorUS made the decision to hold NSAC as a fully virtual conference. "We felt it was an important time, and we needed to continue to make sure there was a space for a national conversation about ending sexual assault, so we moved it to a virtual space," said David Lee, Deputy Director at ValorUS. "The conference theme was Bold Moves. Each speaker addressed — given where we were in our history with the pandemic and the issues the country was facing — what are the bold moves we need to make at this time?"
The plenary speakers included national leaders like Farah Tanis, Executive Director of Black Women's Blueprint; Alicia Garza, Co-founder of Black Lives Matter; sujatha baliga, restorative justice advocate; and Bamby Salcedo, President and CEO of The TransLatin@ Coalition. Workshop sessions focused on relevant, timely topics such as transformative justice, prison abolition, racial equity, and more.
The adaptations made in 2020 to this long-held standard event made it more accessible than ever. Registration was open to anyone – and for the first time, it was completely free. "We decided not to charge for it," said Lee, "because we recognized that where the country was with the pandemic, with the economic uncertainty, and the social issues such as addressing racism, it was important to eliminate barriers to be able to participate. So we decided to adjust." Because they weren't charging for registration, ValorUS limited the size of the conference, reducing the number of workshops from 119 to 12 and the plenary sessions from three to two.
View all the NSAC sessions at: nsvrc.co/NSAC2020
The result was an overwhelmingly positive response. Over 5,000 people registered for the conference, where in the past, in-person attendance was capped at 1,800. For three days, plenary sessions and workshops took place on Zoom. Plenaries were also livestreamed on Facebook Live — where they received almost 15,000 views — as
well as on YouTube and the NSAC website. In an evaluation after the conference, more than 50% of respondents said it was their first NSAC, which shows how this virtual space created an opportunity for new constituents to join the movement. "While we missed being in person," said Lee, "we were able to reach a lot more people. We got to talk about bold moves, we got to do it with more people, and we created greater access. It shows the momentum of where our movement is going."
The conference was more accessible than ever in a number of ways. Not only did the free cost mean more people could attend, but the availability of session recordings after the fact meant you could virtually "attend" every workshop and plenary the conference offered. All sessions had real-time closed captioning, ASL interpreters, and English-to-Spanish translation (except one session conducted in Spanish, which was translated into English).This trial run of a fully virtual conference has opened many doors and possibilities that an in-person conference could not offer. "While people couldn't gather in person, we did gather in Zoom rooms where participants chatted with each other. The conversation carried over into social media," said Lee. ValorUS focused on recreating online that in-person experience of being at a national conference, interacting with and learning from each other.
Moving Forward
With the end of pandemic nearing our sights, many are now wondering what the future will look like. In order to meet survivors' needs, organizations must continue to think critically, make adjustments with agility, and remain open to new ideas. This has always been true, but the past year has made the ability to adapt even more imperative. "I think in the past, it was easy to get rigid in thinking that SAAM had to look a certain way or provide x, y, and z resources, but in April 2020 we had to let go of that and focus on the real goals and purpose of SAAM," said Sullivan, illustrating the adaptability that made SAAM 2020 such a success.
The focus on online interaction continued into SAAM 2021, with the campaign theme "We Can Build Safe Online Spaces." Resources described how to practice digital consent, disrupt disrespectful behaviors online, and create trauma-informed online spaces. "While the SAAM campaign has been incorporating online spaces for the past two campaigns where we've talked about digital consent, the impact of COVID really pushed things forward and did transform how we communicate in such a way where it only made sense that SAAM focused entirely in online spaces this year," Sullivan said. "And while we're still in this early stage of this new normal — working remotely, having virtual classes, for instance — we have an opportunity to build something better. We have an opportunity to build environments that are safer and more inclusive and welcoming from the get-go."
As we saw with SAAM and NSAC, online virtual events have been well-received and may become a mainstay, even as it becomes safer to meet in person again. Hybrid events – with both an in-person and virtual component – might very well become the norm, and that is one of the considerations that event planners are making moving forward. In fact, ValorUS is already moving forward with another virtual NSAC, which will be held August 4-6, 2021.
The movement to end sexual violence is constantly growing, learning, and evolving. It is clear that this pandemic, compounded with the already existing traumas of sexual assault and racism, will continue to impact us as a culture and as a movement for years to come. We cannot forget that many of us are facing multiple avenues of marginalization, and we cannot forget how the work to end sexual violence is connected to the work to end all oppression. But the lessons we've learned from COVID-19 about accessibility, virtual connection, and resilience will continue to serve us even after the immediate crisis passes. n
Catch up on everything SAAM 2021 at www.nsvrc.org/saam/2021/about
Learn more about NSAC 2021 at www.nationalsexualassaultconference.org/nsac-2021
This article appeared in the Spring 2021 edition of The Resource.