Connect in-person and online with others working to prevent sexual violence!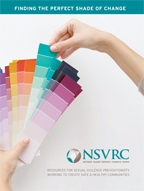 Collaboration is essential in our work
Finding new ways to connect with others who are working to prevent and respond to sexual violence an inform and strengthen our work. The topics below provide a variety of spaces and opportunities for building these connections and collaborations in the anti-sexual violence movement and beyond.
The National Sexual Assault Conference gathers advocates and preventionists from across the United States to learn and grow together annually.
Check out opportunities around the world on our Calendar of events and trainings.
---
Looking for a job? Recruiting for a skilled anti-violence worker or researching available funding? Use our Opportunities section as your one stop shop.
---
Be cutting edge by participating on NSVRC's online, real-time xChange Forum or check out archived forum topics and resources.
---
Share comments, resources and ideas with the NSVRC Bloggers. Current blogs include The SAAM Blog, Perspectives of a Preventionista, and Feminism from Grassroots to Full Bloom.
---
We produce podcasts on a range of topics for many different audiences. Listen to our podcast series.
---
Sign up to receive the free NSVRC eNewsletter to connect with the latest resources, news, and opportunities.