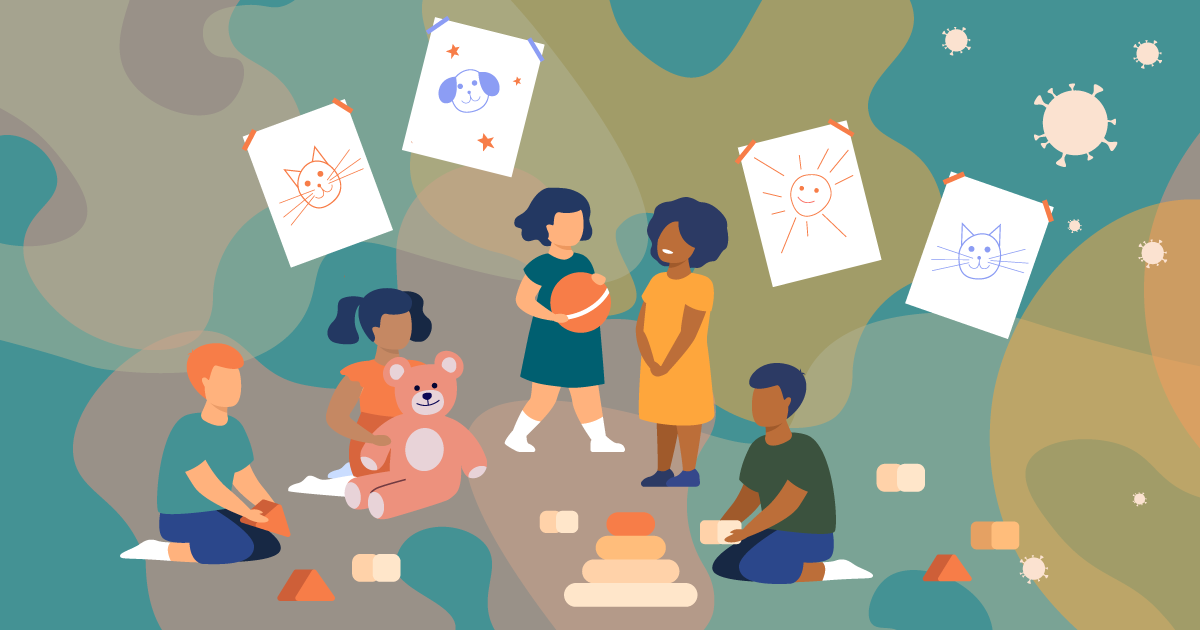 Jordyn's Story
In September 2019, the San Diego county child abuse hotline received a call about Jordyn*, a six-year-old girl who was being sexually abused by her father. An investigation confirmed the heartbreaking allegations, and Jordyn was taken from the only home she'd ever known to an emergency children's shelter. Just imagine how terrifying and confusing this experience would be to a kindergartener. What is this strange place? Why can my brothers stay home with Mom, but not me? Will I be here forever?
That November, Jordyn's father was arrested on felony charges of child sexual abuse and put in jail. With her abuser locked away, the little girl was allowed to return home on a trial basis. However, the family was now facing a whole new set of challenges. Jordyn's father had been the sole provider, and her mother didn't know how she was going to support four children on her own. Plus, another crushing obstacle was about to be thrown their way: the COVID-19 pandemic.
Compounding Trauma
Every child in foster care has experienced trauma, but those who've survived sexual violence often carry extra burdens:
Lack of Support
Besides a safe living environment, therapy is crucial for these youth to start to heal. When the pandemic first hit, therapeutic services were cut off completely and any progress made in therapy was stalled. When sessions resumed virtually, their therapist – once a caring adult they visited each week – was now just a talking head on a laptop screen. They also lost access to natural support systems, like their friends at school.
The 2020-2021 school year brought disrupted routines, remote learning, and uncertainty about the future. All students, even those with the most stable home lives, struggled. However, youth working through trauma felt these negative effects more acutely and were more likely to struggle academically. Many didn't attend school at all.
Perhaps the students who suffered most during the pandemic were those victims not yet in foster care. For a child being sexually abused at home and suffering in silence, going to school each day was their escape. A switch to at-home learning may have meant more time with their abuser. Plus, for more than a year, students were away from the watchful eyes of mandated reporters, such as teachers, aides, coaches, and school counselors. It's hard to notice a child's bruise or a slight change in body language or behavior through a small, blurry box on a screen. Child sexual abuse stayed even more hidden.
Challenges in the Legal System
At the start of the pandemic, juvenile dependency courts were forced to close and later started up again in a virtual format. Hearings were delayed, which led to cases staying open longer and youth spending more time in the foster care system. Additionally, new legislation allowed youth in extended foster care (ages 18-20) to remain under the court's jurisdiction past their 21st birthday. While this was a benefit and relief to individual youth, more youth in the system meant higher caseloads for the courts and attorneys.
There were some silver linings to changes in the court system. In the past, parents and other parties may have missed hearings when they didn't have transportation or time during the workday to attend. Having the option to appear via telephone or video chat removed some of those barriers. In some cases, virtual hearings also provided emotional protection. Pre-pandemic, children in foster care and biological parents would see each other in court and wait together in the same area until their hearing was called. What if that parent is also their abuser? Virtual hearings prevented victims from being retraumatized by this interaction.
The Role of a CASA
When Jordyn first entered the dependency system, Emma* was assigned as her Court Appointed Special Advocate (CASA). A CASA is a highly trained volunteer who ensures the needs of a child in foster care are being met. They get to know the child and communicate with family members, school officials, health care providers, and other professionals involved in the child's life. A CASA uses this information, as well as firsthand observations, to advocate for the child in court, in school, in medical settings, and more. After explaining that she was a volunteer and there solely for Jordyn's wellbeing, Emma developed a trusting relationship with Jordyn's mother and was able to advocate for the young girl more effectively.
All CASA volunteers undergo extensive training on trauma. However, survivors of abuse respond to their trauma differently and there is no one right way to advocate for these youth. A CASA gets to know the child to determine their individual needs. Here are a few ways CASAs may advocate for child sexual abuse survivors in foster care:
Advocate for housing placement and school stability to make sure the child is comfortable and surrounded by people they trust
Advocate for trauma-informed therapy and work to remove barriers to accessing therapy, such as transportation or technology
If the abuser is a parent with legal visitation rights, a CASA may advocate for supervised visits or for visits to only take place in a therapeutic setting.
A CASA advocates beyond a child's immediate needs, too. Once, Jordyn's brothers all received new bicycles from a relative, but Jordyn did not. When Emma heard about this, she worked to secure funding to get Jordyn a brand new sparkly pink bike.
CASAs and COVID-19
Traditionally, CASAs learned facts about their case child (like Jordyn's lack of a bicycle) through monthly visits. During quarantine, in-person visits stopped and became 100 percent virtual. CASA volunteers had to get creative in forming and maintaining relationships not only with their case children, but with the families, caregivers, and other professionals working with the child. Because attorneys and social workers weren't able to see children in-person as often, they heavily relied on CASAs to provide anecdotal information about their wellbeing. The pandemic also caused lapses in services, such as therapy and tutoring, for children in foster care; CASA volunteers had to stay in constant contact with service providers to ensure their case youth were receiving the help they needed.
As mentioned, the pandemic brought sweeping changes to the education system. All CASAs of school-aged children were tasked with helping students and caregivers navigate the world of distance learning. In Jordyn's case, CASA Emma made sure Jordyn had all the technological tools she needed and helped Jordyn's mother secure reliable home internet service. Additionally, CASAs stayed in touch with teachers, attended virtual special education meetings, and provided education-related information to the courts so they could make informed decisions.
What's Next?
The pandemic continues to impact the foster care system, and its lasting effects are yet to be seen. Moving forward, perhaps there will be ways to carry forward advanced services and new technology to better serve this vulnerable population. Whatever happens, CASAs will continue to adapt and provide steadfast advocacy for children in foster care, including those youth who have experienced sexual abuse.
Today, Jordyn is happily back with her mom and brothers. The successful reunification would not have happened so quickly without CASA Emma's dedication and perseverance. A little girl, one who suffered unspeakable abuse, finally gets to be a kid.
How You Can Help Child Sexual Abuse Survivors in Foster Care
Learn to recognize the signs of child sexual abuse. (These signs are often not as obvious as physical abuse or neglect and can go unnoticed for longer periods of times.)
Become a volunteer with your local CASA program.
Support programs and organizations that serve vulnerable youth and survivors.
*Name and identifying details have been changed for confidentiality
---
ABOUT VOICES FOR CHILDREN
Founded in 1980, Voices for Children (VFC) transforms the lives of abused, neglected, and abandoned children in foster care in San Diego and Riverside Counties in California by providing them with trained, volunteer Court Appointed Special Advocates (CASAs). CASA volunteers advocate for a foster child or sibling group in court, school, and in the community to ensure their needs are met. VFC believes that every child deserves a safe and permanent home, striving to provide a CASA volunteer to every child in the foster care system who needs one. Last year, VFC CASAs and staff advocated on behalf of nearly 2,600 foster children. For more information, visit www.speakupnow.org.
To read the next blog in this series, click here.
To return to the COVID-19 Guest Blog main page, click here.