Understanding the impact of online trauma
Trauma is an intense experience that causes overwhelming emotional and psychological stress. This can include a single event, like an accident or assault, as well as ongoing experiences that threaten your well-being.
Just because some forms of sexual abuse take place behind a screen doesn't make their impact on the victim any less real. While some of these behaviors are crimes — particularly any that involve sexual abuse of children — even acts that are not classified as criminal can cause trauma. Victims could experience added layers of revictimization if images of abuse are reshared and recirculated on the internet.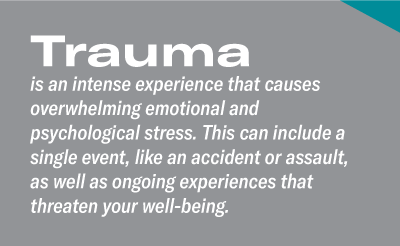 Each person reacts to traumatic experiences in different ways, both in the immediate aftermath and long term. You may feel guilt, shame, fear, anxiety, sadness, numbness, shock, withdrawal, and isolation. You may have trouble sleeping, nightmares, difficulty concentrating, and feelings of being easily startled and on edge.  
Many of us may have experienced stress firsthand when we've received a disrespectful, dehumanizing, vulgar, or even threatening comment online. Although these experiences are unfortunately all too common in the online world, that doesn't mean they are any less harmful. Coping and healing require acknowledging the impact of online sexual abuse without dismissiveness, judgment, or shame.
Trauma-informed online spaces
When building communities — whether online or in person — remember that many people you are interacting with have probably experienced some form of trauma.
Being trauma-informed means taking into consideration a person's experience of trauma and their reactions to it.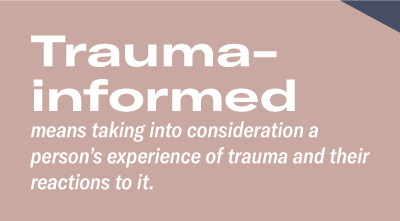 We can create trauma-informed online spaces by:
Giving participants choices about how to engage — for example, by not requiring everyone to turn their video cameras on. 
Developing community agreements about how people can interact in the space.
Informing participants as much as possible about what to expect in the space, like how long an online event will be or what activities will take place. 
Encouraging self-care. Let participants know it's okay if they need to step away or log off, and provide some examples of how they can re-center if they need to. 
Making it clear if and how information shared in the space will be shared outside the space. One of your community agreements could include not repeating others' personal stories shared within the space so that participants feel comfortable.
Connecting participants to the support they may need. Let people know where they can go for help if something in the online community is triggering.
Online sexual abuse and resources for survivors
Just like with abuse that takes place physically, online sexual harassment and abuse can be traumatic. Online sexual harassment and abuse can threaten your sense of safety and overwhelm the nervous system in the same ways as in-person harm and physical threats.
Finding support online
Online sexual abuse can be traumatic and, if left untreated, can lead to PTSD and other long-term health issues. If you have experienced online sexual abuse, know that you are not alone, the harm you have experienced is valid, and support is out there.
Online resources for survivors include:
Your local sexual assault resource center: These centers can help survivors of abuse, no matter when the abuse occurred and no matter if a report was made to police. You can find your local center using this directory or search for your state anti-sexual violence coalition for more resources in your area. Local sexual assault advocates will let you know what services are available to support survivors — whether virtually or in person — in your community.
National Sexual Assault Hotline: Volunteers offer support 24/7 to survivors and their loved ones. Whether you're looking for help, advice, or a referral, you can call 800-656-HOPE to be connected to your local sexual assault resource center or chat online with a trained support specialist.
Message boards, forums, and groups: Survivors are connecting online through communities, forums, and message boards. For example, on subreddits like Support For Sexual Assault Survivors, many survivors are sharing their stories with others. While they're a less formal form of support, these online spaces provide a platform where survivors can share experiences and help one another. 
For more information, check out these online resources for survivors.