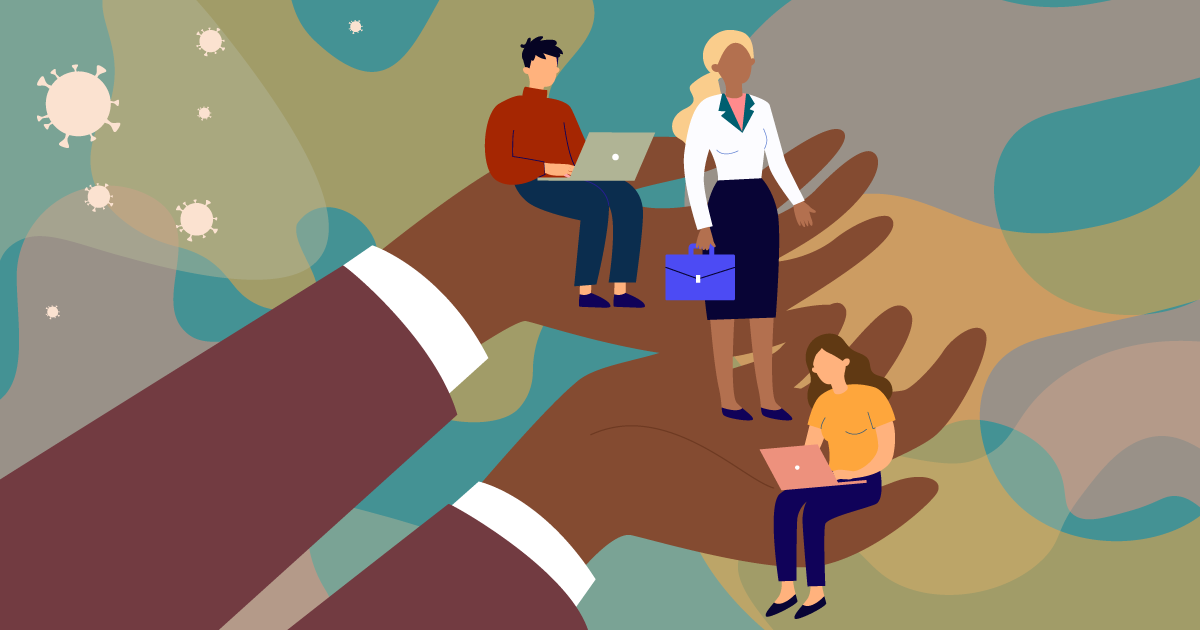 Avalon Healing Center is on a mission to provide free, professional services to survivors of sexual assault 24 hours a day, seven days a week. Even under pre-pandemic conditions, this is a mighty task. We sat down with Kimberly Hurst, founder and CEO of Avalon Healing to understand how the pandemic created new barriers to sexual violence service providers and how organizations have developed new solutions.
NSVRC: What kind of work does Avalon Healing do?
Kimberly Hurst: Avalon Healing Center is based in Detroit, MI; it is the largest sexual assault center in the state and has one of the highest volumes in the country, as Michigan is ranked 4th for incidences of sexual assault/violence. Avalon's mission is to inspire healing and empowerment for those affected by sexual violence through free and immediate comprehensive services; promote public awareness; and advance social change.
We provide:
24/7 crisis response
Acute and follow-up medical-forensic health care
Advocacy – personal/legal/ and systemic
Individual/group and secondary counseling
Non-traditional healing opportunities/therapies
Education
Community awareness
Prevention
Expert witness testimony (via our medical staff)
Social/systems change work.
We've provided services to over 18,000 survivors of sexual violence since opening our doors in 2006, with our youngest patient having been two weeks old and the oldest 101 years old.
We value an anti-racist and trauma-informed approach in service provision to anyone who has experienced any form of sexual violence at any point in their lifetime. We incorporate a strengths-based philosophy of practicing cultural humility, implementing a person-centered approach, endorsing diverse leadership that includes survivors of sexual violence, and working within multidisciplinary partnerships.
How has COVID-19 impacted the work your org does?
We had to rethink how we provide our services in order to ensure that survivors have access to equitable and comprehensive care/services. Our 24/7 services never stopped, but out of necessity looked different. We provide our crisis intervention/response and acute medical-forensic exams within six different clinic sites in our community, several of which are located within hospitals – so our response looked different, as hospitals often limited the number of people able to enter the facility and we were held to the COVID policies that changed on a daily basis. This impacted patients' ability to have a support person with them, and also meant that our crisis response advocates, oftentimes, had to be virtual.
The impact of COVID reached every facet of our work. From concerns around funding deficiencies, navigating innumerable staffing challenges, necessary policy and procedure adjustments, to acknowledging and understanding the additional challenges and barriers that our patients/clients were faced with and needing to be strategic in how we can help provide our services despite them. In addition to COVID, the compounded impact of the Black Lives Matter movement and Asian-American hate crimes/speech, while inspiring hope for true change, continued to enforce that our work to end sexual violence cannot happen without working to break down the systemic and institutional racism that sits at the very origin of it. Thus reinforcing the need for us as an organization to work towards systemic and social change.
What new issues have arisen in your service community?
We have seen way too many small community-based organizations, especially culturally specific organizations, not having been able to survive the pandemic — leaving our community with large gaps in service provision and referral sources.
We are also starting the daunting process of dealing with over a year and half of backlogged trials and court proceedings. For those survivors who choose to participate in the criminal justice system, we need to develop strategies and strengthen communications with our criminal justice partners in order to ensure we can advocate for and support our patients/clients as effectively as possible.
How has Avalon Healing adapted? What have the challenges been? Have you seen an increase in need? New concerns?
We have been able to adapt because of our inspirational and innovative staff and board. Our staff remained engaged, passionate, and willing to stay nimble at every turn – constantly working together, despite us working from home during the height of the pandemic and then on a hybrid office/work-from-home schedule until just recently. They came up with new ideas and ways in which to reach patients and clients that we had not thought possible before, some of which will continue even after the pandemic is "over," as we have found these new ways of connecting with survivors extremely effective, and for some, preferable to traditional service provision.
Our board and leadership worked tirelessly to provide as much support to staff as possible. This looked several different ways — from implementing policies, procedures, and equipment that allowed staff to work remotely; to 'COVID time off' that does not count against their regular paid time off – this could include time off to care for family and loved ones, as well as for themselves, whether COVID-sick or needing to quarantine. Our board recorded special videos and messages, thanking staff for their being on the frontlines and for doing the lifesaving and necessary work to combat sexual assault.
All of our services continued without interruption; they just looked a little different. Our medical team, in particular, did not skip a beat in continuing the provision of services in our clinics and hospitals amidst what will easily be known as one the most difficult times to be in the medical field, ever.
One of the largest challenges had been how to initiate virtual services in a matter of less than a couple of weeks while ensuring confidentiality and also ensuring staff, patients, and clients have access to technology and functioning internet capabilities from home in order to do so. We were fortunate enough to receive several COVID relief grants/funding that allowed this to be possible. These funds allowed us to provide patients/clients with secure wi-fi enabled tablets for virtual services; as well as additional financial assistance that we otherwise do not have, to ensure patients/clients could pay for utilities, rent, and basic needs.
Because we are in a large urban city like Detroit, we had many patients/clients who struggled with unemployment, potential homelessness, lack of access to health care, and of course, many themselves had COVID as well – so these additional resources we provided were imperative for so many.
What challenges have your team and staff faced in their own experience of pandemic while jointly working to help others?
We had several of our team members experience devastating personal loss as a result of COVID. While only a few of our team actually had COVID, we exist in a community where COVID hit hard, at one point being the epicenter of not just the state of Michigan, but the entire country.
The need to acknowledge the toll the pandemic took (and continues to take) on people's personal lives that are already intense and filled with secondary trauma was at the forefront of how our leadership attempted to navigate every decision.
What measures or initiatives would be helpful during crisis times?
The support and ongoing communication from NSVRC has been an incredible resource to keep us in the know as to what was happening at the national level, but also what programs across the country were implementing in order to navigate this unprecedented time. The recommendations and examples shared were something we constantly looked to for guidance and reassurance.
Any other thoughts about sexual violence work amidst COVID-19?
The dynamics of sexual violence truly showed that the even a global pandemic cannot stop it. We understand that survivors of all ages were at home enduring assault and abuse, with no way out and feeling like they had nowhere safe to turn. As most our acute intake comes through the hospitals — which were, for all intents and purposes, not an option for survivors during the pandemic — this made us push even harder for the resources to make sure that people know about us BEFORE they need us, rather than be referred to us after the fact. As a result, we rebranded and have been able to secure support for a large marketing, awareness, and development campaign to elevate our visibility above where it has been.
---
To return to the COVID-19 Guest Blog main page, click here.