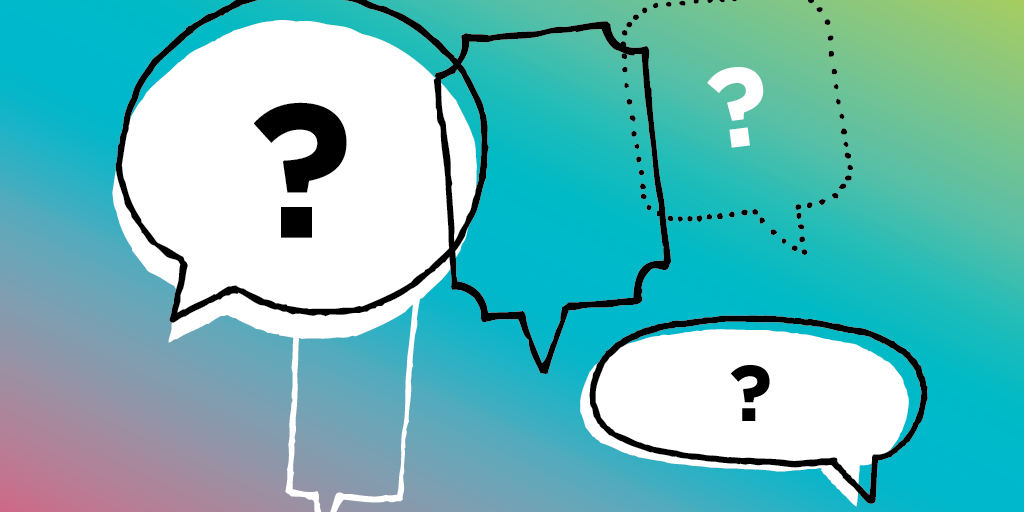 A conversation with Susan Sullivan, Prevention Campaign Specialist at NSVRC
April may feel like it's a long time away, but now is the perfect time to start planning for Sexual Assault Awareness Month (SAAM) 2019. Get a sneak peek at the upcoming campaign from Susan Sullivan, NSVRC's Prevention Campaign Specialist.
Can you give a quick rundown of what the 2019 theme involves?
The 2019 theme focuses on consent, and the slogan is "I Ask." The campaign will champion the power of asking — whether it be asking to hold someone's hand, for permission to share personal information with others, or if a partner is interested in sex.
How did you decide on the theme?
At its heart, Sexual Assault Awareness Month is about more than awareness — our ultimate goal is prevention. Since consent is a clear, concrete example of what it takes to end sexual harassment, abuse, and assault, it only made sense that this year's theme center on empowering all of us to put consent into practice. Additionally, at the end of each SAAM campaign, we conduct a feedback survey to hear from folks in the field about their ideas for the upcoming campaign. When we asked what topic would be most helpful to center the 2019 campaign around, the answer was almost unanimously consent.
How does this theme differ from past years'?
In the past, I think there's been more of a focus on targeting certain segments of the population — and reaching certain audiences. But "I Ask" is more universal. Everyone can and should ask for consent, even if it isn't in sexual situations, since we know that consent is really about respecting the emotional and personal boundaries of those around us.
Another change for the campaign in 2019 is that one of the main focuses will be on digital consent, which I think is really necessary, since so many intimate moments occur online. We'll be providing a resource on how to ask for digital consent when it comes to setting norms around texting, pressuring others to send photos, and more.
How will "I Ask" transform the conversations happening around consent?
While the conversation around consent has been on-going, and we often hear phrases like "no means no" or "yes means yes," it's clear that there is still a need not only to normalize these conversations, but also to empower people to have them. "I Ask" is a demonstrative statement that folks can use to show that they place value in asking their partners for consent and implicitly states how they expect to be treated as well. So, using the words "I Ask" as a hashtag on Twitter, for example, is a great conversation starter — but also a call to action for others.
My hope is that it's also memorable, which is important because it's one thing to read about consent on a website or on a poster while you're waiting for your coffee. It's another thing to recall it in the heat of the moment before intimacy. But if the phrase "I Ask" sticks in folk's minds and they act on it when they may not have before, then that's a huge step forward.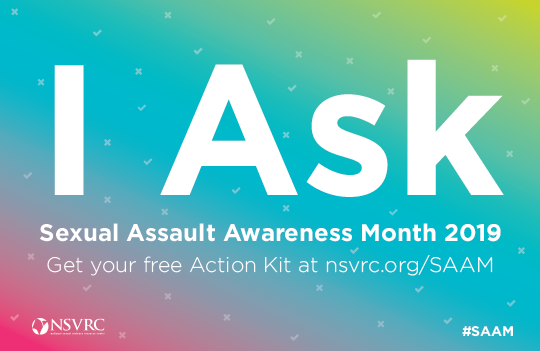 What else can we expect from the campaign?
Well, we know that consent is about more than just asking — it is about listening to and accepting the answer without pressuring someone to change their mind. Last year, our Everyday Consent resource focused on how to practice consent in everyday situations, such as asking permission before posting photos of someone on social media. This year, we wanted to expand on that idea and think of all the nuanced ways that asking for consent shows up in our lives. The campaign resources will discuss: how and when to ask for consent, how to practice consent in digital and online interactions, how parents can model asking permission and other healthy behaviors for children, and how power dynamics can impact consent.
How can people get involved in the upcoming campaign?
 
The best way to learn how to get involved is by signing up to receive our free SAAM Action Kit. The kit includes everything you need to get your community or campus engaged in raising awareness about preventing sexual assault and harassment. Each kit comes with a campaign sticker, event planning guide, social media toolkit, poster, and merchandise overview.
What is your biggest hope for Sexual Assault Awareness Month 2019?
My biggest hope is that more folks get involved! You don't have to be a big organization to plan a really effective event. Last year, we heard from individuals who encouraged their local libraries to create a book display around books which explore the topic of sexual assault for SAAM. They left some of NSVRC's palm cards at the display for folks to take with them. The thing is, you never know the impact that might have on someone in your community. For a survivor to see that they're being supported by someone in their community can be incredibly uplifting. Or for someone to find resources and learn more about consent can be a transformative moment — and you just can't measure the repercussions of that. There are so many ways to commemorate SAAM — from poetry readings to painting the town teal to tabling, and more. If you're not sure what an event might look like or you'd like to hear words of encouragement from other SAAM planners, check out the some of the events that took place this past April.
---
This article appears in the Fall 2018 print edition of The Resource.