This past April, communities around the country recognized Sexual Assault Awareness Month in many different ways. We reached out to organizers to learn more about what goes into planning an effective SAAM event. 
---
Tamara with Rara Rocks in Stockton, California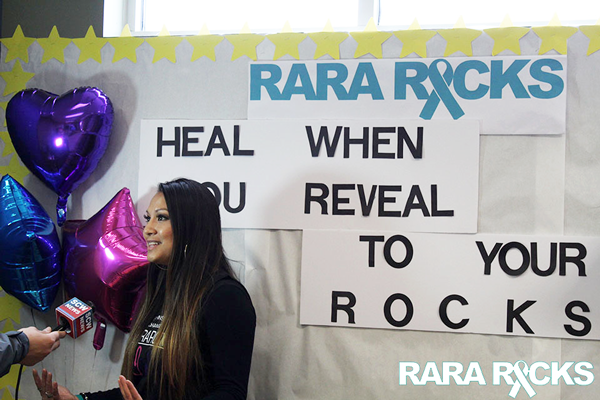 Tell us about your event
Rara Rocks was a gratitude rock painting party intended to generate awareness for sexual assault. The goal was to bring the community together around this issue and also help victims feel comfortable speaking up and reaching out to their "rocks" and the free resources our community provides like the Women's Center Youth and Family Services, Child Abuse Prevention Council, and Fathers & Families, who were all present at the event.
What was the planning process like?
I started to plan about a month or two in advance. When I was in group therapy at the Women's Center, I learned that April was Sexual Assault Awareness Month. That was when I decided to create a campaign for our community and promote the Women's Center services, which had been crucial in my healing. Plus, the resources they provide are free. It's important for survivors to know that they can access these services free of cost since our community experiences high levels of poverty. 
How did you promote the event?
I promoted on social media and had radio ads. The event was also featured on the local news and in the local newspaper.
What were some of the successes? 
A success was bringing the community together. Local programs such as the Women's Center Youth and Family Services, Child Abuse Prevention Council, and Fathers & Families were present to distribute resources. Another success was obtaining free advertisement! I used social media platforms like Facebook, Twitter, Instagram, and the radio to get the word out. The local news reached out to me and covered the event the night and morning before the event. Also, the local newspaper interviewed me and ran an article on Rara Rocks. But as long as a victim/survivor was able to speak up to one of their "rocks" or someone from the organizations that were there, that was success to me.
How could you make the event even better next year?
One thing I'll improve for next year is making sure to book the venue in advance.
What advice do you have for someone planning a SAAM event for the first time?
Utilize your community resources. There are so many advocates that care and non-profits that will help support the cause. Use them!
Also, don't be afraid to ask for donations. I created a PayPal for Rara Rocks and promoted on social media so individuals could donate to help pay for the rocks, paint, and paint brushes. And finally, don't be afraid to share your story to create a human connection with the community.
---
Trace with 2nd Chance, Inc., in Alabama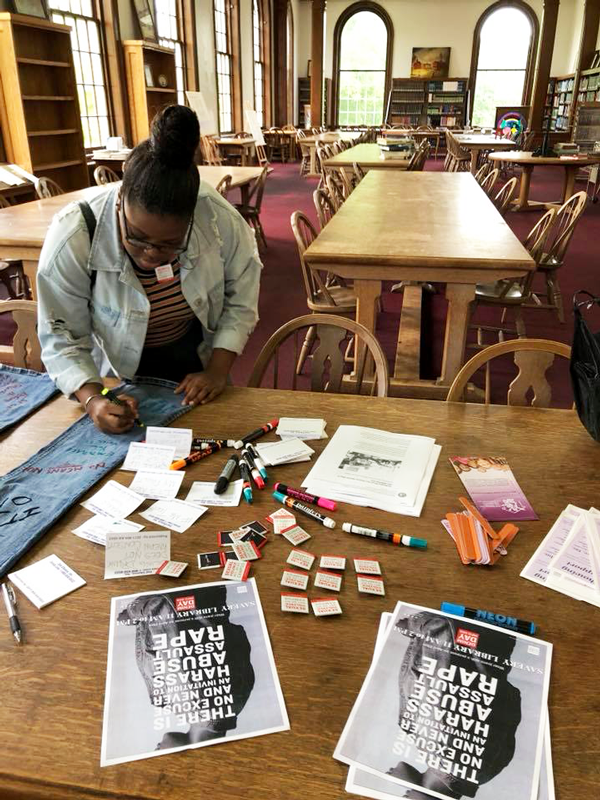 Tell us about your event
We had a variety of events and activities throughout the month but our largest event was our 7th annual Journey For Hope Walk. The walk aims to create a supportive space to celebrate victim/survivor healing experiences after sexual violence. During the walk, we incorporated a lot of self-care stations for those participating. We also did several activities that were intended to help take care of our advocates. We also had a pizza party, a potluck, and wrote thank-you cards to all of our sister centers in the state to remind them that we appreciate the hard work that they do all the time, but especially during SAAM.   
What was the planning process like?
We pretty much planned for about six months. We depend on the relationships that I've worked to develop over the years with community partners and volunteers. I'd call most of our events and activities small- to medium-sized with about 100-300 attendees. But we grow some every year, and that's neat. Our Journey For Hope Walk used about 25-30 volunteers. We promoted through local television interviews, radio, and social media (mainly Facebook).
What were some of the successes? 
A success was that The Journey For Hope Walk had more community partners than ever, which gave them a lot of encouragement and makes me feel confident that they will return next year. 
How could you make the event even better next year?
While at the walk I realized that we needed more signage pretty quickly. Another banner, maybe yard signs to better mark our self-care stations. I also realized that very few in our community were going to buy a $20 t-shirt for the event - but that they DID want a shirt. 
What advice do you have for someone planning a SAAM event for the first time?
DO NOT make yourself sick over SAAM. Advocates do great things all year long. Instead of 20 events, pace yourself. Like the great Ron Swanson said, "never half-ass two things. Whole-ass one thing."
---
Karen with Native Alliance Against Violence in Oklahoma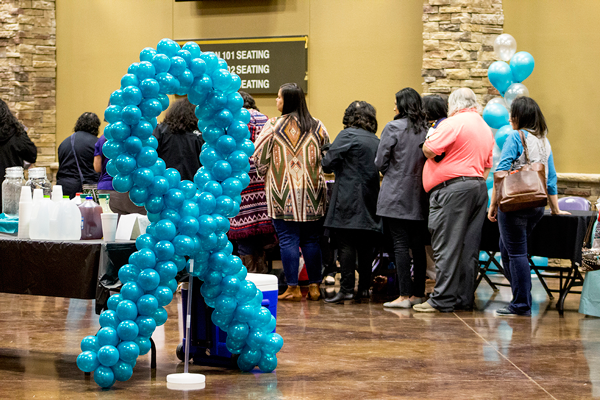 Tell us about your event 
This year's theme for the 4th Annual Gathering of Voices: Addressing Sexual Assault in Indian Country was Creating Safe Spaces for our Native Sisters. We wanted to recognize the struggles of Oklahoma's Native women that have been affected by sexual assault, as well as honor the advocates that provide support for these survivors. The event included several speakers from the Choctaw Nation of Oklahoma, including the Choctaw Nation Chief, Gary Batton. The keynote speaker addressed the ways that Native men can take the lead on stopping sexual violence. After the keynote speech, a Native woman shared her story of surviving sexual assault. Our organization handed out brochures and posters that explained the steps the Native community can take to support a survivor of sexual violence.
What was the planning process like?
There are 24 tribal domestic violence/sexual assault programs in Oklahoma and many of them try to help us when we have our events. We are very grateful that we have so many caring tribal DV/SA programs spread throughout Oklahoma.
How did you promote the event?
We promoted through Native American specific Facebook groups, used boosted ads on Facebook, sent out press releases to local tribal newspapers, and also posted on social media and tagged other Native organizations in the posts.
What were some of the successes?
Our organization was so glad to have tribal leadership from the Choctaw Tribe of Oklahoma come to give remarks about the impact of sexual violence in their community. Providing tribal leaders the opportunity to publicly support their domestic or sexual violence programs is a great achievement for us.
How could you make the event even better next year?
Unfortunately, we forgot to highlight our organization during the event. We even forgot to take a picture of our staff together!
What advice do you have for someone planning a SAAM event for the first time?
Ask for advice and get support from your peers.
---
Weiwen with Monsoon Asians & Pacific Islanders In Solidarity in Iowa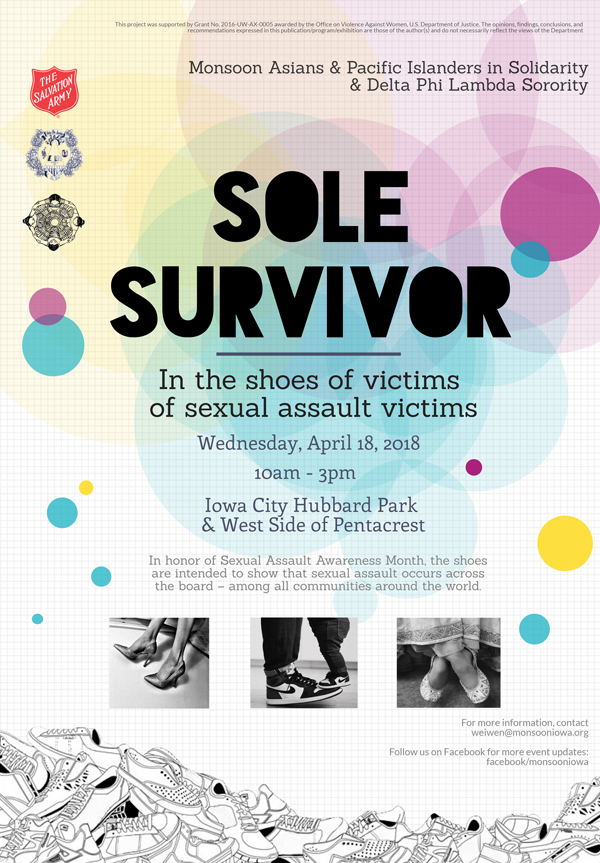 Tell us about your event 
This was a public exhibit intended to showcase how many people have experienced sexual violence. Shoes were used to display how victims can be any age or gender, and come from any background. We included couture heels, Indian chapels, athletic sneakers, etc. The goal was to challenge people's perception of what a victim looks like.
What was the planning process like?
A concept plan was created two months before the event and we asked Goodwill and community members to lend us the shoes.
How did you promote the event?
We advertised through social media and by putting posters on campus buildings.
What were some of the successes? 
The exhibit was located in a highly trafficked student space so we were able to attract many passersby and engage them in conversation. We also included a large poster of statistics to start conversations and also inform those who just wanted to observe. Having a wide array of footwear was really helpful in proving our point that many people do hold a stereotype of what a victim looks like. 
How could you make the event even better next year?
In the future, we want to work on gathering even more footwear from other cultures as that was something that caught the attention of many people.
What advice do you have for someone planning a SAAM event for the first time?
Always have a concept plan and keep adjusting it to reflect additional tasks required.
---
Tipheret with the Aurora Center in Minnesota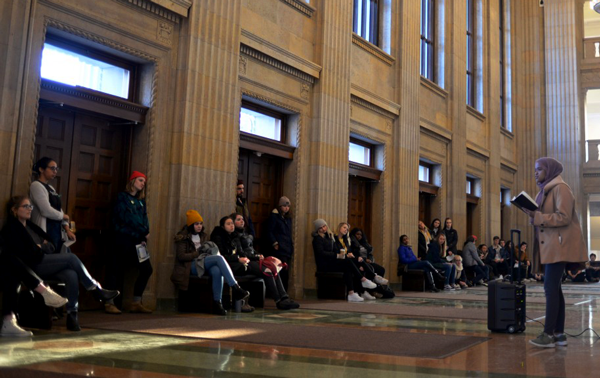 Tell us about your event
For our first big SAAM event, we held a candlelight vigil in the mall area of our campus to honor survivors of and victims we've lost to sexual violence. Then, we hosted a kickoff event to start off the month, which included performances by a university a capella group, a local spoken word artist, and a speech from a local survivor. We wanted to take time to intentionally honor survivors and the victims we've lost to sexual violence. It was important to us that we began our month in a way that communicated to survivors that this month is about them and for them. We wanted the kickoff portion of our event to appeal to a wide audience, yet still be centered on social justice and violence prevention. We hoped that the kickoff would both raise awareness about the importance of violence prevention work and believing survivors, as well as get folks interested and excited about the events we had planned for the rest of the month.
What was the planning process like?
We started planning for all our SAAM events in early February. For this event, in particular, we worked out what we wanted the event to look like by early March and started working to reserve the space we wanted, contact folks to perform, and get the supplies we needed. We experienced some difficulties in reserving the space on campus, but we had confirmed our performers pretty soon after contacting them. Our selection of performers was primarily based on the connections our office and volunteers had, which proved mostly successful. Aurora is mostly volunteer-based, so it wasn't difficult getting some of our volunteers to help at the event the night-of.
How did you promote the event?
We created a small flyer that we sent to our partners on campus and passed out earlier that week during the National SAAM Day of Action, where we tabled outside and sold cupcakes to benefit our organization. We also created a Facebook event and shared it with our networks and on our organization's page.
What were some of the successes? 
Though we had dealt with some issues due to the weather and miscommunication with the organization that reserves spaces on campus, we were able to move our event inside and adhere to our original schedule as best we could. The performers each did a great job, and we ended up with a pretty good turnout.
How could you make the event even better next year?
We definitely have to look ahead on the weather forecast, as the date of our event happened to be one of the coldest days of the month and made our vigil a bit more difficult. We also know now (after various experiences throughout the month of April) to reserve spaces on campus as early as possible, to avoid as many last-minute problems as possible. Finally, we also hope to continue to use campus groups and connections to find performers/speakers, and to possibly have performers do longer sets in the future.
What advice do you have for someone planning a SAAM event for the first time?
Make use of the resources available to you and make sure to market and publicize the event as much as possible. It's easy to get overwhelmed about all the planning involved with a large-scale event, but it's helpful to lean on professional staff (if you're working within an organization) or leaders who have organized similar events in the past. It's important to start planning early to make sure you can reserve the space you want, have time to reach out to any performers or community organizations/partners, secure funding (if needed), and create and distribute marketing materials. It's necessary to reach out to your organization's networks (if applicable), and your own personal networks and communities to best publicize the event.
---
Ann with Women's Center of Greater Danbury in Connecticut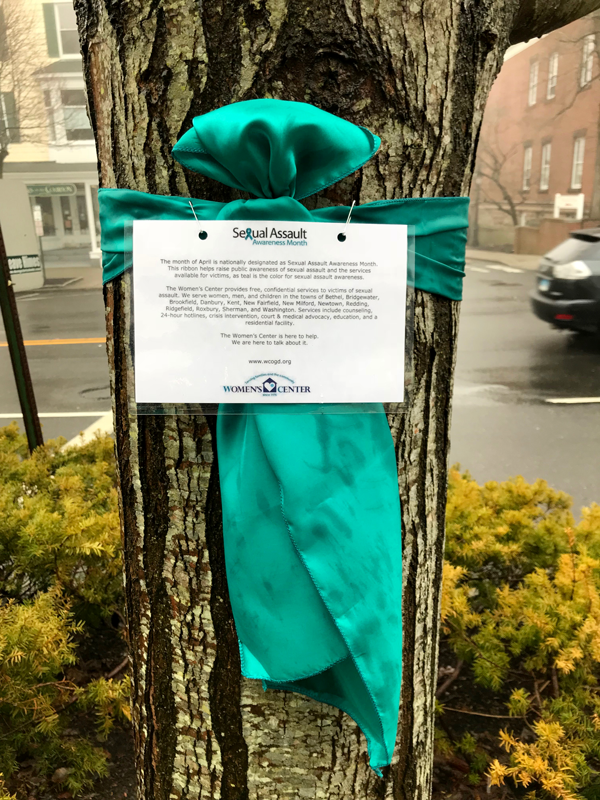 Tell us about your event
Teal ribbons were placed around trees in prominent downtown areas of the towns we serve. Each had a laminated sign describing Sexual Assault Awareness Month and the services we provide the community.  The goal was to raise awareness for SAAM, and to let our communities know about our services. As a dual agency, we are known for our shelter and work with domestic violence victims, but we are working hard to broaden the community's understanding of our issues and the services we provide. The goal was for survivors to be empowered to seek support and know where to do so. For others, this was a reminder that there is a free community resource available if they ever need to utilize our services in the future.
What was your planning process like? 
We had to plan in advance, mainly so that we could reach out to the First Selectman/Mayor of each town/city to receive permission to hang up the ribbons. We also had to purchase the ribbons, print and laminate the signs, and safety pin the signs to the ribbons. We had a couple of volunteers that helped put the ribbons up in our 13 towns. We also had staff members put ribbons up in the towns that they lived in. Overall, putting the ribbons up took seven people total. 
How did you advertise and promote the event? 
We promoted the event through our social media accounts and email blasts, including pictures of the ribbons that were already up with prominent building/landmarks in the background for each town/city. Any press we received was initiated by the press themselves, from them seeing the ribbons throughout their town.
What were some of the successes? 
Successes were two media outlets covering the Teal Ribbons Initiative on their own accord, and multiple people taking pictures with the ribbons and tagging our organization on social media with the photo. 
How could you make the event even better next year?
We bought satin wedding chair bow sashes instead of actual ribbon. These held up well in the weather compared to previous years where we bought actual ribbon. We also used safety pins to attach the signs, instead of a stapler, which worked well. 
What advice do you have for someone planning a SAAM event for the first time? 
Plan in advance and delegate responsibilities!
---
Sophie with RISE San Luis Obispo in California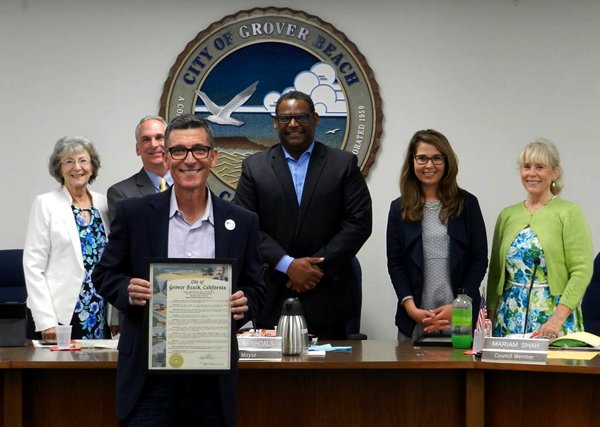 Tell us about your event
We held a SAAM proclamation signing to raise awareness for our organization, SAAM, and the experiences of survivors in our local community. The goal was to empower community members with concrete action items to have them engage in the movement.
What was your planning process like? 
We scheduled the proclamations with our local city councils approximately a month in advance. At that same point, I connected with members of our staff and board to schedule who would be attending each individual proclamation. We had approximately 9 different proclamations and had 2 staff/board members attend each one. Finally, we developed the language for our proclamation and the post-proclamation comments.
How did you promote the event? 
We didn't advertise the proclamations; however, after the events, we made social media posts highlighting the events.
What were some of the successes? 
We received significantly higher social media traffic to our accounts after posting about the proclamations. We also had the opportunity to make personal connections to many members of local government and were able to utilize those connections for future collaboration with our organization.
How could you make the event even better next year?
Make sure to stay organized and start planning ahead of time. Organizing nine different proclamations can get confusing quickly, so make sure you have a solid system to keep you organized.
What advice do you have for someone planning a SAAM event for the first time? 
Be intentional with your messaging and make it cohesive throughout the whole month. The language in our proclamations tied directly into our messaging for the rest of our SAAM events and social media posts.
---
Arkansas Coalition Against Sexual Assault and The Yarn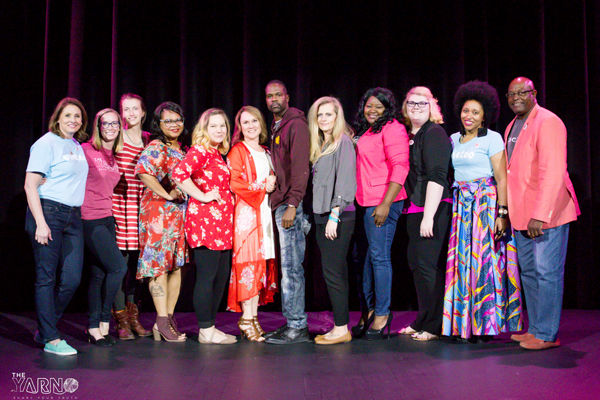 Tell us about your event
Our event was called MeToo: True Stories of Sexual Assault and featured nine storytellers sharing their truths about how sexual assault has affected their lives. We worked together (ACASA and The Yarn) to help the storytellers tell their truths effectively, bringing out their own personal tragedies and traumas, which led to an empowering and thought-provoking event. We had two dress rehearsals where storytellers shared their stories (eight minutes or less), drew feedback from other storytellers who would be speaking (affirmations), and then were given some suggestions to help them truly share the message that was most important to them. We had five Caucasian women, three African American women, and one African American male who shared stories. Our emcee was an African American male who is working closely with ACASA to engage men and boys, especially marginalized youth, to understand the prevalence of sexual assault in their communities and learn ways to become allies in the movement to end sexual violence. The night of the event was electric for the cast. Everyone did a fabulous job and everyone in attendance was moved, empowered, furious, uplifted...all of it. Sign language and Spanish interpreters were available. We had certified trauma therapists and sexual assault advocates on hand should the need present itself. As it happens, this event could cause attendees to be triggered, so we prepared for this just in case. We did have one disclosure at the end of the show who was able to speak to a trauma-informed therapist immediately with the offer to attend more sessions, pro bono if needed. I am very proud of this event and the stir it has made in our community! This event was attended by over 125 people from the surrounding communities. We have received more calls than we can count offering support for our work here at ACASA. We hoped our event would inspire attendees to believe victims, understand how pervasive this problem is in the community. The ticket stub said: "This ticket stub will remind me to: *Start By Believing *Support Survivors Through Their Journey *Do My Part To End The Cycle Of Violence." Through this experience, lives have been changed, bonds have been cemented, and new allies have been forged.
What was your planning process like? 
Planning for this event began in November 2017. The director of The Yarn and the director of ACASA worked to make an application for potential storytellers. This application was then posted through The Yarn website, and both organizations advertised through every outlet available. Also, the ACASA director sent the link directly to the Domestic Violence Coalition (for SA programs who are not funded) and to all sexual assault programs in the state — requesting they send it out to people who might be ready to share their story. Once the application deadline passed, both directors (Yarn/ACASA) sat down and went through the applications to look at the stories and see who had applied. Some decisions were made about a few stories that were more DV related. The Yarn then interviewed each potential storyteller and discussed any worries with the ACASA director before decisions were made. (This is a process they have been using over the last year, so ACASA felt compelled to let them use this process as long as we were involved in an advisory capacity.) The Yarn has done this type of event many times with a variety of topics and has found a maximum of eight-nine storytellers is about all the audience can handle. Once the storytellers were chosen, the people who were not chosen were informed and asked to please apply again next year as we had so many applications we could not get everyone on stage. The storytellers were chosen with intent, as we wanted the event to be as diverse as possible and representative of every demographic we could have. The storytellers then had to attend at least one out of two dress rehearsals. The Yarn director has a degree in theater, so she implemented strategies for them to help them get their stories across in the best way possible. Even taking a few pause beats here and there to highlight a point being made. The Yarn and ACASA had 20+ volunteers helping the night of the event, as well as SA advocates and two trauma-informed therapists.
How did you promote the event?
We promoted the event through The Arkansas Times, Central Arkansas Tickets, The Arkansas Democrat Gazette, and Channel 4 News who has a Victory over Violence Campaign. We also advertised through all social media outlets (ACASA and The Yarn) as well as both of our websites. Email listservs were also utilized. 
What were some of the successes? 
Attendance was great. We were competing with a huge Little Rock event called "Ragin' Cajun," the Italian Festival, and a fundraiser for Centers for Youth and Families. The most impactful moments were brought by the speakers as they told their experiences in such a way people were brought to their feet to cheer them. We were all in tears to see the support.
How could you make the event even better next year?
Honestly, I could not see how this event could be better except having a bigger audience. It all went very smoothly as we all worked together to make it happen.
What advice do you have for someone planning a SAAM event for the first time?
Start well in advance. Have a lot of meetings with people you partner with to talk through what will happen over and over. This is how we feel like we ended up "thinking of everything." We had coffee every Friday after work for six weeks. We discussed the process during this time, the speakers, etc. but also emailed constantly. Everyone had different jobs, which helped. The executive directors of The Yarn and ACASA could focus on forgotten details and planning - continuing to delegate responsibility as needed. Everyone working on the event carried out their responsibilities immediately and with great effort and intent. 
---
Teresia with Crisis Services of North Alabama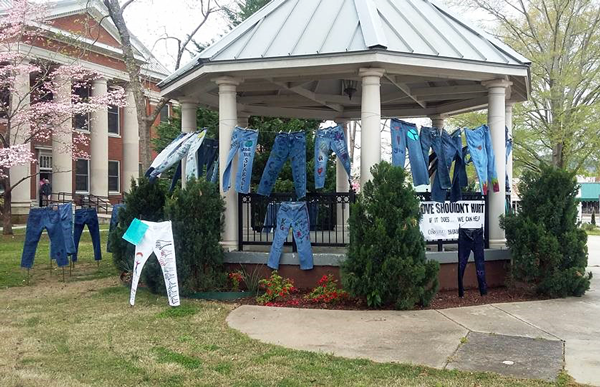 Tell us about your event
We invited our community to join us in an artistic effort to bring awareness to the issue of sexual violence as well as show support to survivors in our area. We asked everyone to "decorate" a pair of jeans with pictures and words that bring awareness to the issue of sexual assault as well as words of affirmation and support to survivors of sexual assault. We had a variety of businesses and organizations to join us in completing jeans as well as a local business who donated many of the jeans to be used. Then we contacted our County Commission and received permission to display our project in the town square. We engaged a local outpatient rehab program to participate and help us with the display. We also posted an explanation of where Jeans 4 Justice originated and what the display was about as well as a banner with our organization's information. Simultaneously, we also asked businesses to participate in the Jeans 4 Justice wear your jeans to work fundraiser. 
The goal of our event was to raise awareness that sexual assault happens more often than people realize, even in small towns like ours. Also, to let survivors know they have our support and to spread the word that our office is here and we are willing to walk alongside survivors as they overcome their assault.
What was your planning process like? 
We started planning about two months in advance. We contacted local thrift stores and resale shops to ask for jean donations so we could have blank jeans to give out. 
How did you promote the event?
We then utilized support groups within our community, local Community Combined Response team, local radio, bulletin boards, Chamber of Commerce, and of course social media to spread the word.  We also hand-delivered letters and flyers about the event. We had one volunteer who made calls to local businesses for us. 
What were some of the successes? 
We received a lot of positive feedback from the community and we were approached by two media outlets who did a story on our display. It was unique and caught people's attention. We had several survivors who reached out and told us how much the display meant to them. We feel that our organization is more visible to the community now and more people are aware of our services. 
How could you make the event even better next year?
We could have found ways to target and involve more of our local civic and other groups/businesses to further engage. Also, work to get more volunteers involved.
What advice do you have for someone planning a SAAM event for the first time?
Start early, look for ways to involve local groups and help them gain an ownership and vision for the project, and brainstorm and research for new ideas. 
---
Wendy with Sexual Abuse Speak Out (SASO) in Illinois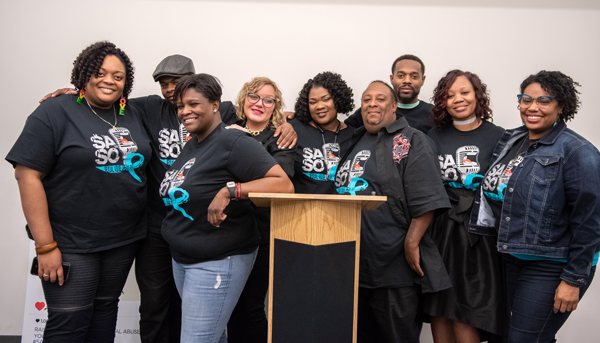 Tell us about your event
SASO organized the 7th Annual Poetry SLAM4SAAM, which helped raise awareness and educate the community on sexual abuse through the eyes of survivors who may also be poets. Our goal was to raise awareness and funding for survivors of sexual abuse. All proceeds are donated to the Chicago Children's Advocacy Center as the center provides education, forensic interviews and counseling for survivors and so much more.
What was your planning process like?
Planning takes about six months to a year. We reach out to the community for poets who may have been survivors, have a positive or uplifting message, and even humorous poets. We have and love all our volunteers —  without the help of the community and everyone involved, this event would not be able to happen.
How did you promote the event?
We advertised and promoted through Facebook and Instagram —  also with our partners at the Chicago Children's Advocacy Center.
What were some of the successes? 
One success was having survivors come to me telling their sexual abuse stories for the first time and looking to become involved with our organization. We have a survivor on our team and she has been performing her piece for the last few years after attending the event a couple of times with a mutual friend.
How could you make the event even better next year?
We are growing so we would like to have a big enough venue to donate the space. We also have a segment in the event where we take pictures and hashtag #SASO. I think next year we will save that part of the show for the end.
What advice do you have for someone planning a SAAM event for the first time?
If your heart is in it...go for it!
---
Courtney & Eva with Florida Council Against Sexual Violence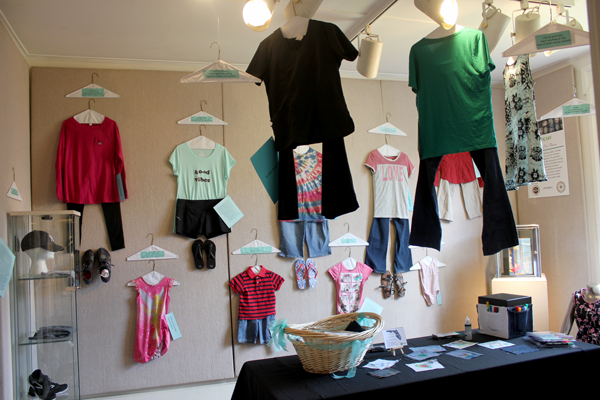 Tell us about your event
"Weaving Our Stories" was a clothing exhibit that traveled to three different Tallahassee, FL locations (a local art gallery and two universities) during SAAM 2018. This powerful display featured the outfits, or similar outfits to those, worn by survivors during their assaults. These outfits represent various individuals and cities throughout our state, via our certified sexual assault centers. Our exhibit was titled "Weaving Our Stories" to symbolize the strength that comes from sharing our stories, creating community, instilling hope, and promoting healing across our entire state. We decided to offer this exhibit as a traveling display so that we could reach different populations. Last year our SAAM event was in the state Capitol building, which was great for reaching lawmakers, but this year we wanted to make sure we reached a broader audience. We also wanted this exhibit to be representative of the state of Florida so we asked our network of certified sexual assault programs, throughout the state, to submit an outfit and statement from one survivor they were working with. We not only wanted to address the misconceptions that clothing could be a contributing factor in a sexual assault, but we also wanted to offer a network of healing and recognize the strength in sharing our stories. We displayed outfits from women, men, children, adolescents, adults, and provided a range of victimization stories like marital rape, workplace assault, law enforcement and clergy sexual assaults among many others. 
What was your planning process like?
We started planning in September 2017. Because we wanted to partner with three or four different locations, we started early to ensure they would have time to find appropriate spaces. We formed an internal mini-committee of three staff members who handled the bulk of the planning and logistics. The different organizations we partnered with also helped with envisioning how the clothing would be displayed, with promoting the exhibit, and with setting up the display. Then a few weeks before SAAM, we assigned tasks to different staff members so that the workload could be shared. We had lots of lists! 
How did you promote the event?
We used several different channels: social media, online community event calendars, news media, our agency newsletter, personal invites to different social service organizations, and the different exhibit locations also helped promote the display to their audiences. 
What were some of the successes? 
As part of our exhibit, we wanted an interactive piece to be part of the experience. We provided denim squares and fabric markers so that survivors and supporters could share their stories and messages of hope and healing. These denim squares will then be quilted into the shape of Florida on a sexual violence (SV) blanket so that stories are literally being weaved together — a visual representation of our exhibit title and theme. Our goal is then to offer this idea to other state coalitions so that we have SV quilts from around the nation that weave together the stories of our collective communities. We've had lots of denim squares decorated and even an offer from our local quilting guild to help create this quilted Florida. During the planning stages, we decided to attach statistics to the clothing that tie in with the survivor's story or outfit. For instance, we had an outfit from a survivor who was assaulted while at work, so we included a stat about workplace sexual assault. We received lots of positive comments about the impact of including statistics tied to the personal victim statements. You have this one outfit and story that helps personalize it for the viewer, and then you have a statistic that helps illustrate the magnitude of the problem. 
How could you make the event even better next year?
We were very ambitious when we decided to move the exhibit to three different locations, and each location had different parameters so it was displayed and installed differently in each one. It was also a little bit of a logistics headache to coordinate three different organizations and to get what we needed to be done on our timeline. We've learned that it might be a good idea to create a short partner contract that outlines our parameters along with timelines associated so that there is more accountability. We also were having separate conversations with each partner. Next time we would have committee calls so that everyone can be on a call together and discuss what their organization is doing and offer ideas for each other. Not only would there be fewer calls and emails for the event organizers, but it could also help keep the partners organized and build a team of support beyond the initial organizers. 
What advice do you have for someone planning a SAAM event for the first time?
Start by creating criteria for partnerships based on your desired outcome(s). This should be part of a partner contract or project memorandum of understanding (MOU) where you can better outline expectations, roles, and timelines. When seeking project partners, connect with organizations who can provide resources that can help further the success of your event. This can include additional people working on the event, promoting the event to their networks and connections, offering ideas you may not have considered, and providing items you may not have. For instance, we partnered with an art gallery, and they were instrumental in helping us figure out how to install the exhibit considering the assets and constraints of each exhibit setting. They also allowed us to borrow mannequins and Styrofoam heads to display the clothing at all three locations. Consider organizations that are local and have less bureaucracy so there are fewer steps in partnering with them. 
---
Explore even more SAAM events that took place on college campuses.