We can prevent online sexual harassment and abuse 
We can stop sexual harassment and abuse before it happens by addressing the bigger picture in which it occurs. The driving forces behind sexual violence can be hard to see, but they're often based on attitudes, norms, and social systems that support the unequal treatment of certain groups over others.
That's why we need to make changes to our communities when trying to prevent sexual harassment and abuse. We also need to understand our roles as individuals to interrupt problematic behaviors and as communities to push back against policies that contribute to an environment where sexual violence is normalized or not taken seriously.
Preventing sexual violence means addressing the root causes, including beliefs about gender equity, forms of oppression (such as racism, transphobia, and ableism), and social systems that reinforce power over others. 
What does it mean to prevent sexual violence online?
There are ways we can keep our online spaces safe, both as leaders and as individuals. Leaders can take steps to secure their online spaces from outside threats, implement policies that promote equality and respect, take reports of harassment or abuse seriously, and hold those responsible accountable. Individually, we can step in when we come across problematic or harmful comments, behaviors, or content. We can also educate others and advocate for leaders to take meaningful action.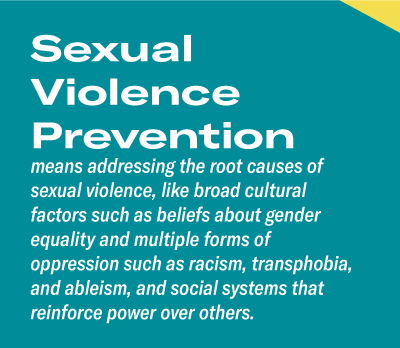 Community-level prevention means moving beyond individual actions to target the characteristics of a community — things like community norms, cultural climates, and policies — to reduce the likelihood that people will perpetrate sexual violence. Community-level prevention refers to more than just where people live — it can also mean workplaces, campuses, organizations, or any spaces (online or otherwise) that have their own policies and rules that impact others. 
Community-level prevention benefits everyone in the community, even if they were not part of creating the prevention efforts. 
What does community-level prevention look like?
Let's look at one example of preventing sexual violence at the community level: school dress codes. Dress codes are notorious for being applied inequitably; often, girls' clothes are the most policed, and Black students and students of color often face additional rules around hairstyles. The argument that girls' appearances may "distract boys" blames girls for being sexualized by their peers rather than teaching boys not to objectify their classmates. 
Since one of the underlying causes of sexual harassment is sexist attitudes and behaviors, it makes sense that in order to stop sexual harassment from happening in the first place, we need to change sexist behaviors — like telling girls their bodies are inappropriate or distracting. By updating or eliminating dress codes, schools are setting a new norm and sending the message that sexism and harassment will not be tolerated.  
Creating inclusive online communities
Oppression is a root cause of sexual violence (both online and offline). In order to create safe online communities, we must prioritize inclusion. That means people of various races, ethnicities, cultures, sexualities, and abilities feel welcome and supported in a space.
What does an inclusive online community look like? For starters, the space is accessible to those who speak other languages through interpretation or translation. Accessibility is also key for people with disabilities — even online. Using alternative text for images is one easy way to make sure your online content is viewable for people with visual impairments who may use screen-reading technology.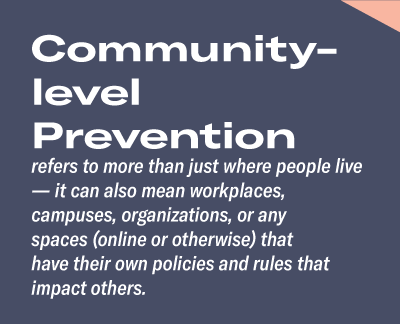 Inclusivity in online spaces also means creating a community where people can share their perspectives and opinions in an open-minded, non-judgmental setting. This is where moderation is crucial. Assign someone to keep an eye on ongoing conversations who can intervene and remind participants of their community agreements if discourse starts to become harmful.
Implementing community-level prevention in online spaces
Just like in in-person spaces, online communities can develop their own policies and rules that promote respect and discourage harmful behaviors. Whether you're taking part in an online classroom, workspace, or social space, you can take steps to ensure the safety of yourself and others.
Leaders who are facilitating the space can: 
Create community agreements with participants so the expectations around respectful communications are clear to everyone involved. Rather than issuing a zero-tolerance policy around sexual harassment, name specific behaviors that will not be tolerated and how those who do harm will be asked to take accountability. 
Provide a way that victims can report harassment or abuse if another group member's behavior is making them uncomfortable. 
Establish community norms around appropriate ways for group members to communicate with one another. For instance, this might mean identifying which hours of the day group members can contact one another, on what apps or platforms, etc. 
Keep participants safe by making sure the platforms you use are secure and that security settings protect users' privacy, personal information, and location.  
Safe online communities take action
Behaviors or actions like sexist jokes or victim-blaming comments may seem like they're not that big of a deal, but they contribute to the same way of thinking that fuels violence. Although they only reflect the point of view of the person making them, their public visibility normalizes not taking sexual abuse seriously. In other cases, they may cause harm by retraumatizing victims of abuse or assault who read them. 
Recognizing victim-blaming or minimizing language 
Victim blaming comments may include:
Comments that question the victim's actions before or after an assault — for instance, wondering why someone didn't make a police report immediately or questioning why they never reported.
Comments that minimize what happened to a victim. For instance, a journalist may use terms like "forced sex," "sexual encounter," or "underage sex" when they really mean sexual assault or statutory rape.
The reality is that the digital world is not separate from in-person spaces. They both make up the world we live in, and the impact of our actions can be just the same. If you wouldn't say something to someone in person, then you shouldn't say it to them online.
We can do something when we observe harmful behaviors online:
Report inappropriate content. If you see personal or violent content on a social media platform, you can report it to the platform it was shared on (Instagram, Facebook, YouTube, etc.) in order to have it flagged or removed. Different platforms have their own guidelines on what counts as inappropriate and what actions they will take, but that process starts with you making a report. 
Respond when you see harmful comments. When you see comments that blame victims for what happened to them, you can respond by refocusing accountability on the perpetrator. While you might not change the mind of the person who left the comment, others will see that not everyone agrees with them. 
Show your support to victims of online harassment. Check in with the person that comments have been directed at to show your support. You can also consider volunteering to be a moderator in certain contexts to help prevent future harassment.
When all of us see our role in keeping others safe online, we can create an environment where this type of content cannot thrive.
Learn more about Taking Action to Intervene. 
Additional resources