Colleges and universities can be great resources for agencies that need assistance with developing evaluation processes for their work. Depending on your budget and the scope of your evaluation, there are options to hire professors or graduate students for assistance. Also, it's not unusual for students to need program evaluation internships or projects for classes. Good places to look include public health, social work, community psychology, and education departments. The more you know about evaluation when you initiate these partnerships, the more likely you are to get meaningful and useful results from the process.
When working with colleges and universities, it's helpful to keep the following in mind:
Research and evaluation are different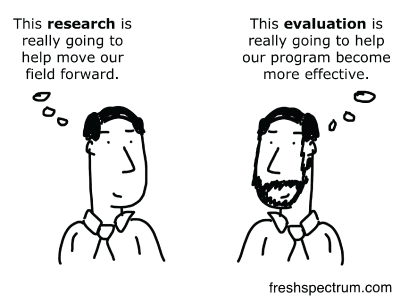 The differences between the goals of research and the goals of evaluation are often misunderstood.
In the opening of her book Transformative Research and Evaluation, Donna Mertens explains the difference in this way:
Research is defined as a systematic method of knowledge construction; evaluation is defined as systematic method of determining the merit, worth, or value of a program, policy, activity, technology, or similar entity to inform decision making about such entities (Mertens, 2009, p. 1)
While the two often employ similar methods for data collection and analysis, evaluation's explicit purpose is to make value judgments about our work, and the production of actionable data is central to the program improvement aspect of evaluation. Research, on the other hand, is more focused on the generating knowledge. While both of these processes are important for our work overall (for example, research helps build the theories guided by which we can build our programming), mixing them up can result in the development of tools and methods that are less useful for agencies doing work in communities.
Many agencies have embarked on partnerships with universities only to finish the partnership with a bunch of materials they don't know how to use, cannot implement sustainably, and/or don't see the meaning in.
However, if you can go into the partnership with a little bit more knowledge about what you need from an evaluation and what you hope to achieve, you're much more likely to form a partnership with meaningful results.
The same is true for hiring professional evaluators who are not affiliated with universities. Evaluators tend to specialize in certain methods, approaches, and types of evaluation and might also specialize in certain social issues. Understanding what you want and need from an evaluation can help you find an evaluator who will be a good fit.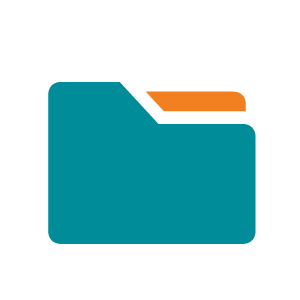 Read a case example of a successful university partnership.

Resources
Evaluation for Improvement: A Seven Step Empowerment Evaluation Approach for Violence Prevention Organizations (PDF, 104 pgs.)  This manual provides step-by-step information on how to hire an empowerment evaluator with the goal to build organizational capacity for evaluation. 
References
Mertens, D. M. (2009). Transformative research and evaluation. New York, NY: Guilford Press.
---