We're excited to announce that the theme for the 2018 Sexual Assault Awareness Month campaign is "Embrace Your Voice"!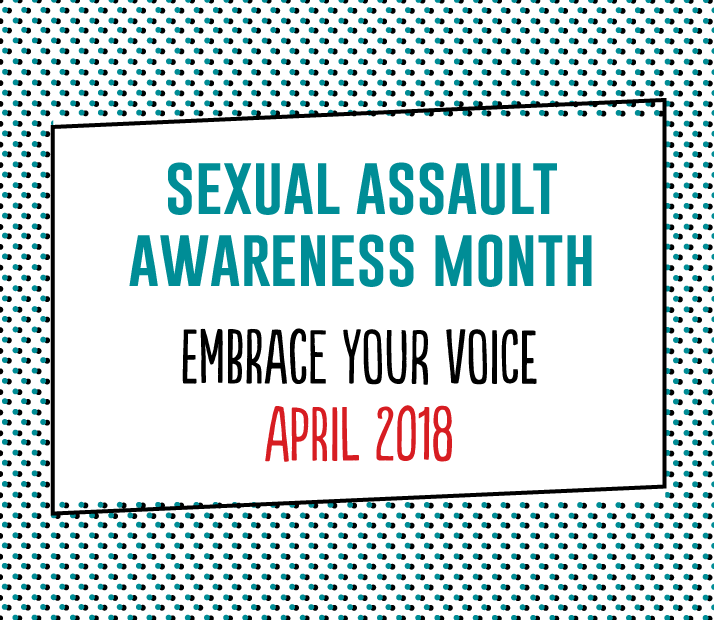 Building on the success of last year's campaign that centered around engaging new voices, this theme was a natural next step. Our words shape the world around us. How we talk about sexual violence matters. Once engaged, how can individuals and communities use their voice to make a true impact and become an agent for change? 
How to Embrace Your Voice
There are many ways to embrace one's voice, from practicing or providing consent to speaking out against stereotypes or gender biases. This campaign will provide the tools and resources needed for individuals and communities to take 
actionable steps toward ending sexual violence once and for all. And it starts with recognizing the power of one's voice. 
We all have a unique role to play in prevention and changing the culture. When we reflect on and change how we think and talk about the issue of sexual violence and consent, we can create a culture of respect, equality, and safety. All of our voices have power. It's time for everyone to find that voice and embrace it.  
What's Next?
Over the next few months, we will be in touch with ways to participate in the 2018 SAAM campaign. In the meantime, please follow us on
Facebook
and
Twitter
 using 
#SAAM
for the latest updates. 
We'll be releasing easy-to-share, easy-to-digest resources focusing on how everyone can embrace their voice to create a safer, more accepting world. We'll also share tools — such as a social media guide, a letter to the editor, an event-planning guide, and more — that will help you plan and implement a SAAM campaign in your local community. There will be also be plenty of ways to show your support with printable posters, coloring pages, and sharable social media graphics. Another part of the campaign we're excited about is a freshly designed SAAM t-shirt specific to this year's campaign which will be available for purchase. 
Keep an eye out for our SAAM action kit this fall, which will include samples of our resources and more information about the campaign. Not sure if you're on our mailing list?
Sign up here.
We look forward to hearing from you on how this campaign will help you engage your community in embracing their voice and lead to meaningful and lasting change!