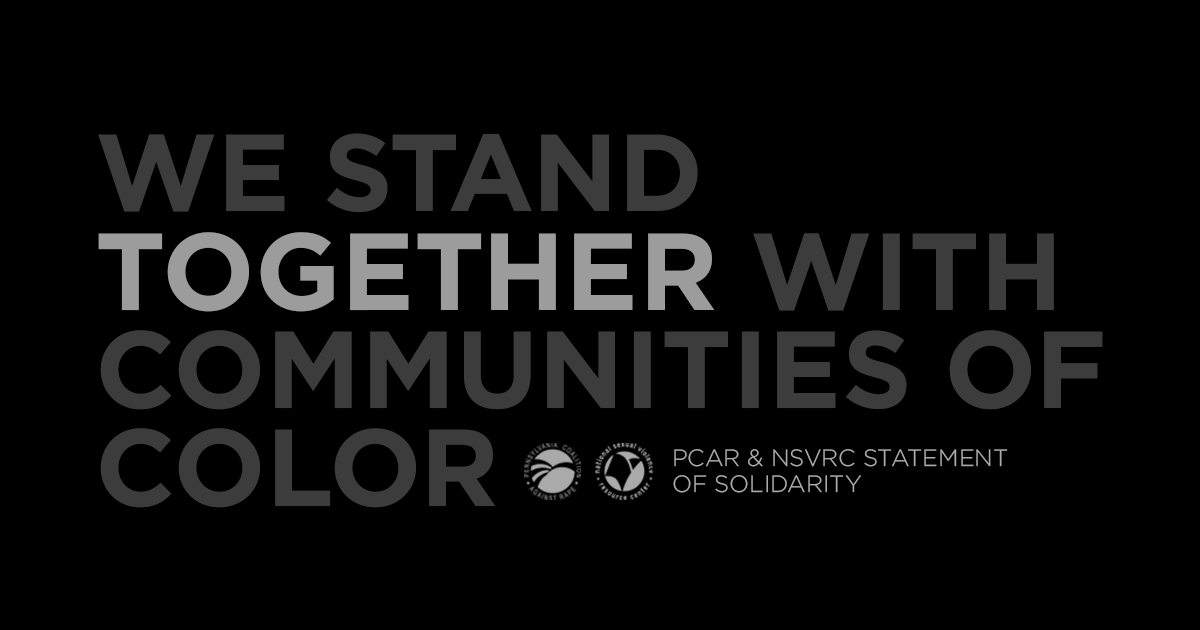 We stand together with all voices affirming Black humanity and dignity. We share the global grief following the murder of George Floyd by Derek Chauvin, as well as the killings of Breonna Taylor, Ahmaud Arbery, Dreasjon Reed, David McAtee and the many acts of racist violence perpetrated against Black people over centuries.
Pennsylvania Coalition Against Rape (PCAR) and National Sexual Violence Resource Center (NSVRC) denounce police brutality in all its forms and acknowledge the recurrent problem of racial bias in the criminal justice system that cannot be disentangled from our country's legacy of slavery and the oppression of Black and Brown people.
PCAR and NSVRC affirm racial justice critical to our work and all efforts to address and end sexual violence.
Racism, and all forms of oppression, is among the root causes of sexual violence. Fighting against racism is the only way we can build safe communities for all people. We are committed to dismantling racist policies and institutions. We are also committed to looking critically at our organization's history and ongoing work and the ways we have been consciously and unconsciously complicit in white supremacy.
It is time to make way for new systems that bend decisively toward justice for all people. We support the Movement for Black Lives and the ACLU in its call to reimagine the role that police play in our society and invest in community-led solutions to improve healthcare, housing, and education in minority communities. We hold law enforcement officials accountable to not use their power to harm people and to treat all persons with respect regardless of race.
As we all deal with multiple stresses at this time, we clearly see that people of color are disproportionately impacted in negative ways by the health risks that make people more vulnerable to COVID-19. And people of color are disproportionately impacted by the financial impacts of social distancing. And people of color are experiencing more violence and police brutality and murders.
It's time for us to take action.
Join us in caring for those that have been hurt by overt and subtle forms of racism. Add your voice to those that have experienced or fear the sustained injustice in our society and by taking action against inequality.
Work each day to improve your understanding, make changes in your daily life and help those around you do the same.
Speak out on social media and help to amplify messages from people of color. Defend people's right to participate in non-violent demonstrations.
Urge your legislators to support reforms that will promote equality and stop police brutality.
Support Black-owned businesses and Black artists.
Donate to Black organizations working for racial justice and equity.
Keep your cameras ready.
Together, we can remove the hate.
Together, peace and justice will triumph over violence.