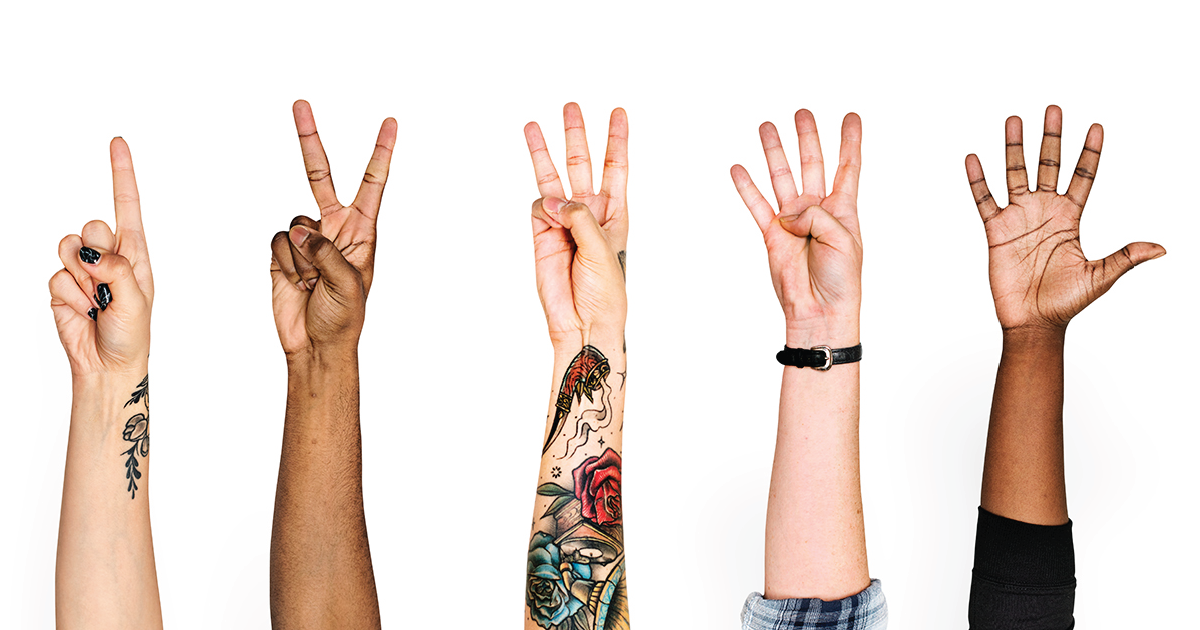 The Five Action Steps to Good Sexual Health:
A new, practical roadmap for the public
By Susan Gilbert
National Coalition for Sexual Health
Americans are eager to improve their sexual health, but they face many challenges to doing so, including valuing themselves, treating partners well, building positive relationships, and communicating openly about sex and sexual health, according to research conducted by the National Coalition for Sexual Health (NCSH).
In response, the NCSH, which consists of over 100 leading health and medical organizations and experts, including NSVRC, launched the "Five Action Steps to Good Sexual Health" in 2018.
This innovative framework addresses the key barriers to sexual health, and equips Americans of all ages – from teens through older adults – with the practical information and skills they need through a mobile-friendly website: http://fiveactionsteps.org/.
The need
How we feel about ourselves and how we interact with others has a big impact on our sexual health, and the choices we make. Yet, traditional approaches to sexual health have often been narrow in scope, negative, and aimed at disease avoidance. As a result, we lack access to a positive, comprehensive framework for taking action to improve our sexual health.
Good sexual health is much more than biology, mechanics, and disease prevention. "Being sexually healthy means being able to enjoy a healthier body, positive relationships, a satisfying sex life, and peace of mind," according to NCSH's consumer-friendly definition.
How did we create the "steps?"
Based on a literature review and consultations with leading sexual health experts, the NCSH developed the "Steps," which include compelling reasons to take each step, practical tips and advice, conversation starters, and resources to learn more.
What are the "steps?"
They are a practical roadmap for taking action to improve your sexual health. They include:
#1. Value who you are and decide what is right for you. Loving everything about yourself – on both the inside and outside -- can be challenging. But, you can get comfortable in your own skin, embrace your special qualities, and learn how to stand up for yourself. Get advice on improving your self-esteem and body image, embracing your sexual identity, and advocating for yourself.
#2. Get smart about your body and protect it. Sex – expressed in many different ways – can bring you pleasure, intimacy and joy, but it can also bring unwanted things like sexually transmitted infections (STIs), unplanned pregnancies, and fear. But you can take steps to improve your sex life, while also protecting you and your partner. Learn about your body and sexual expression, safer sex, choosing lower risk sexual activities, condoms, and birth control.
#3. Treat your partners well and expect them to treat you well. Everyone has the right to be treated with respect, whether it's a short-term hook-up or a long-term relationship. This step will help you give and get the respect you deserve, and talk openly about desires, boundaries, consent, and safer sex.
#4. Build positive relationships. For most people, good relationships are essential to a happy and healthy life. Yet, when it comes to building romantic relationships, we are often unprepared. But with time, attention, and practice, it is possible to do so. Learn about the key ingredients of healthy, romantic relationships, get tips for building and maintaining one, and identify the warning signs of abuse.
#5. Make sexual health part of your healthcare routine. Preventive health services, such as vaccines, STI screening, and birth control, can help you prevent cancers, plan pregnancies, detect STIs, and safeguard fertility. Learn about the services recommended for you, and get tips on talking openly with your healthcare provider.
How did the public respond to the "steps?"
To assess the appeal, clarity, and relevance, we held focus groups with 49 women and men ages 15-54. Most participants strongly identified with the content; considered it practical, positive, and nonjudgmental; and highly valued the conversation starters and real-life scenarios.
The content of greatest appeal centered on advocating for yourself in both sexual and nonsexual situations, prompting strong positive reactions across diverse groups. Similarly, participants welcomed content on talking openly about sexual desires and boundaries since many of them often struggle to do so.
The "good reasons" to take each step were well received by the public, and the primary motivators included the following statements: 1) "Get respect. Don't settle for less than you deserve;" 2)"Help put your mind at ease. Worry and fear can put a damper on your sex life," and, 3) "Be more confident talking about sex."
How can you promote the "steps?"
Americans highly value their sexual health, and are eager for practical, positive advice. We hope you will join us in promoting this new resource to your public and professional audiences. The easy-to-use, scrolling website is mobile-friendly: http://fiveactionsteps.org/.
Also, we offer promotional tools, such as social media content for Twitter and Facebook, brief articles for newsletters, and graphics. For more information, please contact Jaclyn.fontanella@altarum.org or Susan.gilbert@altarum.org.
---
This article appears in the Fall 2018 print edition of The Resource.