High-profile cases in the media are an opportunity to educate the public about the realities of sexual assault. NSVRC provides expert context and research for reporters to cover sexual violence with context and credibility.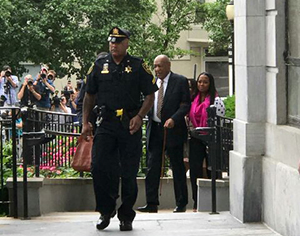 Lawyers for Bill Cosby spent the third day of his trial at Montgomery County Courthouse grasping to make one-sided overtures look less like grooming for sexual assault and more like a relationship.
Let's be clear.
Showing romantic interest does not guarantee the other person is receptive or willing to consent to sexual contact. Someone, like Cosby in this trial, making a sexual advance that is not reciprocated - such as touching a thigh - does not constitute a consensual relationship or give carte blanche permission to future sexual contact.
But it seems the defense would like the jury to believe that romance was in the air.
Referencing the fact there was a fire in the fireplace and incense (requested by the defendant) was burning and inferring that sitting on a hotel bed was the same as "sharing a bed" seem to be a strategic attempt to infer a romantic liaison.
Constand has consistently denied any such kind of a relationship. Instead, she has stated she viewed him as an older man who was a friend and who was willing to assist with her career aspirations. Most of their interactions did not include sexual overtures, and she consistently did not reciprocate any of the attempts he made.
It is important that the difference between demonstrating "romantic interest" and testing a person's boundaries is noted. Many people who perpetrate sexual assault test boundaries beforehand - this is sometimes called "grooming."  Perpetrators may judge how a person reacts to suggestive comments, unnecessary physical touch, or offers to spend time in private. They are testing whether their actions will be actively or verbally discouraged or if they will be tolerated or ignored in the way that many women are socially conditioned to respond to unwanted advances that aren't "overly intrusive." They are testing to see how far they can push boundaries and exploit trust.
It is tempting to ask why a person who has received unwanted sexual advances would continue to spend time with the person who made them, but in cases of non-stranger sexual assault, it is important that these interactions be kept in context.
In this case, Ms. Constand repeatedly testified that she did not feel threatened by this man who was her mentor. The majority of their interactions did not include attempts at sexual contact. She trusted him.
And this is the case in most non-stranger sexual assaults. The betrayal of trust is the foundation for the crime.
The National Sexual Violence Resource Center and Pennsylvania Coalition Against Rape are on site at the Montgomery County Courthouse providing expertise and live coverage. For live updates follow @NSVRC and Chief Public Affairs Officer, Kristen Houser @KLEHouser on Twitter. For media requests please contact Joseph Diebold at 202-481-8724 or jdiebold@gpg.com.