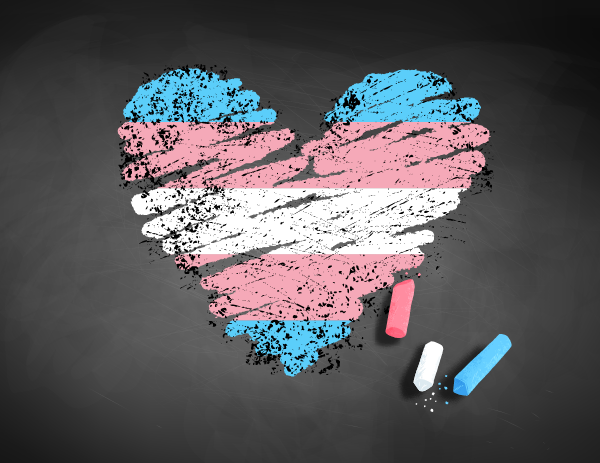 It has been over a year since the Harvey Weinstein allegations broke and brought attention to the #MeToo movement. It is amazing to see survivors sharing their stories but often marginalized folks, in particular trans people, are left out of the conversation.
Tarana Burke, the creator of the #MeToo movement, has spoken on the erasure of marginalized peoples, including trans folks here: "…No matter how much I keep talking about power and privilege, they keep bringing it back to individuals. It would be very easy to get swept up and change directions and change the focus of this work, but that's not going to happen. It defeats the purpose to not have those folks centered—I'm talking black and brown girls, queer folks. There's no conversation in this whole thing about transgender folks and sexual violence. There's no conversation in this about people with disabilities and sexual violence. We need to talk about Native Americans, who have the highest rate of sexual violence in this country. So no, I can't take my focus on marginalized people."
Trans folks experience extremely high rates of violence. According to the 2015 U.S. Transgender Survey, 47% of people surveyed were sexually assaulted during their lifetime. Black trans folks experience even higher rates of sexual assault, and more than half (53%) of Black respondents reported being assaulted at some point in their lifetime.
Therefore, we must center the voices of trans folks. Here are a few articles highlighting the voices of trans survivors:
"Any dynamic that casts binary women as the most vulnerable victims of gender-based violence at a structural level ignores how those who fall outside of the binary are even more vulnerable to pervasive and severe attack." Read more from Meredith Talusan in Trans Women and Femmes Are Shouting #MeToo — But Are You Listening?
"The trans masculine experience isn't visible, and that isolates us from a lot of conversation about sexual violence and inter-community violence. But how do we join the conversation without taking up too much space?" Read more from Tiq Milan and others in Kasandra Brabaw's How 5 Transgender Men Really Feel About The #MeToo Reckoning.
"From the time that I came out as trans, I began to internalize the feeling that I was unlovable. I have sometimes become so desperate for affection that I've normalized nonconsensual behaviors in many relationships. In situations with people with whom I've had ongoing sexual relationships, I've often wondered whether I have the right to say no." Read more from KC Clements in In The #MeToo Conversation, Transgender People Face A Barrier To Belief.
"As a trans woman of colour who has experienced direct abuse and oppression – in and outside of my industry – I received little to no support from these types of movements, from white feminists, allies etc, and it leaves me disappointed as my experiences become questioned and vilified. Those that left questions on my experiences instead of answers and support, penetrated the consciousness of the industry and community. Trans women of colour are not 'perfect' victims." Read more from Miss Blanks in As a trans woman of colour, my words are met with silence.
"'I think we can always be more intersectional. We can always include more people. I don't just experience the world as a trans woman. I experience the world as a black person. I have multiple identities,' Cox said of the movement. Cox also explained how, while the movement is empowering for women, there has always been a different tenor for African-Americans and the trans community." Read more from Lexy Perez in Laverne Cox Talks Intersectionality of #MeToo Movement.
"A transgender woman who is clocked or outed as trans may be seen as less desirable than a cisgender woman, and this can lead to sexual harassment rooted specifically in disgust or mockery based on her gender identity." Read more from Ana Valens in When we talk about sexual harassment, let's not forget trans women.