For people who identify as LGBTQ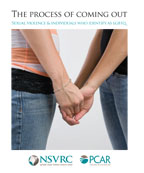 , the coming out process can be both difficult and freeing.  This special resource offers some considerations for the coming out process and background on the journey an individual might take in discussing their sexual orientation or gender identity.
This resource is part of the Information Packet on Sexual Violence & Those Who Identify as LGBTQ.
Publish Date
2012