PSA Campaign
Project Overview
The NSVRC developed this Rural Public Service Announcement (PSA) Campaign in partnership with the Office on Violence Against Women. This campaign was designed by and for rural communities.
Use these tools in your community. They are designed to be used as stand-alone materials, as a full campaign or in conjunction with other campaigns.
Rural PSA Campaign Materials: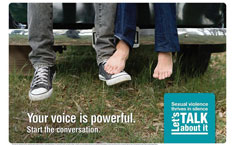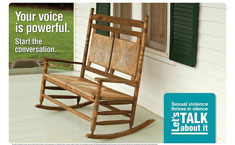 The Rural PSA Campaign materials are available for purchase in our store and can be customize with your community's information. Please view our webinar on creating effective campaigns and how to best use these tools.
Please see the Let's Talk About It PSA Guidelines and Graphics Standards Toolkit for detailed information on how to customize the logos prior to customizing and starting your campaign.
Campaign components:

2 bilingual campaign logos
18 x 24 poster series (color and black and white)
30 second Radio Spot
30 second T.V. Spot
Bilingual Campaign Logo stickers (currently out of stock)
Bilingual Campaign Logo coasters (currently out of stock)
Social Networking Posts for the PSA Campaign
Fliers – only in Black and white to use for newspapers etc.
Campaign Implementation:
Successful campaign implementation involves three steps - planning, implementation and evaluation. View the Sexual Assault Awareness Month: How to create a campaign to see detailed examples of how to run a successful campaign.
Social media is a great way to promote your campaign and amplify your message. Posting often and including a variety of content will keep your online community engaged. Use Facebook, Twitter and YouTube to promote the campaign by posting messages and videos. Find out more about promoting your campaign through social media outlets.