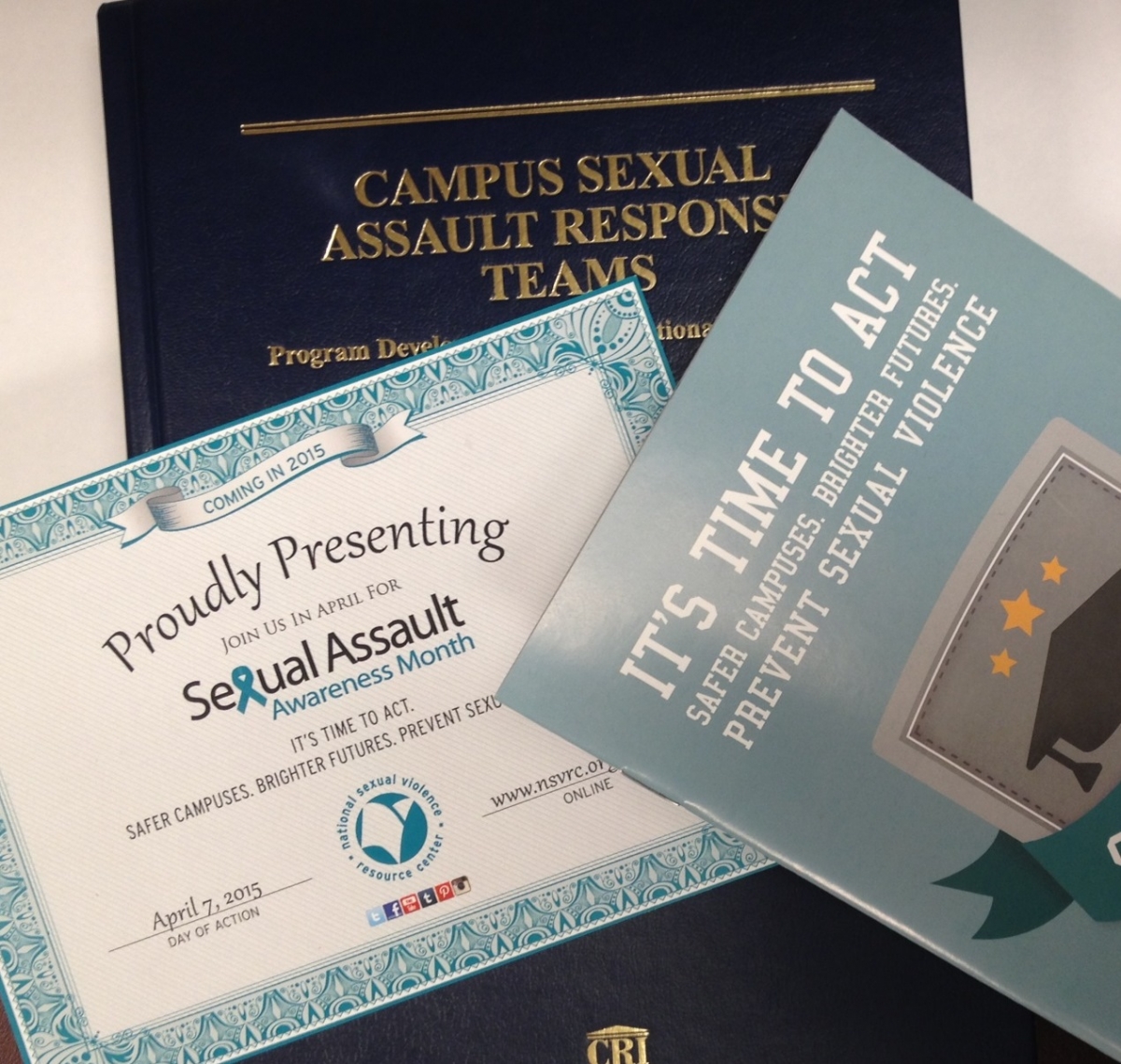 Do you feel it? There's an excitement in the air that can only mean one thing: SAAM 2015! In keeping with Laura Palumbo's exciting SAAM announcements in Ways to Get Involved with SAAM 2015 and SAAM is Nearly Here, I wanted to point out extraordinary resources that the NSVRC library has to offer. So, find your favorite teal ribbon and a great place to relax. I will provide excellent library resources you won't want to miss!
Confronting Campus Sexual Assault: An Examination of Higher Education Claims by United Educators Insurance is a great resource that discusses the recent mandates required by all colleges and universities to investigate reports of sexual assault. An analysis of claims that have been reported to United Educators revealed that educational institutions respond to cases of sexual assault that the criminal justice system considers too difficult to succeed in trial and obtain a conviction. The information from the study can help institutions understand the complexity of the issue and develop a plan for responding and preventing sexual assaults on campus. This document also can be viewed through Edu Risk.
 
Another great resource is A Web-Based Sexual Violence Bystander Intervention for Male College Students: Randomized Controlled Trial by Laura F. Salazar. The study evaluated the effectiveness of RealConsent, which is a Web-based bystander approach to sexual violence prevention. It was determined that RealConsent participants intervened more often and engaged in less sexual violence perpetration. RealConsent participants reported better legal knowledge of sexual assault, knowledge of effective consent, less rape myths, greater empathy for victims, less negative attitudes toward date rape, less hostility toward women, and greater intentions to intervene. The study also found that those involved showed less comfort with other men's inappropriate behaviors.
Changing Attitudes about Being a Bystander to Violence: Translating an In-Person Violence Prevention Program to a New Campus by Alison C. Cares is yet another fabulous resource. The study uses an experimental design to evaluate the effectiveness of Bringing in the Bystander through one-year post implementation with first year students from two universities. The universities consisted of one rural, mainly residential and one urban, heavily commuter. The study showed a significant change in bystander attitudes for male and female student program participants, compared to the control group on both campuses. However, the pattern of change depended on the gender and the campus.
 
These are just a few of the remarkable resources we have to aid you through the month of April and help your SAAM campaign be truly successful. I am excited for the coming weeks as I continue to revel in the SAAM festivities and introduce even more fabulous resources. I wish you the very best in the weeks ahead and may this year's campaign bring with it the change our college campuses so desperately need. As always, have a positive day and happy reading!