Dear Engaged Bystander:  I often hear people question whether doing something (or saying something) will have any impact at all?  Maybe we have all been there... 
"I don't think he would listen to me..." 
"It really is none of my business...
"It won't make any difference..."
"I've tried to say something before and it didn't help..."
When does saying something make a difference?  At some level we don't know.  But when enough of us send the same message, when people with authority speak out, and when institutions take a stand against harrassment and sexual violence, it does make a difference.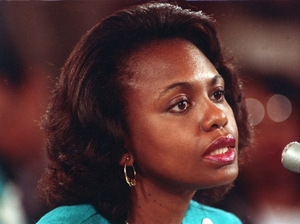 So one of those stories that has lingered with me is when Virgina Thomas, the wife of Justice Clarence Thomas left a voice mail message for Anita Hill asking her to apologize.  Anita Hill was not left to deal with this alone.  She went to the Brandeis police and they in turn handed the information to the FBI.  A Brandeis spokesperson was able to respond to all inquiries and many many people wrote letters of support and op ed pieces in support of Anita Hill and the statements she made under oath. 
If these bystanders were silent, Anita Hill would have been left to deal with this challenge to her integrity on her own. Instead, because of bystander actions and institutional support, the call was just that, only a call.  And to many it was a chance to voice yet again, the importance of what Anita Hill did in opening the door to this dialogue at the national level.  
Yet again, thank you Anita Hill for who you are and what you have meant to this movement. 
warmly
joan