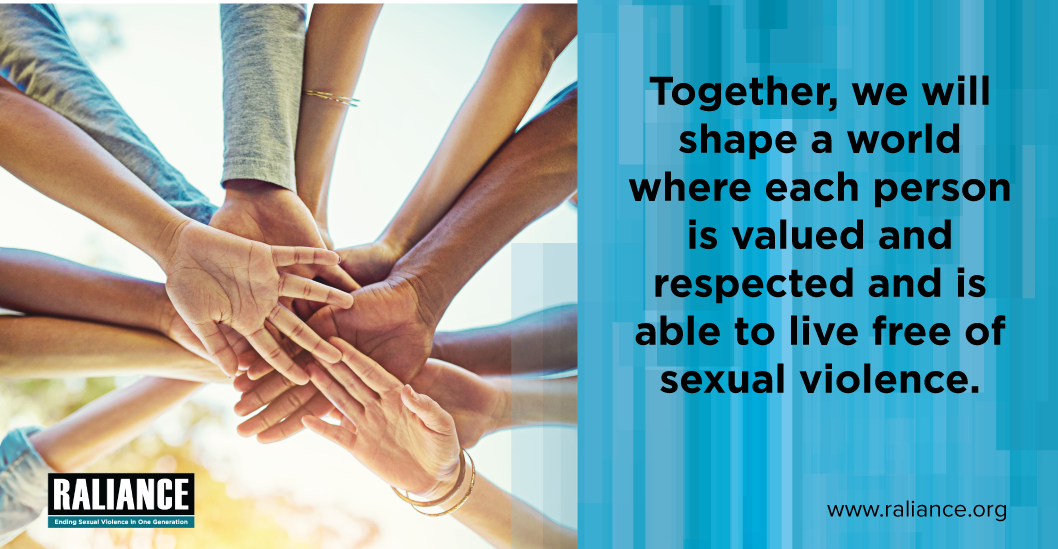 By Julie Patrick, National Partners Liaison at Raliance for the National Sexual Violence Resource Center
What do the recent trends and events in the news and entertainment media, in advocacy and activism, as well as policy and beyond tell us about our progress in the movement to end sexual violence?
Raliance is working to answer this question – as well as move the needle on this critical conversation – in our new report, "Ending Sexual Violence in One Generation: A progress report for the United States 2017".
By documenting changes in the conversation around sexual violence and recent trends and events, Raliance is benchmarking the progress towards our shared vision – a culture of respect and equality without sexual violence. This report also builds upon Raliance's inaugural 2016 report on what is shaping public conversation and, ultimately, our culture in how we address this important societal issue.
One resounding theme throughout the 2017 report centered on survivors. Survivors helped to shift the narrative about sexual violence and move awareness to action.
News coverage and entertainment media helped amplify survivor voices.
News coverage and entertainment media shaped how the public defines and talks about sexual violence. From the media around the presidential election in 2016 to changes at Fox News and beyond, survivor voices helped reduce stigma, silence, and invisibility of sexual violence. Social media created supportive and empowering spaces for survivors to express themselves and join other voices advocating for change.
Those voices were raised in advocacy and activism exemplifying awareness to action.
The use of viral hashtags spoke to the changes survivors demanded – such as #NotOkay or #DearBetsy. Many citizens — whether survivors, allies, or champions in Congress — came together to fight rollbacks on Title IX protections and support federal policies that strengthen our nation's response to survivors.
Survivors also helped shape a conversation about institutional engagement.
Survivors who took to social media also used their social influence as consumers to encourage corporations to take action as was seen with the hashtag #DropOReilly. Additionally, some corporations took proactive and meaningful actions to support sexual violence prevention internally and as a broader corporate social responsibility priority. Of note was how sport organizations have embraced their role as part of the solution to ending sexual violence and building a culture of respect. Some developed prevention guidance or mandated new training, while others worked to change perceptions about gender equity.
Progress is not perfection, and we can still celebrate the hopeful actions and trends we have seen.
The incremental changes and actions across sectors, institutions, and media documented in this report confirm there is continued momentum to end sexual violence in one generation.
And more work remains to be done. To that end, we invite more individuals, communities, corporations, and institutions to be a part of this change. Learn more at www.raliance.org.
---
Raliance is a national partnership led by National Sexual Violence Resource Center, the California Coalition Against Sexual Assault-PreventConnect, and the National Alliance to End Sexual Violence and serves as the central hub for effective allocation and distribution of programmatic funding in sexual violence prevention and as the go-to resource for policymakers, advocates, service providers and the media. Raliance is funded through a $10 million multiyear commitment from the National Football League. The name was inspired by the entity's intent to rally engagement from stakeholders and align goals and resources behind its overarching mission of putting a stop to sexual violence once and for all.