This is a guest blog post by Sally J. Laskey, NSVRC Outreach Director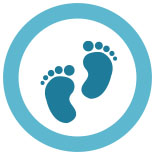 Many SANE programs across the country are looking to expand their services to children. This type of expansion requires planning, training and infrastructure changes.
The SANE Sustainability app has a brief section on pediatrics and materials for expansion. We also wanted to share some new resources of interest related to children and trauma.
We would love to hear about tools that you are using in the comments section. Does all this talk make you want to do more prevention focused work?  Next month the SANE Sustainability blog will highlight Sexual Assault Awareness Month resources.