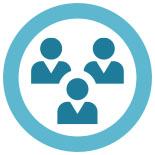 As we celebrate Forensic Nurses Week this week, we are reflecting on lessons learned through the SANE Sustainability project. One of the things we learned during the years we've worked on SANE sustainability is that recruitment and retention are one of the biggest hurdles. More than money or collaboration, finding and keeping competent staff is the worry that keeps program managers up at night.
With that in mind, we created an entire section of the SANE Sustainability Mobile app dedicated to Staffing and Leadership.
Ultimately we recognize that recruitment and retention problems don't happen in a vacuum. How program managers actually manage people, and the leadership style they employ, impacts their ability to recruit clinicians who will be a good fit and stick around for a while.  We have talked about the idea of managing up and nurse retention in previous blog posts. The problem is that many nurses never have any formal management and leadership education, so much of what we learn is learned on the job, often based on what we have experienced in prior nursing roles. Our hope is that this section of the app will provide some additional assistance for capacity building.
In the Staffing and Leadership section of the app we've provided online resources focusing on staff orientation, education and vicarious trauma, as well as the SANE-specific orientation checklist. You'll also find links to the SANE practice standards and guidelines that shape the work we do.
Aside from a wide range of online links to excellent resources on the web, we've created several pages focusing on specific management issues:
building a healthy work environment;
understanding malpractice insurance;
While this isn't an exhaustive list of resources, we believe it's a great foundation from which to explore—as you move forward in your role as a program manager or as you think about some day managing a program yourself.  Have a success story to share or a stumbling block others may learn from? Feel free to tell us about it in the comments below or tweet about it using #SANEsustainability.
Up next: More on Leadership