Elder Sexual Abuse… And why we need to talk about it
I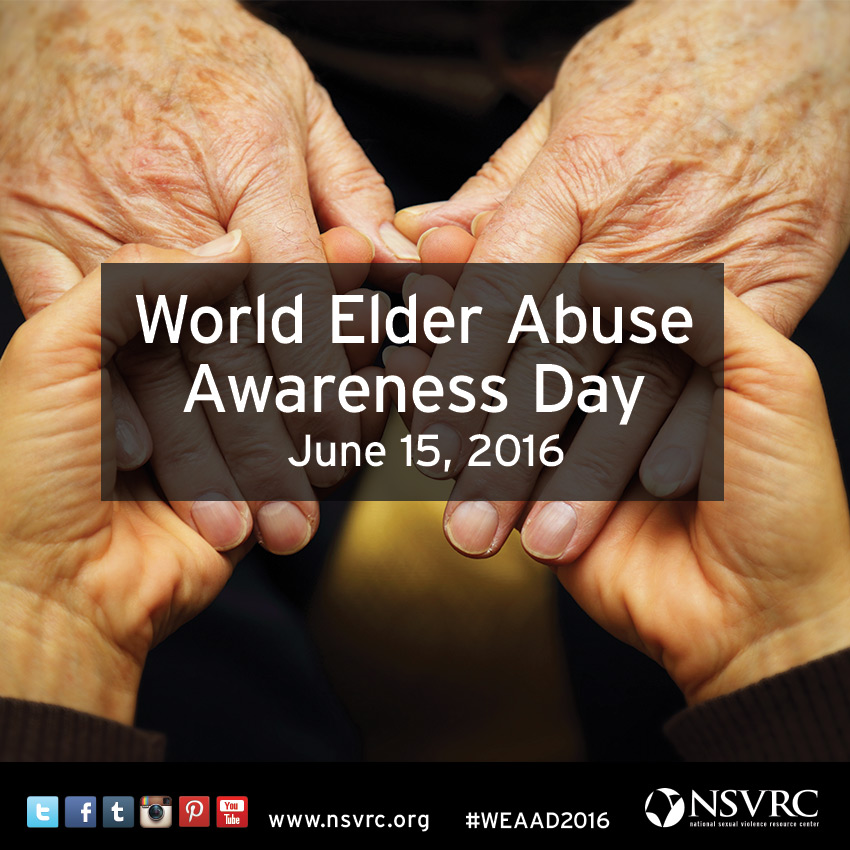 n honor of World Elder Abuse Awareness Day on June 15, 2016 we are pleased to share this guest blog post by Trisha Sheridan DNP WHNP-BC SANE-A CFN, clinical assistant professor at Emory University.  Trisha is a forensic nurse and a nationally known expert on sexual assault. She previously taught at Texas A&M Health Science Center College of Nursing, where she held a joint appointment as the forensic nurse coordinator at Baylor Scott & White Hospital. She is a board-certified sexual assault nurse examiner, forensic nurse, and women's health nurse practitioner. 
For more options to discuss sexual violence in later life, join the NSVRC for a free webinar with Holly Ramsey-Klawsnik, PHD on June 15, 2016.
I was practically raised by my grandparents. My grandmother was always there for me. When I joined the U. S. Air Force, it was my grandmother's letters that made basic training bearable and kept me going.  No matter how old or where in the world I was, from a child to a scared new mother; from Washington State to NYC, it was always my grandmother that I called on for the unconditional love only a grandma can give.
The first time I was called in to perform a forensic medical exam on a woman the same age as my grandmother, I wasn't prepared for the emotions that came with it.   I wasn't a new forensic nurse; I had performed countless numbers of exams on men, women, and children.  It wasn't until afterwards that I realized that it was my first forensic exam that would be considered elder abuse.  Initially, I was shocked by my reactions - how ill at ease I was.  How personal it felt. How ill equipped I felt to address this patients needs.   If I as an experienced forensic nurse felt this way, what must the victim/survivor/patient feel?  Why did I have this powerfully visceral emotional reaction? A patient is a patient is a patient, right?  RIGHT?!?  I composed  myself, and I worked to establish trust with the patient by building rapport to meet her needs.  I write this because we know elder abuse in general, and elder sexual abuse in particular is highly underreported.  Older adults make up less than five percent of victims who report. Many believe that this crime is highly underreported (Burgess & Clements, 2006)In fact, a study out of NY state reports that for every one case of elder abuse that comes to the attention of a responsible entity that another twenty-three cases never come to light. 
Why is this the case? Many times health care professionals have the belief that older persons are not sexually abused.  We see elders as asexual – people past sexuality – people that are no longer sexually attractive.  People think this despite knowing that sexual abuse is not about sexual attractiveness, but rather is about power and control.  Some health care professionals that work with the family, or the caregiver, have formed personal opinions about whether a particular person in the patients care circle  "is the kind of person" who would commit such an act. However, they may not recognize abuser's manipulative behaviors, and may believe that the spouse, partner, family member, or caregiver would never harm, especially sexually abuse, the older adult.  Some professionals do not know how or where to report their suspicions or identified cases of elder abuse.
Another factor that plays a role in the under reporting of elder sexual abuse is fear of familial repercussions.  Imagine how uncomfortable most people would be discussing sex with their parents or grandparents, now reverse that feeling, because it would be just as difficult for an elder to discuss the issue with their younger family member.  This is compounded by the fact that generally speaking-each successive generation is more sexually liberated than the previous. This creates a tremendous gap between sexual attitudes within families. Furthermore, when incidents of elder sexual abuse come to light, often younger family members become enraged and "freak out" that someone would "do THAT" to a grandparent.  The underlying tone of disgust often adds to the embarrassment and fear of the elder to report or acknowledge the abuse occurring.
Outside of forensic nurses and the multidisciplinary teams that we work with – people simply don't talk about sex let alone sexual assault.  Generational values and assumptions, and inter generational distance add yet more layers and barriers to opening the conversation up to freely discuss sex with elders.  If we, the trained medical professionals aren't capable of talking about sexual health and violence with the vulnerable older population, and these very patients who are victims of violence aren't willing or able to talk about their abuse – then there is no question as to why elder sexual abuse is underreported and why victimization continues to occur.   But there ARE things that we can do to improve the situation.
The first step is to recognize and understand that sexual abuse in later life does occur and occurs at an alarming rate.
Secondly, educate yourself on the assumptions you and your colleagues may have about the elder population and their sexual knowledge and experiences.
Finally, you can find the resources and training that will specifically arm you with the tools to perform patient-centered care on elder victims of sexual assault. 
Three outstanding resources for that can be found online.
International Association of Forensic Nurses offers an online training curriculum - Nursing Response To Elder Abuse, Neglect and Exploitation (www.forensicnurses.org)
National Center on Elder Abuse offers several online training presentations (www.ncea.aoa.gov)
NSVRC offers a range of resources around sexual violence in later life. Many of these resources were created through the NSVRC Lifespan Project, which is available for training and technical assistance around this topic and others.
Elder sexual abuse is an alarmingly common problem, as is ignorance about it.  It is up to us to recognize the signs of abuse and to discuss issues freely with our elder patients, empowering them to maintain their independence, autonomy, and health, both physical and mental.  Take the time to equip yourself with these tools and make a difference.