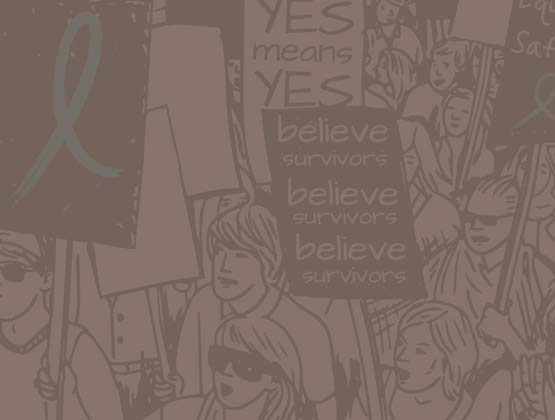 As we look ahead to the start of a new year, we can set our sights on the 2017 Sexual Assault Awareness Month campaign! This coming April's campaign is shaping up to be one of the biggest in scope, as the outreach materials call on new voices to join the movement. The materials listed below and much more will be available on the SAAM website beginning mid-January.
The Theme: Engaging New Voices
We can all use our voices to change the culture to prevent sexual violence. Prevention requires addressing the root causes and social norms that allow sexual violence to exist. This April we're calling on groups whose influence can play a critical role in changing those causes and norms.
We're strongest when we raise our voices together, and that's why we're engaging new groups in the movement. These groups can help the next generation foster attitudes that promote healthy relationships, equality, and respect. These new voices will have a ripple effect on those that they teach, guide, and influence.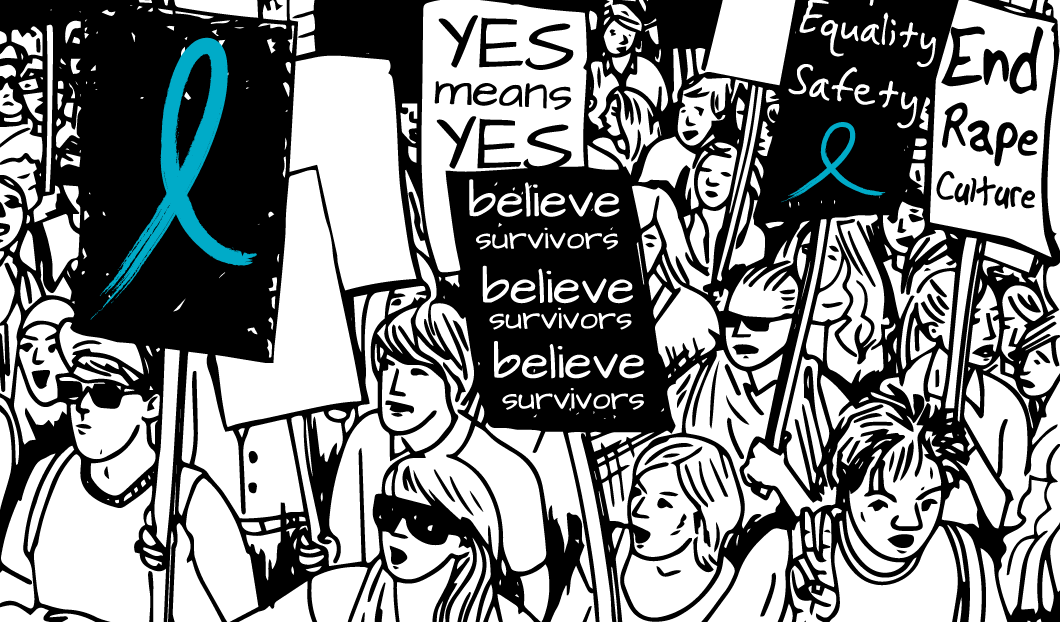 This April, we're calling on the following groups to get engaged in changing the culture:
Members of Greek Life
Coaches
Parents

Faith Leaders
Understanding Your Role
We're providing each group with an introduction to the unique ways they can get engaged in ending sexual violence. This information, presented on a postcard, provides clear, actionable steps group members can take in April and throughout the year.
Postcards are the perfect tool to hand out at tabling events, offer at local centers, or distribute throughout the community.
Reaching New Audiences
Find out more about the content of each postcard:
Members of Greek Life
Provides examples of how sororities and fraternities can support an equal and safe campus community.
Coaches
Identifies ways coaches can help their young athletes foster healthy attitudes.
Parents of Young Children
Guides parents to support their child's healthy development by discussing age-appropriate lessons about boundaries and consent.
Parents of Young Adults
Instructs parents on ways to discuss healthy attitudes about sexuality with their teens.
Faith Leaders
Addresses ways faith leaders can support survivors and prevent sexual violence within their congregation and community.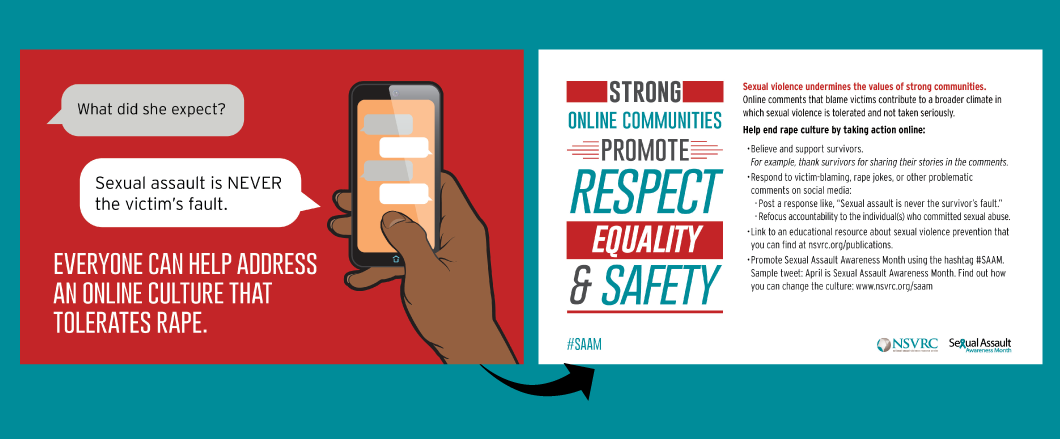 Additional Postcards
We wanted to ensure there was a postcard for individuals who didn't fall into one of the categories above. The community members postcard is a resource for anyone who wants to get engaged in changing the culture while the survivors postcard is for friends and family of survivors and for survivors themselves.
Community Members
Encourages everyone to help address an online culture that tolerates rape
Survivors
Includes messages of what to say to someone if they are a survivor and actions that survivors themselves can take
You will be able to download free pdf copies of the postcards on the SAAM website or purchase copies printed on thick cardstock in our store.
SAAM Action Kit
We'll be mailing copies of the SAAM Action Kit in January. Each Action Kit will include: a copy of the SAAM poster in English and Spanish, the survivor and community members postcards in English and Spanish, a campaign sticker, and a campaign overview booklet.
Ways to Get Involved
There are lots of ways everyone can get involved this April. We'll be promoting t-shirts and temporary tattoos, hosting the 30 Days of SAAM Instagram contest, and offering lots of ways to get involved online with Facebook profile pictures, cover photos, and share graphics.
Launch Date
Check back to the SAAM site in mid-January for these materials and much more!